Student Experience Survey
Newcastle University ranked in the UK's best for student experience
Published on: 17 March 2016
For the second year in a row Newcastle University is ranked in the country's Top 10 for the experience it offers to students.
Published today (17 March) by Times Higher Education, the Student Experience Survey 2016 places Newcastle University joint seventh in the country, rising three places from 2015. Students scored the University highly across a number of categories, including satisfaction with staff and lecturers, environment on campus and high-quality facilities.
Student support and welfare, the library, as well as the social life in Newcastle are ranked joint first in the UK. Other key areas in which the university excels include the good community atmosphere, student accommodation, helpful staff, and extracurricular activities.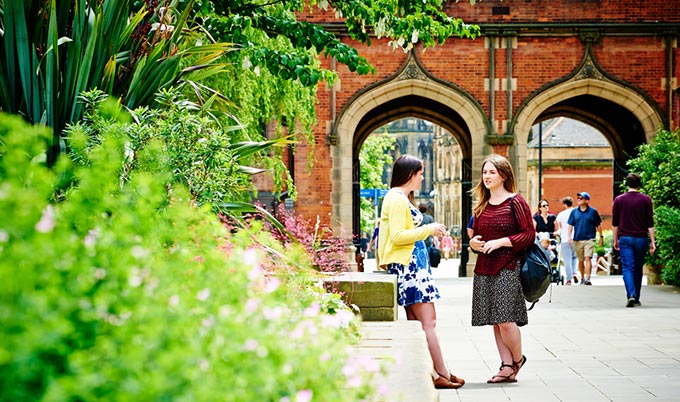 High-quality student services and facilities
Professor Suzanne Cholerton, Pro-Vice-Chancellor, Learning and Teaching, Newcastle University, said: "It's wonderful to see that our students continue to rank their experience at Newcastle University so highly. The consistently high scores highlight the outstanding efforts by everyone at Newcastle University and the support community on campus.
"Our key focus is delivering the best possible environment for learning, teaching and research, as well as personal and professional development. We support this commitment through developing high-quality courses and investing in student services and facilities."
Satisfaction with Newcastle University Students' Union was also regarded highly by students.
Dominic Fearon, President of Newcastle University Students' Union, said: "We are delighted that our students feel they are having an exceptional experience and that the Students' Union in particular was recognised. All of our staff work tirelessly to make sure every student has the best possible time they can whilst studying at Newcastle, so it is great to see their hard work reflected in student feedback."
Experience counts
This year's Student Experience Survey is based on responses from over 15,000 full-time undergraduate students across the UK – the largest survey to date. Students rate their institutions in 21 categories that matter most to them, from the quality of staff and lectures to social life, accommodation and facilities.
Jack Gunter, a third-year Psychological Sciences undergraduate student at Newcastle University, said: "The teaching quality on my course has been excellent. All lecturers are very passionate about their research area, and therefore deliver this clearly and enthusiastically in lectures. They are also happy to help and are very approachable if you need them.
"There is a huge list of clubs and societies that you can join and there is something for everyone. They are a great opportunity to socialise and meet new people from different courses and backgrounds with similar interests to you, whilst being involved with something you're passionate about."
Newcastle University continues to perform well in independent student surveys. Last month, the University scored a satisfaction rating of 93% amongst its international students in the International Student Barometer (ISB) Survey 2015.
---
Latest News