Brain death gives birth to sublime artwork
Published on: 18 April 2016
The electronic signals emitted by the brain at the time of death have inspired a unique audio-visual art installation
Active collaboration
Created by Newcastle University PhD student Gareth Hudson, the installation forms the third and final piece of a larger work called 'Everything Was Beautiful And Nothing Hurt'.
Using light and sound, the work aims to explore the nature of mortality and encourages us to think about our own experiences of death and our attitudes towards it.
The new installation also aims evoke aspects of the work of German philosopher Martin Heidegger, who suggested that in order to lead an 'authentic' life, a person had to live with the concept of their mortality close to them.
For Work III, Gareth collaborated with Andy Hanson, an EEG Technologist at Newcastle University's Institute of Neuroscience, to record his own normal, healthy brain waves. A custom piece of software was then used to simulate what would happen to these waves during a fatal cardiac arrest.
The results were interpreted into music for a string quartet, composed by Phil Begg, a sound artist and music PhD student at Newcastle University. Alongside this, Gareth created the visual component of the installation from lights and video.
As with the two earlier pieces, which were also audio-visual, the theme running throughout is that of transcendence and the notion of the sublime. But despite the emotional nature of the subject, Gareth says he has approached it from a straightforward and unassuming point of view.
Gareth explains: "I've looked at what my own death might look like from the anodyne view of voltage fluctuations in the neurons of my brain and from this created an immersive environment in which the viewer hopefully can lose themselves for a moment. In this way, the final installation aims to be a reflection not just of mortality but also of life."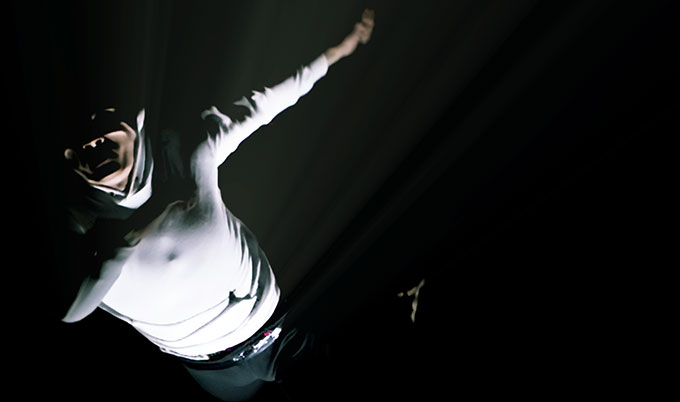 Excellent public response
Works I and II were very well received, with both pieces achieving some of the most positive feedback from visitors in the Globe Gallery's 20 year history. "The feedback from the earlier pieces was incredible," Gareth says. "It has been massively rewarding to see people having such a reaction to it."
The full body of work making up "Everything Was Beautiful And Nothing Hurt" has been supported by Newcastle University's Institute for Creative Arts Practice and Engage FMS – the Faculty of Medical Science's programme of patient and public engagement and involvement.
Professor Richard Thomson, Associate Dean for Patient and Public Engagement, Newcastle University, said: "This work was supported by an active collaboration between different parts of the University to stimulate exciting interactions between the creative arts and the medical sciences. This piece has addressed a challenging area in a totally innovative way."
Dr Venda Pollock, Director, Newcastle University Institute for Creative Arts Practice which supports creative arts practitioners across the University added: "Gareth's work demonstrates the diverse range of creative work that is undertaken across a variety of disciplines, in this case, Fine Art, Music and Neuroscience. The excellent public response to Gareth's work is evidence of how our creative innovators are having an impact on the city's vibrant arts scene."
"Everything Was Beautiful And Nothing Hurt: Work III" is showing at the Globe Gallery, Pilgrim Street, Newcastle until 14 May when it will form part of The Late Shows programme.
---
Latest News