Putting new face on the story of migration
Putting a new face on the story of migration
Published on: 22 April 2016
The story of migration to Tyneside over the last 150 years is being re-told in a new installation created by experts at Newcastle University.
Looking through a new lens
Forming part of the 'Destination Tyneside' permanent gallery at Discovery Museum in Newcastle, the new 'Sit with Me' installation uses sensor-based technology to present real people who moved to Tyneside throughout the 19th and 20th centuries through a new lens.
Visitors are invited to sit down at an interactive mirror that forms part of the new exhibit. As the visitor looks at their reflection, an archive image of a person gradually appears inside the mirror. Using the same 3D camera technology as an Xbox Kinect, the installation reacts to the visitor's presence, locating where they are sitting and then configuring the display so that they can make eye contact with the person in the photograph.
The photographs displayed through the mirror were sourced from archived records and depict real people who moved to the North East. The installation also presents information about each person including where they worked, where they lived and other facts about their life in Tyneside.
'Sit with Me' aims to show migration as part of the fabric and history of the area and highlight the role it has played in the development of the region's identity and economy.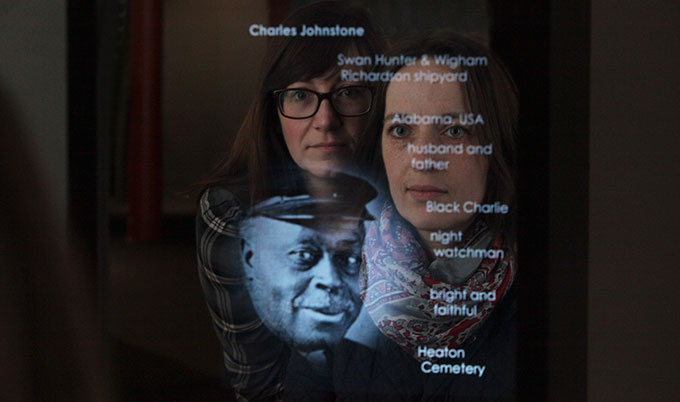 The person behind the statistic
Dr Areti Galani, Lecturer in Museum and Heritage Studies, Newcastle University, explains: "'Sit with Me' has been designed to motivate people see the person behind the statistic - someone who had a home, a family, a role in the history of the North East. The idea behind it is to help people think about who migrants are – many of whom helped to build Tyneside as we know it today.
"By inviting people to sit down and look at themselves and others through a mirror, it's a contemplative experience and provides a timely opportunity for them to reflect on their own opinions about historic – and contemporary – migration. I hope people will be intrigued and surprised by what they see."
The new exhibit uses a wide variety of archive material from Tyne & Wear Archives and the Northumberland Archives at Woodhorn Museum, such as census data and police records.
Kylea Little, Keeper of History, Tyne & Wear Archives & Museums, said: "We hope that this innovative method of using our collections will engage our visitors in conversations about Tyneside's story. There is a real opportunity to connect with people from the past on a human level."
One of the characters included in 'Sit with Me' is Charles Johnstone, who worked for many years at the Swan Hunter yard. Born in Alabama in the United States of America, Charles was a sailor from a young age and came to Tyneside after serving on the ship Magnolia, which belonged to Wilson & Brian of South Shields. He started work at Swan Hunter in 1895 and stayed there for at least 27 years, losing only three days' work. He was regarded by his colleagues as 'cheery at all times, bright, faithful and a man of principle'. He lived in Byker with his wife and three children, Maggie, Catherine and Alice.
Also included is Casson Lee Dias, who was born in Grand Cayman in 1922 but moved to North Tyneside. He was a labourer, and by 1974 was working at Spillers Foods in North Shields where he was promoted to charge-hand in the Ice Factory. In 1956 he married Mary Carrethers at Tynemouth Register Office.
The 'Sit with Me' project also involved David Chatting and Abigail Durrant from Open Lab, and Rhiannon Mason from Media, Culture, Heritage at Newcastle University. The project was supported by the Newcastle University Institute for Creative Arts Practice and Culture Lab.
---
Latest News