Urban Living Partnerships
People in the driving seat with £3.9m initiative
Published on: 19 May 2016
A new research and innovation initiative led by Newcastle University will put the people of Newcastle and Gateshead in the driving seat to help improve the area's health, well-being and prosperity.
Phase one of the Urban Living Partnership (ULP) brings citizens together with university researchers, local authorities and partners from business and the third sector to help tackle issues and ensure the continued prosperity of Newcastle and Gateshead.
It is a first-of-its-kind investment by the seven UK Research Councils and the government's innovation agency, Innovate UK.
The £1.2m ULP – named Newcastle City Futures – is led by Newcastle University working with Northumbria University, and includes representatives from local government, businesses and community sectors. It is only one of five cities to be awarded the prestigious designation.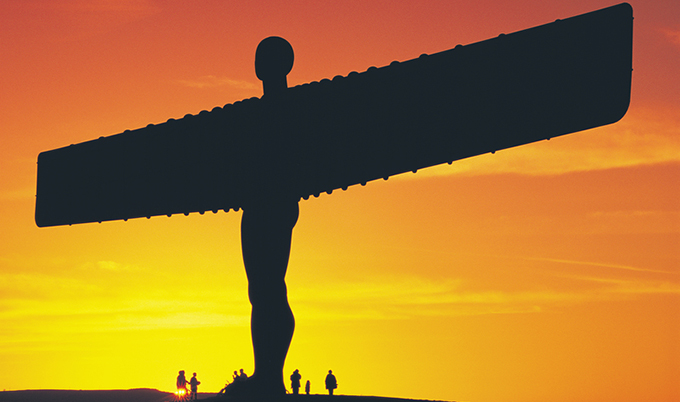 Working together
A key feature of the project is diversity, spanning disciplines and sectors. The Newcastle Gateshead partnership includes Newcastle City Council; Gateshead Council; North East Local Enterprise Partnership; Royal Society for Arts; Nexus; Newcastle Airport; TechCity; the Federation of Small Businesses; the Newcastle Schools Forum; Northumbrian Water; Siemens; Arup; and IBM Europe's Intelligent Operations and Resilience programme – which provides data visualisation and deep analytics to help city agencies enhance their efficiency and planning.
Taking a 'whole city' approach, Newcastle City Futures will bring together a unique body of expertise cutting across over 20 disciplines including civil engineering, computer science, planning, psychology, management, arts and humanities, the creative industries and health sciences.
The first 18 months will be looking to identify specific issues around improving socio-economic factors such as economic activity, educational attainment and health.
These will be tackled through Newcastle University's societal challenge themes of Ageing, Sustainability and Social Renewal, which have been identified previously as areas of particular significance for the city region.
Beacon of innovation
Newcastle University's Professor Mark Tewdwr-Jones, is Director of Newcastle City Futures. He said: "This is a wonderful endorsement for the city. There is so much already going on in Newcastle and Gateshead that is ambitious and forward looking. Even at time of austerity and devolution change, we can celebrate and promote the city as a beacon of innovation that involves everyone.
"We can start thinking more creatively about how we make Newcastle and Gateshead even better than they already are.
"We want artists and digital designers to work together on projects to make the city more fun, we want schools to work with the health service to create accessible play spaces, for walking, exercise and well-being. We want to celebrate the city's railway, engineering and shipbuilding foundations through a series of public projects that demonstrate our work skills past, present and future; and we want architects and developers to build some really innovative and creative features in their designs and invite members of the public to be part of their ideas."
Announcing the launch of the initiative, Minister for Universities and Science, Jo Johnson, said: "At their best, cities drive innovation, cultural and economic activity and social integration. However, they also face increasing challenges, such as overheating, congestion, poor supply of water and the removal of waste. These new projects will combine business acumen with academic talent and community leadership to help tackle these issues and ensure the continued prosperity in five of our greatest cities."
Grand challenges
In addition to the Newcastle City Futures, four other ULPs have been established in Birmingham, Bristol, Leeds and York. While each project faces distinct challenges, they also share common goals – such as empowering citizens to co-design their future cities, and finding ways to turn grand challenges into mutually beneficial business opportunities, leading to greater health, wellbeing and prosperity.
Partners to the £3.9 million first phase of Urban Living Partnerships are contributing over £1.9 million and include: IBM UK Ltd, Arup, Atkins Global, The Environment Agency, Natural England and the Future Cities Catapult.
Projects will exploit the latest environmental monitoring, urban modelling, data analysis and crowdsourcing tools, and will employ a range of cutting-edge technologies, such as wireless sensing networks, wearable devices and virtual reality systems.
Another key strand will be the development of open-license digital platforms from which other cities can benefit – both in the UK and internationally.
Professor Philip Nelson, chair of Research Councils UK's Strategic Executive, said: "The complexity of future urban living is beyond any single business, sector or discipline. We need joined-up strategies for innovation within cities and urban areas.
"This joint investment by the Research Councils and Innovate UK will help accelerate the exploitation of the UK's world class research and innovation base. In so doing we will have better designed spaces, stronger urban economies, more effective and sustainable use of available infrastructure and resources, and happier and healthier lives."
Ruth McKernan, chief executive of Innovate UK, said: "Innovate UK has a shared vision with the Research Councils to deliver UK growth through an innovative, high value, knowledge-based economy with high productivity.
"The UK has world leading companies in areas such as engineering, architecture, energy and transport systems, communications and the digital economy, finance and project management. Through their expertise and acumen, working with multidisciplinary researchers across the UK, local authorities and partners from business and other sectors, this investment will help us to re-imagine urban living to create cities that have strong economies, promote public health and wellbeing, and do so efficiently, sustainably and adaptably."
---
Latest News