Take a trip to Adventureland – artwork inspired by mitochondria
Published on: 17 June 2016
Art, science and design have come together to create beautiful artworks inspired by Newcastle University's research into mitochondrial disease.
Curious tea party
Adventureland, which goes on display in Eldon Garden on Saturday and Sunday, uses images of healthy and unhealthy mitochondria – the batteries of cells – captured with microscopy photography. The pieces are inspired by work created by patients involved in the University's world-leading research into these diseases.
Artist Corinne Lewis-Ward, from Gateshead, was funded by the University's EngageFMS Team to engage with patients through interactive workshops, and then to create artworks to reflect their understanding of these 'batteries' and the cause of their disease. She worked with Professor Zofia Chrzanowska-Lightowlers and other members of the mitochondrial research team.
She has created a 'curious tea party' featuring a bespoke tea set, covered in real gold, and photo acrylic placemats and small glass sculptures.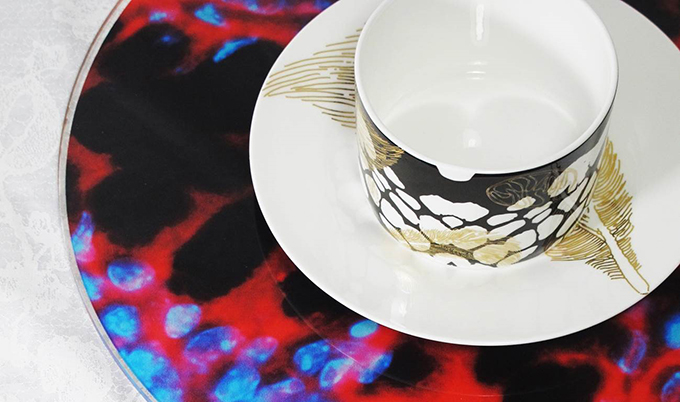 Engage new audiences
Corrine said: "My challenge for this commission was to produce artwork that explored the work that is being carried out in the Wellcome Trust Centre for Mitochondrial Research, while also incorporating the impact upon real people's lives.
"Sometimes when you've got a problem the best thing to do is have a chat and a cup of tea, which is what the patients I spoke to like to do. This inspired me to create Adventureland, which attempts to bring science, art and design together in the form of a curious tea party."
"The work aims to engage new audiences with scientific research, and take what can be intimidating subject matter, into an arena that is accessible and available to the public."
New perspective
Mitochondrial disease is an inherited chronic illness that can cause blindness, heart and liver failure, learning disabilities and early death. Experts in Newcastle University's world-leading research into mitochondrial disease are working to better understand these diseases and to find a way to prevent the condition being passed from mother to child. They have developed an IVF technique called early pronuclear transfer, a procedure that could play a vital role in preventing it being passed from mother to child.
Richard Thomson Associate Dean of Patient and Public Engagement for the Faculty of Medical Sciences, said: "The work the University is carrying out into mitochondrial disease is truly ground breaking. EngageFMS, working in partnership with the Institute for Creative Arts Practice, aims to marry expertise in the creative arts with excellence in medical science and that's where Corrine's beautiful work comes in. Her pieces, inspired by patients' stories, bring a new perspective to this work."
The work will be displayed in Eldon Garden on Saturday 18 and Sunday 19 June, from 11am until 4pm.
---
Latest News