Fine Art degree show 2016
The Great North Fine Art Degree Show
Published on: 1 June 2016
Four years of hard work will come to fruition as Newcastle University's Fine Art students show off their final pieces at their degree show.
Great North Museum: Hancock
For the first time, as well as being shown in the Fine Art Department, it will also take place at the Great North Museum: Hancock, while the show's usual venue, the Hatton Gallery, undergoes a multimillion pound redevelopment.
The exhibits showcase the very best of modern artistic practice, including painting, printmaking, sculpture, performance, moving image and sound.
Bethan Turner, who uses taxidermy in her sculptures and installations, has created an exhibit with a strong link to the museum: she is using barn owls from its natural history collection.
"When I'm looking for inspiration I walk around natural history museums rather than art galleries," says Bethan. "I really love the fact we're having an art exhibition at GNM and that there's such a link between my work and where it will be on display. I'm really interested in taxidermy and the way the animals are displayed – is it the animals or the way they're presented which is so fascinating? While I was volunteering at the museum archives, I asked if I would be able to borrow some of their pieces. They said yes as the pieces wouldn't be leaving the building, and I chose some barn owls."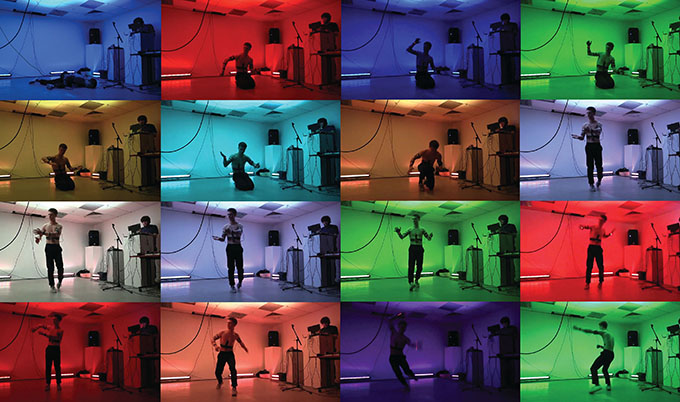 Making an impact
Students are already starting to make an impact on the art world even before they graduate. Lucien Anderson, who works primarily with installation, will begin a residency at Allenheads Contemporary Art in Northumberland, in July. He plans to live in the exhibit he's made for the degree show while he's there.
"I'm interested in how an individual inhabits a small space, from workshops and sheds to early space capsules," said Lucien. "So for the degree show I'm converting a small car, a 1990s Fiat Panda which is only about 150cms wide, into somewhere I can live and work. It will function primarily as a tool, and Allenheads will serve as a test site. I plan to live in it when I'm out there and I'll be able to record how it functions, and any tweaks I have to make to it."
"Newcastle is unusual in that our students study for four years," says Nick Fox, Head of Fine Art's final year. "But what that extra year gives them is the opportunity to dig deeper into their practice and really refine what they want to say and do with their work. That gives them an edge and the ability to compete with the very finest talents."
Head of Fine Art Richard Talbot said: "This year's degree show promises to be truly exceptional. Our students are incredibly talented and produce thought-provoking work which continues to build on Newcastle's strong tradition of excellence in contemporary art."
Newcastle University's Fine Art Department is one of the most respected in the country, with a strong reputation for producing successful artists. The University has consistently maintained an excellent reputation in this area and is ranked in the top five of the Guardian, the Times and the Complete University Guides.
Many distinguished artists have been associated with Newcastle University, either as students or as teachers, and include Richard Hamilton, Victor Pasmore, Sean Scully and Susan Hiller. The department was a key player in the radical developments in UK art education that took place in the UK in the 50s and 60s, and continues to be a leader in both art education and fine art research. Many of the current staff have their studios within the Fine Art building at Newcastle University, meaning that from day one students have the opportunity to work alongside - and learn from - some of the country's leading artists.
The Fine Art Degree Show will run from 4 to 17 June in the Fine Art Department, and at the Great North Museum: Hancock. It will then transfer to the Copeland Gallery in Peckham from 24th to 26th June.
---
Latest News