'Personalised agriculture' boosts our fight against resistance
Published on: 15 June 2016
A simple test which can detect the presence of herbicide resistance in Black Grass could act as an early warning for farmers to help slow the spread of the UK's most devastating weed.
The 'pregnancy-test'-style prototype detects a glutathione transferase (AmGSTF1) - a protein that is found in high concentrations in populations of Black Grass that have evolved resistance to multiple classes of herbicides. This is known as non-target site-based resistance, or NTSR (1)
The test takes just 15 minutes to work, and a red band appears in a small window on the hand-held device if the protein is present.
Sensitive enough to detect the molecule in the early stages of Black-Grass growth, the aim is to help farmers make management decisions early in the crop cycle and prevent costly losses later on.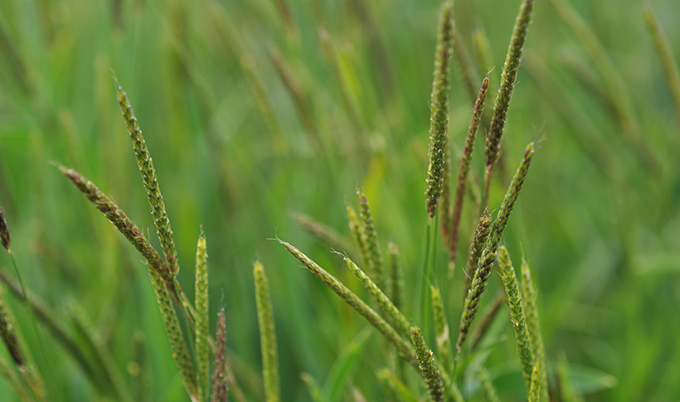 Crop losses
Funded by the Biotechnology and Biological Sciences Research Council (BBSRC) and the Agriculture and Horticulture Development Board (AHDB) the underpinning science has been developed by scientists at Newcastle University, as part of the Black-Grass Resistance Initiative (BGRI), a partnership with Rothamsted Research, Sheffield and York Universities and the Institute of Zoology.
The prototype device to be demonstrated at Cereals 2016, has been developed by the Newcastle team working with diagnostics company Mologic, in Bedfordshire.
Research lead Professor Rob Edwards, Head of the School of Agriculture, Food and Rural Development at Newcastle University, explains:
"Black Grass is now the number one problem in weed control for UK growers, with herbicide resistance, and particularly NTSR, leading to a loss of chemical control and major crop losses. Lost production due to black-grass now cost the UK an estimated £0.5 billion a year.
"At the moment, the only way of knowing if Black-Grass sampled in the field is resistant is to send seeds or plants off to the lab for analysis, resulting in delays in making informed decisions about control options.
"We now want to work with farmers and agronomists to see how this diagnostic tool could be used in counteracting herbicide resistance using a rapid field-based assay.
"Early-indication diagnostic tests are common place in medicine, such as for pregnancy or diabetes, and are used to help people make decisions much earlier on with the aim of improving the long term outcome. It should be no different in agriculture."
Spread of Black Grass
Black Grass arrived in the UK with wheat and barley during the Bronze Age but was not considered to be a major weed until the late 1980s.
Resistant populations of black-grass have been confirmed in many countries and are now widespread in England and increasing in France and Germany.
Herbicide resistance is inherited and occurs through selection of plants that survive herbicide treatment. With repeated selection, resistant plants multiply until they dominate the population.
As part of the Black-Grass Resistance Initiative (BGRI), the team are deploying cutting edge, multidisciplinary research to understand and combat the spread of this highly invasive and damaging weed.
"Our research shows that the spread of herbicide resistance in black-grass is often directly linked to NTSR, with the weed now well established in the southern and eastern counties and steadily moving north and west," explains Professor Edwards, who is Director of the Institute for Agri-Food Research and Innovation (IAFRI), a joint venture between Newcastle University and Fera Science Ltd (Fera).
This year it has been spotted for the first time at Newcastle University's Cockle Park Farm in Northumberland.
"It's like a plague - the resistance is creeping up the country and our first line of defence, herbicides, are becoming less effective, just like antibiotics in medicine.
"And just like in medicine where researchers and clinicians are working side-by-side to come up with new solutions, in agriculture we need to be doing the same."
Roles for the device in combatting herbicide-resistant Black Grass
The team will now work with the industry to work up robust sampling protocols and ways in which the results obtained can be used to direct new weed control strategies.
"This diagnostic tool marks an important step, using the latest research to deliver solutions in crop protection.
"It is an approach we have termed 'personalised agriculture' and represents a new way of dealing with resistance and emerging disease in the agricultural setting," adds Professor Edwards.
The concept of 'personalised agriculture' will be one of the topics for discussion at the N8 Agrifood Conference in Manchester on June 22/23. Bringing together leading experts from academia and industry, the aim is to find new ways to ensure the resilient supply of safe and nutritious food both nationally and internationally through collaboration between the sectors.
Black Grass Facts
Black-grass occurs throughout much of Europe but is a particular problem in the more western countries of England, France, Germany and parts of Belgium and the Netherlands.
Black-grass is an annual grass-weed propagated solely by seeds. The number of heads per plant varies between 2-20 heads/plant and each head contains about 100 seeds. With populations of 500 heads/m2 seed return can easily exceed 50,000/m2.
Black-grass germinates at the same time as winter wheat in October and can seriously reduce crop yields through competition for nutrients, especially nitrogen.
---
Latest News