summer undergraduate Open Days
Newcastle University to welcome thousands to Open Days
Published on: 29 June 2016
Visitors from all over the UK will arrive at Newcastle University's city-centre campus for the summer undergraduate Open Days.
Around 19,000 potential students and parents are expected to attend the two open days – taking place on Friday 1 and Saturday 2 July. Student-led tours of the campus, accommodation sites, and facilities such as the Students' Union and Sports Centre will run throughout the events.
Over 50 academic subject sessions and two Subject Fairs are on offer for prospective students to find out more about our degrees and meet staff and current students. Along with the usual programme of information sessions, in response to visitor feedback from previous events, the University will host sessions covering Applying to Newcastle and Welcome to Newcastle.
Applying to Newcastle is an informal session which will offer students and parents the chance to hear from University admissions staff. Welcome to Newcastle will highlight what Newcastle University has to offer and why it's ranked in the top 10 in the UK for student experience and satisfaction.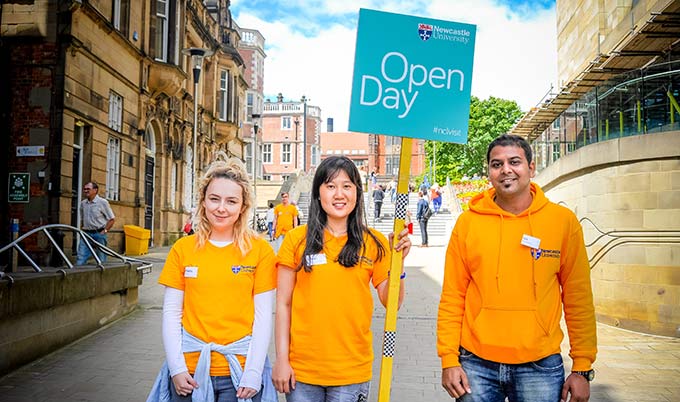 Welcoming visitors from across the UK
Professor Suzanne Cholerton, Pro-Vice-Chancellor for Learning and Teaching, said: "We'll be welcoming visitors from across the UK and are expecting a busy and exciting day. Showcasing the University campus, student services, facilities and our undergraduate degrees, these events are a key opportunity to give prospective students a taste of our University and the city.
"People coming to our campus will get a chance to find out why our students are among the most satisfied in the country, and why they consistently rank their experience at the University among the highest in the UK."
There will be photo opportunities to encourage visitors to share their day on social networks, including Instagram photo points. Newcastle University's mascot, Percy the Lion, will be roaming around campus and music performances from current students will be taking place throughout the day in the Old Quadrangle.
More than 250 students will be working on the day in a variety of roles, including welcoming visitors to the city at key locations such as Central Station, Monument and Haymarket.
---
Latest News