Weather radar gives unique picture of Newcastle
Published on: 28 June 2016
Researchers at Newcastle University are creating the most detailed picture yet of rainfall and flood risk in Newcastle, thanks to a brand new radar.
Most detailed picture yet
Located on the roof of the University's 12-storey Claremont Tower, the radar will provide data to ten times the resolution that is currently available and will be used to provide a unique understanding of urban flood risk in the city centre.
Its installation coincides with the fourth anniversary of the 'Toon Monsoon' of 28 June 2012, and scientists anticipate that the real time data captured by the radar will give the most detailed picture yet of the intensity and amount of rainfall over the city, as well as how it flows and collects on the surface.
The radar is the latest addition to the Urban Observatory, a ground-breaking project that monitors Newcastle at multiple levels such as temperature, wind flow, air pollution and traffic. Researchers at the Urban Observatory say that combining the data in this way will bring greater understanding of the impact of intense weather events on the city's infrastructure.
Professor Richard Dawson, Professor of Earth System Engineering, Newcastle University, explained: "The Toon Monsoon and recent storms over the South East are vivid examples of how extreme weather can have multiple, and sometimes unforeseen, effects on infrastructure. We know that the frequency of intense rainfall will increase due to climate change, and even for relatively frequent, but small-scale, events there can be significant disruption to transport and other services.
"This means that there's an urgent need to adapt our urban areas to reduce the risk to infrastructure but there's currently a limited understanding of the many and complex relationships between the built and natural environments in our cities and how we interact with them. The Urban Observatory is helping to give us a holistic picture of what's happening in our city and will improve our understanding of these relationships."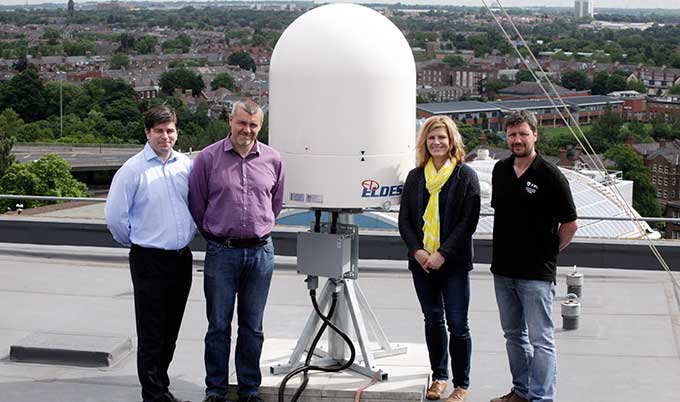 Open data for the city
Data from the new radar will be combined with information from an existing network of almost 400 sensors across the city deployed by Newcastle University, Newcastle City Council and other partners.
Openly available on the internet, it is hoped that the data will be used by planning authorities, infrastructure operators, emergency services and even community groups to help them make better informed decisions about how conditions in the city could affect them.
Phil James, from Newcastle University's School of Civil Engineering and Geosciences, said: "There is a wealth of data available in our cities, and since it was established in 2015 the Urban Observatory has recorded more than 100 million observations about conditions in the city centre.
"Newcastle leads the way in providing open access to the largest real-time urban sensing dataset. By having this continuous dialogue with the city, we can develop a detailed picture of what's going on to help us make more informed decisions about managing our city sustainably."
Innovative visualisation tools
The data will provide a long-term baseline for urban research in Newcastle and provide unique insights into the complex relationships between different aspects of our urban environment.
To help diverse audiences see these relationships and connections, researchers at Newcastle University's Digital Institute are developing innovative visualisation tools. Professor Nick Holliman, Professor of Scientific Visualization, added: "As more data are collected about our city we need new ways to see it and understand it. To do this we are piloting visualisations that can be used on a smartphone to show live 3D data from sensors like the weather radar. This will help anyone in the city see within minutes information such as what the local air quality conditions are like."
The new weather radar has been installed and set up by North Shields firm, Environmental Measurements Ltd, who have project managed the operation and overseen installation.
Currently based at Newcastle University's School of Civil Engineering and Geosciences, the Urban Observatory will eventually move to the Urban Sciences Building currently under construction at Science Central - Newcastle's £350 million flagship project bringing together academia, the public sector, communities, business and industry to create a global centre for urban innovation in the heart of the city. A partnership between Newcastle University and Newcastle City Council together with Legal and General, Science Central is one of the country's biggest urban regeneration projects and a 'living laboratory' where innovative urban technologies are being trialled.
More information about the Urban Observatory and the data it gathers is available on the Urban Observatory website.
Pictured from left to right: Professor Richard Dawson, Phil James and Dr Jennine Jonczyk, with Mark Dutton, EM Ltd.
---
Latest News