action needed to manage risk to UK infrastructure
Call for action to manage climate change risk to infrastructure
Published on: 12 July 2016
More action is needed to manage the growing risk to UK infrastructure from severe weather, a Newcastle University academic has warned.
Significant risk
The increase in flooding is the most significant risk to all of the UK's infrastructure sectors including energy, transport, water, waste, flood defence, and digital communications.
And while there is evidence that steps are being taken across individual industries, better sharing of information between sectors could help identify joint risks that have the potential to create greater disruption where there are connections between industries.
The findings will be published today as part of a report prepared by the Committee on Climate Change, an independent body established to advise the Government on priorities for adapting to climate change.
The 'UK Climate Change Risk Assessment Evidence Report' sets out the most urgent risks and opportunities arising for the UK from climate change. It is the result of more than three years work involving hundreds of leading scientists and experts from the public and private sectors and civil society, and has been peer-reviewed by UK and international specialists.
Professor Richard Dawson, Chair of Earth System Engineering at Newcastle University, led the infrastructure strand of the report. He said: "A greater flood risk means greater potential for disruption to our power stations, road and rail network, communications, and our waste infrastructure – all the services that underpin a modern economy. We've already seen the kind of significant impact flooding can cause and unless action is taken, the UK's infrastructure will become increasingly susceptible to extreme weather events."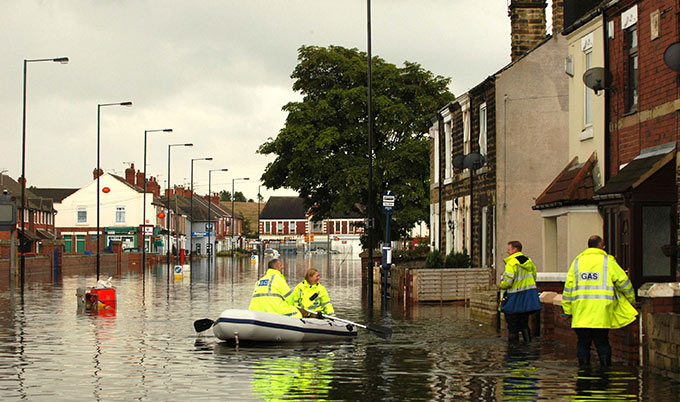 Connections and dependencies
The report identifies infrastructure being at risk from river, surface and groundwater flooding as well as coastal erosion, and suggests that the number of infrastructure assets exposed to sources of flooding could double as a result of expected changes to the climate by the 2080s. Projected increases in temperatures will also put pressure on power lines and transport networks.
While understanding of the risks facing individual sectors has improved in recent years, many of the adaptations already carried out or underway will mitigate climate risks only for a decade or two, the report authors say. They also highlight that the lack of any systematic approach across and between sectors to understanding and mitigating climate risks is a barrier to ensuring infrastructure in the UK is to be climate-resilient.
"We don't currently understand enough about the connections and dependencies between different sectors to be able to fully prioritise and protect key services," Professor Dawson adds. "In the long term, projected changes in climate will alter the life expectancy of existing infrastructure, and there's a real danger that this will outpace plans for actions to reduce this risk. We need to ensure that flooding and other climate risks are accounted for in the design and location of new infrastructure. We also need a national framework so that different climate risks can be easily compared across infrastructure and other sectors to more effectively target investment for adaptation actions."
Independent assessment
Lord Krebs, Chairman of the Adaptation Sub-Committee of the Committee on Climate Change, said: "The impacts of climate change are becoming ever clearer, both in the United Kingdom and around the world. We must take action now to prepare for the further, inevitable changes we can expect. Our independent assessment today, supported by the work of hundreds of scientists and other experts, identifies the most urgent climate change risks and opportunities which need to be addressed. Delaying or failing to take appropriate steps will increase the costs and risks for all UK nations arising from the changing climate."
The UK government will consider the findings of today's evidence report and present to Parliament in early 2017 their formal assessment of the climate risks and opportunities for the UK.
---
Latest News