Melanie Hartshorn graduation
Graduating against all odds
Published on: 12 July 2016
A Newcastle University student battling a rare disease has become the first in her family to get a university degree.
Melanie Hartshorn, 26, suffers from a rare, debilitating disease which has left her bedbound and in constant pain. She has Ehlers-Danios Syndrome, a genetic condition that causes her joints to dislocate.
Against all the odds, Melanie managed to complete a BSc Hons in Biology – completing the final year of her degree from home. And today (Tuesday 12 July), she proudly joined her colleagues at the graduation ceremony.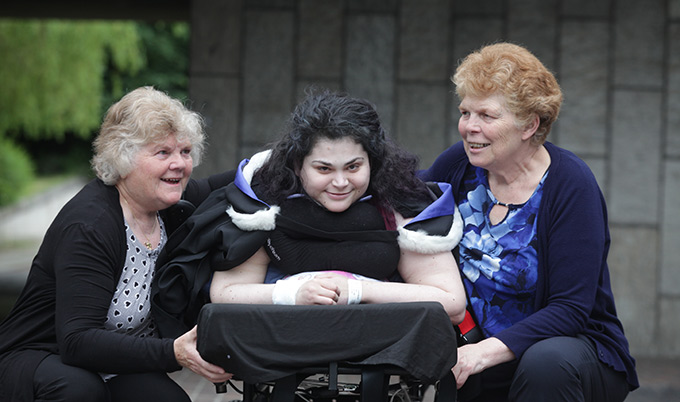 Overcoming challenges
Melanie said: "This brilliant day means so much to me and I want to thank everyone who is supporting me. As my condition worsened, I needed multiple operations which prevented me from graduating with my colleagues. I had to take time off and I had to spread my final year over two years. It also meant I had to sit my exams on a stretcher and to work on assignments from home.
"I'd like to take the opportunity to say thank you to Newcastle University which has provided fantastic support from visiting day onwards. It's been amazing and everyone made both my time here enjoyable, and reaching my goal to graduate achievable, despite the extreme medical obstacles I have had to tackle. The latest being the most difficult - to raise over £150,000, to fund my lifesaving surgery."
Melanie lives in Cramlington, Northumberland, where her mother is her sole carer. Her academic success means that she is the first member of her family to don a graduation gown.
Her mother, Molly, said: "Melanie's graduation means a lot to us. She didn't give up even after she lost her ability to write and read, having to work on her assignments from memory. She's been through so much, yet she managed to become the first in the family to graduate. I'm really proud of her."
Melanie is joining 4,500 students attending Newcastle University's July Congregation ceremonies.
---
Latest News