Kielder Fine Art scultpures
Fine art in the forest
Published on: 13 July 2016
Newcastle University Fine Art students are exhibiting their work in one of the North East's most beautiful – if unusual - art galleries.
Stunning environment
Ten sculptures have gone on display at Kielder Forest as part of Kielder Water & Forest Park Development Trust's Art and Architecture programme.
The temporary installations are all placed along the forest's Duchess Trail and includes an artwork based on the story of Hansel and Gretel. A trail of crumbs leads visitors to a vending machine which dispenses miniature gingerbread sculptures.
Professor Andrew Burton, Acting Head of Newcastle University's School of Arts and Cultures, said: "It is fantastic for our students to be able to contribute to Kielder's wonderful Art and Architecture programme. The art has been created by students ranging from those in their first year to those studying for Masters degrees and for them to be able to deliver installations that sit in this stunning environment is incredibly rewarding. We look forward to building upon our relationship with the Kielder team."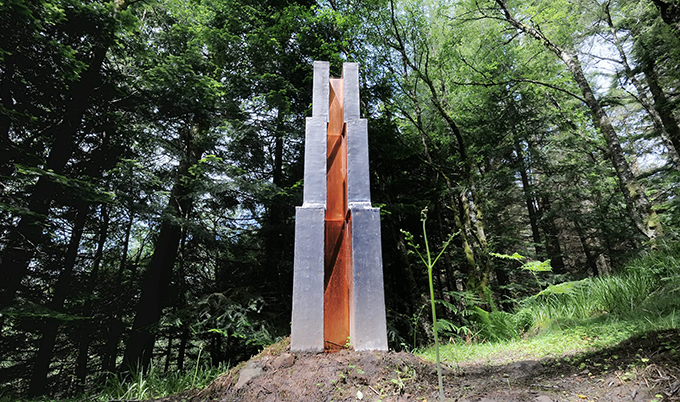 Expanding relationship
The students' work is on show alongside a piece by London-based artist Fiona Curran. "The grass seemed darker than ever" is an artistic response to the history of Kielder Castle.
The ten pieces by the Fine Art students build upon the growing relationship between Kielder Water & Forest Park and Newcastle University.
Previously, architecture students have designed a stargazing pavilion in Stonehaugh, a warm room for stargazers at Kielder campsite and currently redeveloping a dilapidated roundhouse in Rochester.
Peter Sharpe, curator of Kielder Art and Architecture, said: "The Art and Architecture programme is constantly evolving and it is great to work with established artists, such as Fiona, as well as students who represent the future of art. Having worked with Newcastle University's architecture department, it is great to expand that relationship."
The project has been supported by the Forestry Commission, Northumbrian Water and Arts Council England.
Press release adapted with thanks from Northumbrian Water
---
Latest News