Robin Sengupta honorary degree
World-leading neurosurgeon receives Honorary Doctor of Medicine
Published on: 15 July 2016
A world-renowned neurosurgeon has been awarded an honorary degree from Newcastle University for his outstanding work in the medical field.
Robin Sengupta is a leading figure in neurovascular neurosurgery and pioneered a brain aneurysm operation, which brought him referrals from around the UK and internationally.
Mr Sengupta has worked in the NHS for 51-years, mostly in the North East, where the Newcastle upon Tyne Hospitals NHS Foundation trust named one of their neurosurgical theatres in his honour.
High quality, affordable healthcare
His vision for delivering high quality, affordable healthcare to people in Kolkata, India, saw him establish a neurological centre which rapidly became the Best Single Specialty hospital in India for service, teaching postgraduate students and research in the field of neurology, neurosurgery and neuro-psychiatry.
But, disappointed by the limited opportunities available to manage Kolkata's poorest people affected by neurological illness, Mr Sengupta set up the Institute of Neurosciences-Kolkata. This hospital was built with donations from around the world and he has given most of his life-savings to this project.
Today the 79-year-old received an Honorary Doctor of Medicine from Newcastle University at a ceremony at the city's Civic Centre.
Mr Sengupta said: "Where we are born, or what challenges we are born with, is beyond our control but we are responsible for our own destiny.
"As I reflect on the great opportunities that are open to the young medical students from Newcastle University, it is an honour to be recognised by such a well-respected institute."
Determination to study medicine defied the odds
Born into poverty in Chittagong, India, Mr Sengupta's family could not afford to send him to school, so he learned from books borrowed from others. He became a street trader until a local teacher paid for his education.
His determination to study medicine defied the odds, and in 1961 he graduated from Calcutta University then moved to England for higher studies while working in the NHS.
After obtaining Fellowship of the Royal College of Surgeons in Edinburgh and in England, he travelled extensively to learn aneurysm surgery and become a leader in his field.
In 1974 he went to Harvard Medical Centre in the United States, but, preferring to work in the NHS, he returned to the UK to become a consultant neurosurgeon in Newcastle.
Mr Sengupta has received many awards. Most recently, he won the Medal of Honour by the World Federation of Neurological Surgeons, considered to be the ultimate accolade in this area.
Professor David Burn, director of Newcastle University's Institute of Neuroscience, said: "I have known Robin since I was a medical student in Newcastle. He is an inspirational figure who has dedicated his life to helping others.
"The Institute of Neuroscience in Kolkata, which he founded, is proof that dreams and aspirations can come true. His honorary degree is recognition for his efforts and is hugely deserved."
Honorary degrees
This year the people who have received an honorary degree from Newcastle University are: Brian Alderson, author, Honorary Doctor of Letters; Anne Longfield OBE, Children's Commissioner for England, Honorary Doctor of Civil Law; James Syvitski, Oceanographer and Geologist, Honorary Doctor of Science; Professor Sir Eric Thomas, Honorary Doctor of Civil Law.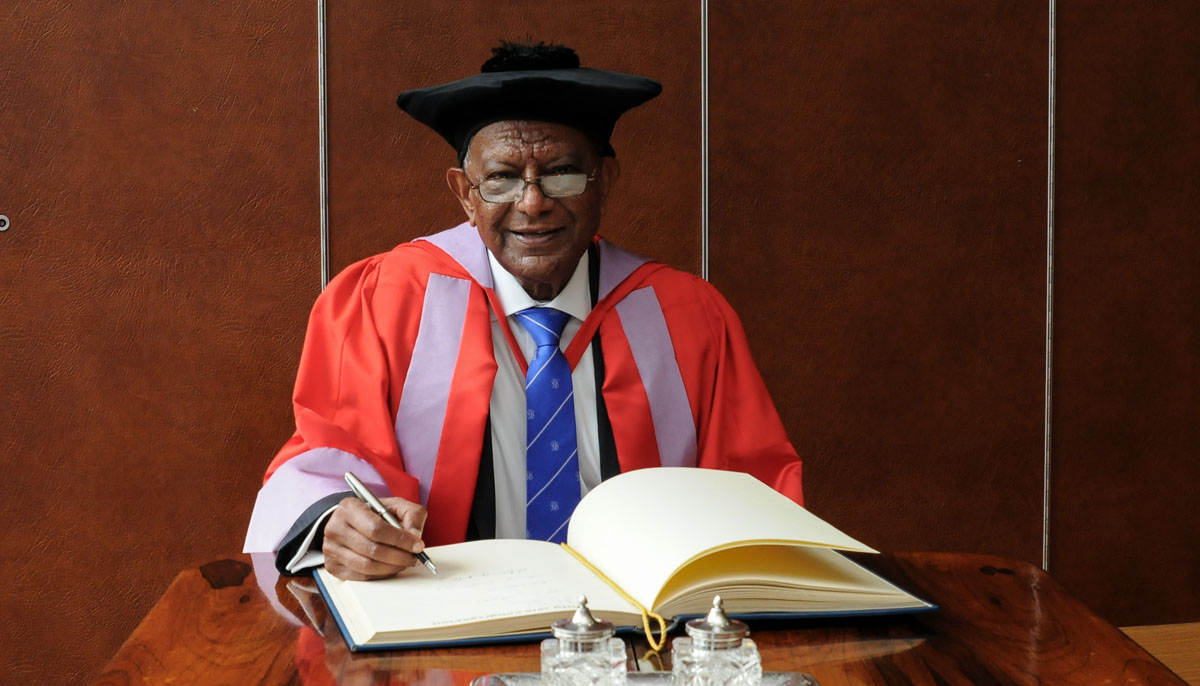 ---
Latest News