University sculpture receives listed status
Published on: 8 September 2016
A sculpture on Newcastle University's city centre campus has been given Grade II listed status in recognition of its historic and artistic significance.
'Spiral Nebula' by noted post-war sculptor Geoffrey Clarke, and located outside the Herschel Building, is a leading example of post-war public art and one of the few from this period in Newcastle.
It was commissioned in 1962 as part of the design of the Herschel Building for the University's Physics Department, and reflects the scientific advances being made at the time - Britain's first satellite, Ariel 1, was launched in the same year the building was opened and the sculpture unveiled.
Spiral Nebula has the appearance of being constructed from wooden slats but Clarke used a pioneering technique to create it. Using aluminium rather than traditional bronze, Clarke adapted the long-established 'lost wax' method by carving polystyrene moulds with a heated instrument and then casting molten metal, which vaporised the polystyrene.
Yet, when the sculpture was unveiled, it caused a dispute between Clarke and Sir Basil Spence, the architect responsible for the Herschel Building as Spence thought that its waxed finish distracted attention from the building. A month later, the sculpture was flame-blasted and painted grey.
By 2012, the sculpture was in a deteriorating condition and Newcastle University undertook a conservation plan to return the sculpture to Clarke's original vision. This involved consulting with Clarke, who stipulated that his son, Jonathan, also a sculptor, work on the restoration along with Andrew Pawsey, son of Clarke's original assistant who helped him create Spiral Nebula in 1962.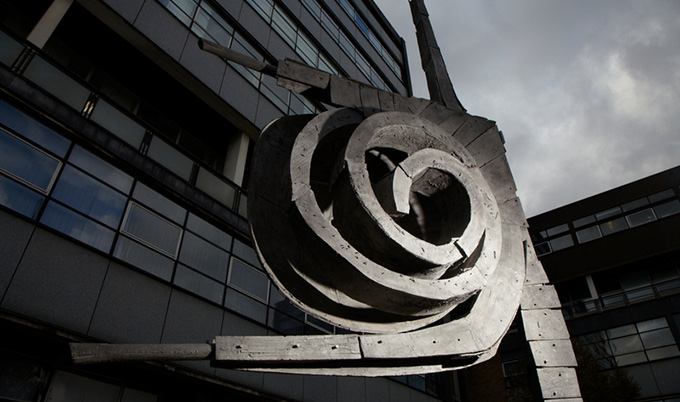 Campus artworks
Professor Eric Cross, Dean of Cultural Affairs at Newcastle University, commented: "Spiral Nebula is one of the most striking examples of the distinctive and imaginative quality Geoffrey Clarke brought to his work. It also marks an important period in the history of the University, since both the sculpture and the building it sits outside were specially commissioned as part of the process of becoming a fully independent university in 1963.
"We're immensely proud to have it here on campus and welcome this listing as it will ensure the sculpture is protected for future generations to enjoy."
Clare Byrne, Director of Estates, Newcastle University, said: "There are a number of internal and external artworks on our campus. As well as being enjoyable, they uplift the distinctiveness and quality of our environment, act as landmarks welcoming visitors and help with orientation.
"More works are being planned to communicate the history of the University and its identity. For example, we recently commissioned a new sculpture of Martin Luther King Jr which will be unveiled in 2017 as part of the celebrations to commemorate the 50th anniversary of Dr King coming to Newcastle University to receive an honorary degree.
"Great public art doesn't just help to create a vibrant cultural environment that can be enjoyed by students, staff, and visitors, it also provides a unique record of a moment in history."
Art as a symbol of revival
Spiral Nebula is one of five pieces of post-war public art in the North East that have been given listed status, announced today (8 September) by Historic England.
The move coincides with the opening of a new exhibition at Bessie Surtees House, Newcastle Quayside, 'Out There: Our Post-War Public Art'. The free exhibition, which runs until 23 December, celebrates the sculptures and structures created by pioneering artists between 1945 and 1985.
The post-World War Two period marked an important period for public sculpture as function shifted from being largely commemorative to being a central element of post-war construction programmes, including those taking place as part of the massive expansion of universities at the time.
Heritage Minster Tracey Crouch said: "It's vital that important parts of our heritage are secured for generations to come, so I'm delighted that these fantastic post-war public sculptures, which transformed public spaces across the North after the Second World War, will now be protected. I encourage everyone to visit the Out There exhibition in Newcastle to learn more about the stories behind these pieces of post-war public art."
Roger Bowdler, Director of Listing at Historic England said: "The north of England has an extraordinary collection of post-war public art. These newly listed are some of the most striking examples of how art was used as a symbol of revival, commissioned and created for everybody. They enrich our lives, bring art to everyone and deserve celebration."
Other work featured in the exhibition is the Apollo Pavilion in Peterlee, designed in 1969 by Victor Pasmore, who was previously Head of Painting at what was then King's College, Durham, and later became Newcastle University.
Archive photos courtesy of: Special Collections, Philip Robinson Library, Newcastle University.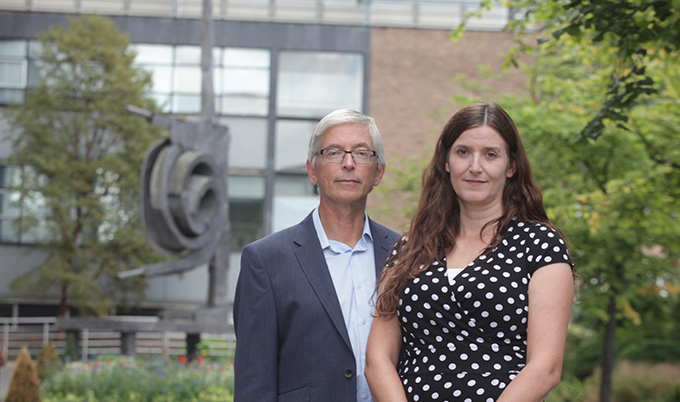 ---
Latest News