Freedom City 2017 awarded Arts Council funding
Published on: 25 October 2016
A city-wide project to mark the 50th anniversary of Dr Martin Luther King Jr. receiving an honorary degree from Newcastle University, has received funding from Arts Council England.
Artistic, academic and cultural response
On 13 November 1967 Newcastle University awarded an honorary degree to Dr King - the only UK university to recognise him in this way during his lifetime.
In a passionate and moving address delivered in the University's King's Hall, Dr King highlighted the three 'urgent and great problems' of racism, poverty and war. Freedom City 2017 aims to inspire a new generation to tackle these themes through an artistic, academic and cultural response.
NewcastleGateshead Initiative, in partnership with Northern Roots and Newcastle University, has been awarded £595,190 to bring world-renowned artists and local diverse talent together to produce Freedom City 2017, which will launch a three year programme creating a step change in the way artists and organisations present diversity in their work.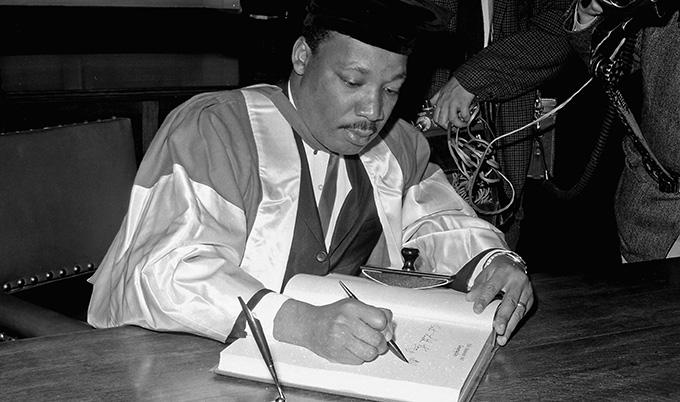 Reflecting diverse communities
Carol Bell, culture and major events director at NewcastleGateshead Initiative said: "Freedom City 2017 will not only celebrate Dr Martin Luther King Jr.'s visit to Newcastle University in 1967 through arts, culture and academia; it will also create a new way for arts and cultural organisations to engage hard to reach groups and present, commission and produce work that reflects our diverse communities.
"Working in partnership with Northern Roots and Newcastle University, we look forward to delivering a city-wide celebration of Dr King's visit to Newcastle upon Tyne through large-scale outdoor events, thought-provoking theatre, inspiring exhibitions, uplifting musical performances, world class academic research and more."
Professor Richard Davies, Pro-Vice-Chancellor for Engagement and Internationalisation, Newcastle University, said: "Newcastle has a proud history of social justice, so it is fitting that this award from the Arts Council will enable diverse communities across the city to take part in the celebrations commemorating Dr King's visit to Newcastle. This grant is a strong endorsement of the aims of Freedom City 2017 and will help a new generation engage in Dr King's legacy."
Aimed at stimulating and supporting ambition, talent and excellence across the arts sector in England, the Ambition for Excellence fund seeks to support the development of strong cultural places; grow and develop talent and leadership in the regions; and give an international dimension to excellent work.
Alison Clark, National Director, Combined Arts & Programme Lead, Ambition for Excellence, Arts Council England, said: "This round of awards highlights some game changing innovations across the arts, and in particular shows new creative approaches to diversity and digital. These projects will have longer term impacts far beyond the places where activity happens, while producing exceptional art and developing talented artists and producers."
Ambition for Excellence supports the creation of work for major national moments, enabling organisations to reach international and national audiences.
For more information about Freedom City and to sign up to the newsletter, visit the Freedom City 2017 website.
---
Latest News