Closing the education gap
Closing the education gap
Published on: 17 November 2016
Newcastle University's SOLE Central and Project Hello World are coming together to help close the education gap in developing countries through self-organised learning.
Solar-powered hubs
Self-organised digital learning might be the solution for children who lack access to formal schooling, allowing them to shape their own learning and create a brighter future for themselves.
The partnership between Project Hello World, run by the human rights organisation Projects For All, and SOLE Central, the Newcastle University research centre and home of TED Prize winner Professor Sugata Mitra's School in the Cloud, is a significant step towards understanding how to reduce the education deficit in developing countries.
Project Hello World builds solar-powered outdoor Internet Hubs in close partnership with local communities. The Hubs are WiFi-enabled and loaded with educational software and applications, giving children the opportunity to educate themselves.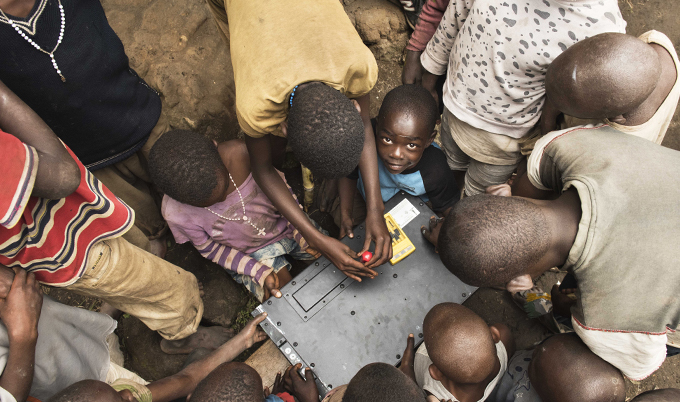 Future research and development
SOLE Central, on the other hand, looks back on 14 years of research expertise, showing that children with access to the Internet can learn almost anything. These self-organised learning environments (SOLEs) allow students to learn collaboratively using the Internet, while providing important data for future research and development.

Although the two parties have collaborated in the past, this partnership will see SOLE Central's Dr James Stanfield further experiment with self-organised learning at established Hello Hub projects in African communities. The Hello Hubs will provide invaluable data about usage and educational attainment that can be collected and analysed by a team of research experts at the University.

"We set out to answer Sugata's challenge to reach all children with a 'school in the cloud'. Three years and five Hello Hubs later, we can say that we're helping achieve that goal. We are so proud to be partnered with SOLE Central," says Katrin Macmillan, CEO of Projects For All.


'Grandchild of the Hole in the Wall'
The partnership allows SOLE Central to reach more countries, particularly in Africa. This collaboration lays the foundation for developing SOLE and Hello Hubs to their full potential and establishes an efficient means of providing education access to children in developing countries.

"A Hello Hub, to me, is like the grandchild of the 'Hole in the Wall', 16 years later," says Professor Mitra.

About Project Hello World

Project Hello World builds solar-powered, outdoor Internet hubs in partnership with communities in developing countries. They give the world's poorest children the chance to learn digitally, and with that, the ability to create their own future. To date, five Hubs have been built in Nigeria and Uganda, and more are planned across the continent of Africa and beyond.

Project Hello World has been created by Projects For All, a non-profit human rights organisation with the mission to empower communities in developing countries by giving them a lead role in their own development.

Press release reproduced by kind permission from Projects for All.
---
Latest News