Newcastle University expert sets out new approach to flood management
Published on: 2 November 2016
Expert insight from a Newcastle University academic has been incorporated into a major report published today on the future of flood management in the UK.
The report, 'Future Flood Prevention' has been published by the Environment, Food and Rural Affairs Select Committee.
Dr Paul Quinn from the School Civil Engineering and Geosciences acted as a special advisor to the committee and over the last 6 months has actively contributed to the fact finding and conclusions of the report.
The review concluded that a large-catchment trial of the effectiveness of natural flood management approaches such as installation of leaky dams, tree planting and improved soil management, should be carried out. This should take place alongside other measures such as farmland being used to store flood water and appropriate incentives to recompense farmers. Dr Quinn has actively campaigned for this approach over the last 10 years.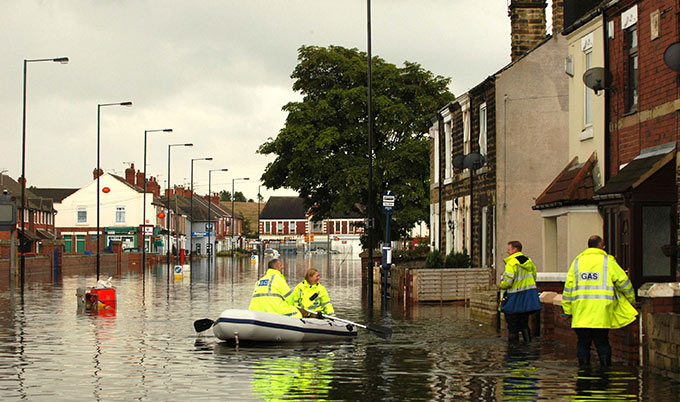 New model for managing flood risk
Dr Quinn and fellow special advisor to the Committee, Professor David Balmforth, proposed a new model for managing flood risk. Current flood risk management structures are fragmented, inefficient and ineffective, they say, and although there are many examples of successful local partnerships, current arrangements do not encourage widespread use of catchment-scale approaches.
To give a strong focus to joined-up, efficient action to improve flood protection the Review recommends establishing a new National Floods Commissioner for England, to be accountable for delivery of strategic, long-term flood risk reduction outcomes agreed with Government. Delivery would be via new Regional Flood and Coastal Boards to coordinate regional delivery of national plans, in partnership with local stakeholders. These Boards would take on current Lead Local Flood Authority and Regional Flood and Coastal Committee roles.
These could operate alongside a new English Rivers and Coastal Authority, taking on current Environment Agency roles to focus on efficient delivery of national flood risk management plans.
Dr Quinn said: "Flooding is one of the major threats to the economy and wellbeing of five million people living and working in communities across England. Rainfall is predicted to become more frequent and more intense but we've seen that the country is poorly prepared to manage this flood risk, Storm Desmond alone caused £5 billion worth of damage last winter, for example.
"It's impossible to prevent all flooding but natural flood management measures such as tree planting and storing and slowing water in leaky dams and on floodplains help protect local communities more effectively than traditional approaches. A long-term holistic plan, such as that set out in this report, is needed urgently if we are to better manage the risk that flooding presents."
The report also suggested that flood risk communications must be simplified since current descriptions of a '1 in x year' flood risk are confusing to the public, the Committee say.
It recommends that the Government make developers who fail to comply with planning requirements liable for the costs of flooding and also advocates the role of Sustainable Drainage systems be promoted and delivered by planners, as a way to improve resilience.
---
Latest News