Newcastle to celebrate King's legacy
Published on: 14 November 2016
Schools, community groups and academics will join forces with international artists and musicians for a celebration of Dr Martin Luther King being given an honorary degree by Newcastle University.
Bringing a legacy to life
Highlights of the Freedom City 2017 programme were launched to an invited audience of voluntary and community groups, representatives from cultural venues and other key partners from across the city.
The event, which took place in Newcastle University's King's Hall, featured schoolchildren from Christ Church C E School in Newcastle. As part of the Freedom City 2017 programme, the students have been working with academics from Northumbria University to learn about Dr King. At the event, which took place on the 49th anniversary of Dr King's visit, they performed songs inspired by what they have learned.
Also performing at the event were Crossings, a Newcastle-based music group made up of asylum seekers, refugees and migrants who aim to promote multiculturalism and diversity through music. The event was closed by Voices of Virtue, a community gospel choir established to provide an artistic platform for young people.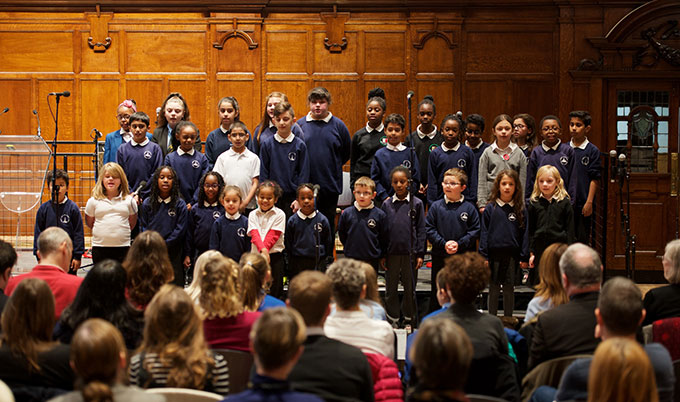 Opportunity for reflection
Taking place at venues across Newcastle and Gateshead throughout 2017, Freedom City 2017 will mark the 50th anniversary of Dr Martin Luther King Jr. being awarded an honorary degree from Newcastle University, the only UK university to honour him in this way during his lifetime.
In a moving address delivered at Newcastle University's King's Hall, Dr King – in his final public address outside America before his assassination - called for people to join him in the ongoing struggle against war, poverty and racism.
Drawing on these themes, Freedom City 2017 aims to bring Dr King's legacy to life for a new generation. The year-long programme will feature thought-provoking theatre, inspiring exhibitions, uplifting musical performances, world-class academic research and will culminate in a series of major events in November 2017.
Professor Richard Davies, Pro-Vice-Chancellor, Engagement and Internationalisation, Newcastle University, said: "The 'urgent and great' problems of war, poverty and racism that Dr King spoke about during his speech are as relevant today as they were in 1967. The 50th anniversary of his visit provides an opportunity for reflection on these themes and for us all to re-commit to the aims and values Dr King stood for."
Artistic, academic and cultural response
The full Freedom City 2017 programme will be launched in January, but among the planned activities highlighted at the event were:
Freedom City on the Tyne, a mass performance event re-imagining notable historical civil rights protests.
A musical celebration at Sage Gateshead featuring songs of the Civil Rights movement.
A major exhibition at BALTIC Centre for Contemporary Art, alongside a programme of events, talks and performances.

A new exhibition at the Great North Museum: Hancock featuring a collection of oral histories and photographs collected from the height of the US civil rights movement and created in partnership with Newcastle University and the Carnegie Museum of Art in Pittsburgh, USA.
A resources pack for teachers to help schoolchildren of all ages think about Dr King's visit to Newcastle and the themes of his speech.
A new sculpture of Dr King on the Newcastle University campus.
An exhibition at Newcastle University's XL gallery, curated by students from the School of Arts and Cultures.
A new anthology of poetry dealing with the themes of war, poverty and racism. This will be edited by award-winning poets Jackie Kay, Professor of Creative Writing at Newcastle University, and Carolyn Forché, Professor of English at Georgetown University, US, and published by Bloodaxe Books.
Reflecting diverse communities
There will be opportunities for people to get involved in Freedom City 2017, and an ambitious engagement programme has begun to ensure activities reflect the diversity of communities across the North East. Funded by Arts Council England, the longer term aim of the programme will be to foster and promote greater diversity in the region's arts and cultural sector.
Patrick Collerton, Creative Director, Freedom City 2017, added: "Freedom City 2017 will kick start a three year legacy engagement plan that will create pathways to jobs in the arts for people from hard to reach and diverse communities.
"In addition, a city-wide cultural programme across Newcastle and Gateshead will celebrate the themes of Dr King's speech through exhibitions, performance, music and events. As well as major outdoor events and experiences, cultural venues will present work from regional, national and international artists that looks at the pertinence and importance of Dr King's words in the today's society."
MP for Newcastle Central Chi Onwurah, who recently called a debate in Parliament about commemorating Dr King's visit to Newcastle, added: "In the five decades that have passed since Dr King visited Newcastle his words have become all the more relevant. We still need children to be judged by their character not their background and everyone to join in the struggle against war, prejudice and poverty."
For more information about Freedom City 2017, visit the website at www.freedomcity2017.com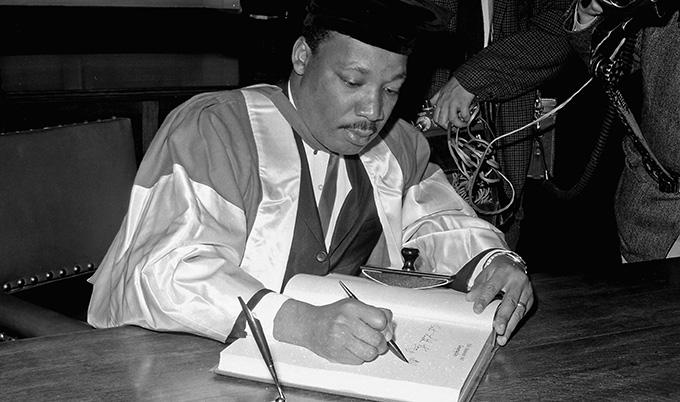 ---
Latest News