George Osborne visits Science Central
Driving innovation in the heart of Newcastle
Published on: 25 November 2016
The Rt Hon George Osborne MP was at Science Central this week where Newcastle University's £58m Urban Sciences Building is now nearing completion.
Taking a tour of the innovative new building - which is due to open in September 2017 and will house the University's world-leading School of Computing Science - the MP for Tatton praised the Science Central development which he said would "spread out benefits to the whole of the local community."
"This is such an impressive development all about science and technology, here in the heart of Newcastle," he said.
"It's through projects like this that we can bring exciting companies and the brightest people to Newcastle and that will spread out benefits to the whole of the local community."
Science Central - a £350m urban regeneration project, the largest of its kind in the UK - will also house the new £40m National Innovation Centre for Ageing, the £30m National Institute for Smart Data Innovation and the £20m National Centre for Energy Systems Integration and £11.2m UKCRIC integrated infrastructure labs and urban observatory.
Professor Stephanie Glendinning, Dean of Strategic Projects at Newcastle University, explained:
"Science Central is unique in the UK and a demonstration of the Northern Powerhouse in action.
"At Science Central we are building it large, creating a demonstration site that is not just another University lab bench but a full scale, real-world solution that businesses and communities can get involved with and help to shape.
"The University is also helping to develop our science and technology workforce and filling the skills gap in these areas that currently exist in the UK."
Newcastle University's Professor John Fitzgerald, Deputy Head of the School of Computing Science and leading the Urban Sciences Building project, added:
"There's hardly any product now that hasn't got computing in it these days and almost every aspect of our lives is influenced by digital technology. So it makes sense to bring Computing Science alongside other research areas - energy, infrastructure, sustainability, society - and look at how digital underpins each of them and can be used to drive innovation in these key areas.
"This is what is unique about the University's new Urban Sciences building."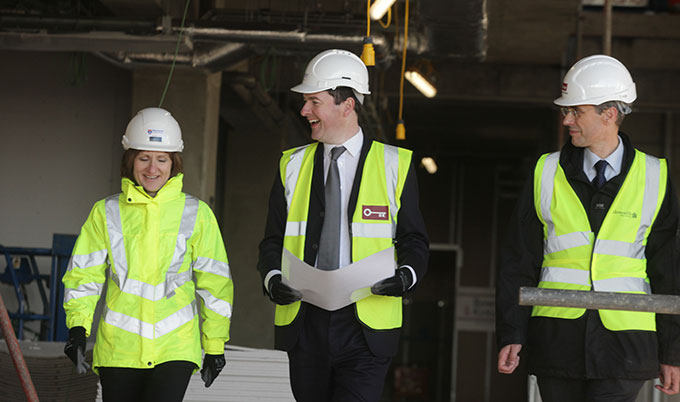 Northern Powerhouse
Mr Osborne was in the region to host the first Newcastle Northern Powerhouse Partnership (NPP) roundtable. Bringing together major businesses and civic leaders from across the North, the NPP is an independent body established to understand the issues and priorities that will drive transformational change throughout the Northern economy.
Mr Osborne said:
"The North East is a vital part of the Northern Powerhouse. Today I'm here in Newcastle listening to business and civic leaders about how the Northern Powerhouse Partnership can work with them to harness their energy and collective will to drive genuine economic renewal right across the North East and wider North.
"These roundtable events will enable the NPP to develop a consensus across the region about the common ideas which we can work closely with national government on to improve the economy and quality of life for people in the North.
"Long-term collaboration between the private and public sectors across the North, and with Government and national agencies, will be essential if this ambition is to be realised and the NPP will be fundamental in delivering this."
Major contribution
Science Central is a partnership between Newcastle University and Newcastle City Council and earlier this year it announced a major new partnership with Legal & General Capital.
Newcastle City Council leader Nick Forbes said:
"It's vital that Newcastle and the North East are seen as integral to the Northern Powerhouse Partnership. We have a huge contribution to make in major economic sectors including digital, life sciences, engineering and advanced manufacturing.
"One of my messages to George Osborne was the need for continued investment in infrastructure so we can continue to create jobs and prosperity for everyone."
The NPP is an independent not-for-profit partnership which launched in September 2016 with a business-led board, including representatives from key Northern companies including Manchester Airports Group (MAG), Mace, Barclays, Associated British Ports, Siemens, HSBC, EY, Addleshaw Goddard, Arcadis and Bruntwood. These organisations are expected to play an important role in providing insight and evidence to drive the Partnership forward.
The Board companies have all agreed a financial contribution to the NPP and representatives from these businesses will be in attendance at the roundtables occurring in 2016 in Manchester, Newcastle, Leeds, Sheffield and Liverpool, with further engagement planned across the North in 2017.
---
Latest News