Maternity Tales: Spaces of Birth Past and Present
Maternity tales: Spaces of birth past and present
Published on: 8 November 2016
A Newcastle academic interested in where women have given birth throughout the ages is now collecting stories about today's childbirthing spaces.
Labour and birth experiences
Architectural historian and designer Dr Emma Cheatle has been researching the history of maternity buildings, along with fictional descriptions of these spaces and births in literature.
Inspired by BBC R4's Listening Booth project, she now wants to record people's experiences of labour and birth in relation to the rooms and buildings they were in at the time, not just from the mother's point of view, but also those around her.
Dr Cheatle is setting up the booth initially in the maternity unit of the Royal Victoria Infirmary in Newcastle before moving it to a public location in the Laing Gallery, along with an old chest of drawers charting the history of childbirth.
This Laing location was chosen for a specific reason: it is opposite a small 'lying-in' hospital building. Built by John Dobson as a philanthropic gesture, it was set up for poor local women and paved the way for later maternity units.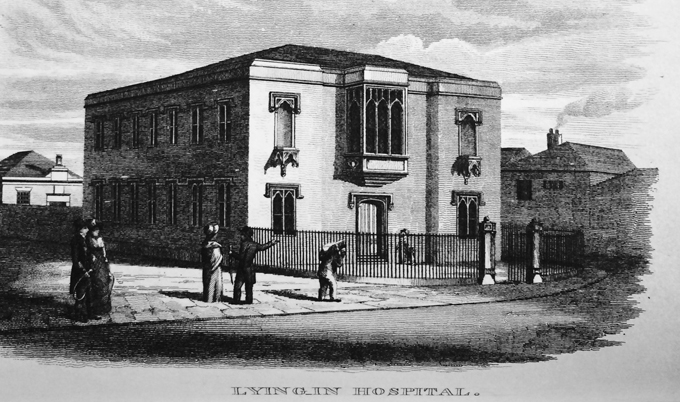 First lying-in hospital
Formerly located in Saint John Street near Pudding Chare before the move to this location in 1826, it was the first lying-in hospital outside of London when it was set up in 1760. "Today it is somewhat dwarfed by the Newcastle Building Society and the Premier Inn so few people passing by even notice its existence, let alone know about its past," says Dr Cheatle.
"On one level, it's easy to criticize the creation of the lying-in hospitals. They were set up by the new men-midwives, and giving birth suddenly became a lot less personal for women with care becoming standardised and masculine. Although these units also coincided with some advances in medical science and helped poor women, it is possible that these women were also being subjected to medical interventions to further the careers of the men-midwives."
Dr Cheatle also argues that hospital was not necessarily the safest place to be: puerperal fever was rife in the wards and it wasn't until sometime later that people began to realise the link between spreading infections and washing hands. Below some wards autopsies were carried out, and doctors regularly travelled from one space to the other without a thought for cross-contamination.
Share your stories
In the chest of medical drawers that accompanies the recording booth, Dr Cheatle has curated visual and audio accounts about birth spanning from early midwives in the 17th and 18th centuries through to the role of the man-midwife, and midwifery becoming a professional career. It wasn't until the 20th century that it was recognised as a medical profession by the Royal College of Physicians and, despite the long history of lying-in institutions, it was not until 1945 that most women gave birth in hospital.
Maternity Tales will be on display in the Laing Gallery on 25 November 2016 between 10.30am and noon and 2pm until 4pm for people to explore the archive as well as share their own stories. Book your place in advance here.

If you would like to contribute but cannot get to the Listening Booth in person, you can use the online participation form. It contains the same questions as the hard copy version and all information given is anonymous. We do not ask for any personal information. Talking about your birth stories can bring up memories or experiences that you may need support with. If this is the case we have prepared a list of numbers where you can get help and support.
Maternity Tales is part of the Being Human Festival 2016, a series of free events from 17-25 November across Britain celebrating the humanities which can be found on Twitter using #BeingHuman16
---
Latest News