Review welcomed as "a step closer to reproductive choice"
Published on: 30 November 2016
A ground-breaking IVF technique developed by experts at Newcastle University, to reduce the risk that babies born will have mitochondrial disease is a step closer after a thorough scientific review.
The team at Newcastle University and Newcastle upon Tyne Hospitals NHS Foundation Trust, who are preparing to apply for a licence, have welcomed the findings of the expert review of mitochondrial donation techniques.
The independent expert panel, convened by the Human Fertilisation and Embryology Authority (HFEA), has found the techniques are now at an acceptable stage for cautious clinical use and these findings will be considered by the HFEA in December.
The UK became the first country to approve laws to allow the use of the pioneering technique to reduce the risk of mitochondrial diseases, however, further scientific analysis was called for.
Reproductive choice
Reacting to the review Professor Doug Turnbull, Director of the Wellcome Trust Centre for Mitochondrial Research at Newcastle University said: "This is obviously great news and I agree with the report conclusions. They have considered the evidence in great detail and their conclusion that "it is appropriate to offer mitochondrial donation techniques as clinical risk reduction treatment for carefully selected patients" is entirely appropriate given the evidence.
"I also completely agree with importance that there is long term follow up of any children born.
"I think the report highlights the very careful way in which the UK has proceeded with this new IVF technique and hope the HFEA approve this at their meeting in December.

"This gives women who have mitochondrial DNA mutations reproductive choice and I am delighted for them.

"We have been working closely with NHS England to develop care pathways which ensure that women with mitochondrial DNA mutations will have access to advice about the available techniques, pathway for mitochondrial donation itself and the subsequent care of the mothers through pregnancy, pathway for mitochondrial donors, and pathway for the long-term follow up of children born."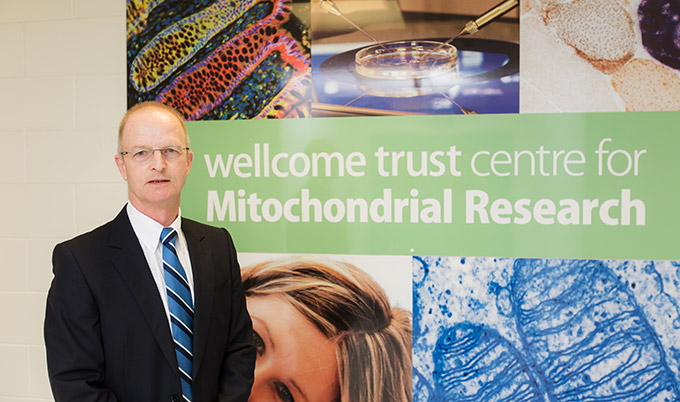 Ready to submit a licence
Mitochondrial diseases are caused by inherited mutations in the DNA contained in mitochondria – tiny structures present in every cell that generate energy.
Known as 'mitochondrial donation' the technique involves replacing faulty mitochondria inherited from the mother with the healthy mitochondria of another woman.
Mitochondrial diseases are genetic conditions affecting the batteries of the cell, with around one in 4,300 affected children born every year. Symptoms include muscle weakness, blindness, deafness, seizures, learning disabilities, diabetes, heart and liver failure. There is no cure and affected children often sadly die in early infancy.
Mary Herbert, Professor of Reproductive Biology at the Wellcome Trust Centre for Mitochondrial Research at Newcastle University said: "We are very pleased with the positive outcome of the expert panel's latest review of mitochondrial donation techniques.
"Once we get the green light from the HFEA, we are ready to submit an application for a licence to offer mitochondrial donation treatments here at Newcastle Fertility Centre. This will form part of a comprehensive programme of NHS-funded treatment for families affected by mitochondrial DNA disease.
"It is really gratifying for us to be able to extend the scope of reproductive technologies to help families affected by these dreadful diseases and it will be a great privilege to see our work over the past decade finally come to fruition.
"Our research efforts over the next five years will focus on refining the techniques to further reduce the risk of disease transmission."
Professor Alison Murdoch, Head of Newcastle Fertility Centre at Life, Newcastle University, added: "No other IVF technique has undergone such rigorous scientific and ethical evaluation before implementation.
"During the 15 years that mitochondrial transfer has been developed at Newcastle Fertility Centre, a generation of children with mitochondria disease have been born. We hope that the prospects for their children will be better."

The HFEA pages contain more information on the review.
---
Latest News