Newcastle University London celebrates first graduation ceremony
Published on: 24 November 2016
Newcastle University London hosted its inaugural Congregation Ceremony for its first cohort of International Business Management masters students.
Presided over by Professor Tony Stevenson, Deputy Vice-Chancellor at Newcastle University, the ceremony followed traditional University style. The academic procession was led by the Bedel carrying the University mace, and accompanied by the Northumbrian pipes.
Professor Amanda Broderick, Chief Executive Officer of Newcastle University London awarded the degree certificates. She said: "As a close-knit learning community, Newcastle University London are particularly delighted to celebrate and recognize the achievements of our new graduates and collectively share their excitement for the future.
"We are hugely thankful to all the co-creators of our learning environment in our first year in London: our new graduates; academic and professional services colleagues; industry and school partners; and our passionate Advisory Board.
"As the inaugural Class of 2016, our graduates will always have an extra special place in the history of the London Campus and an inspirational role as our London Ambassadors in the Newcastle University global alumni network."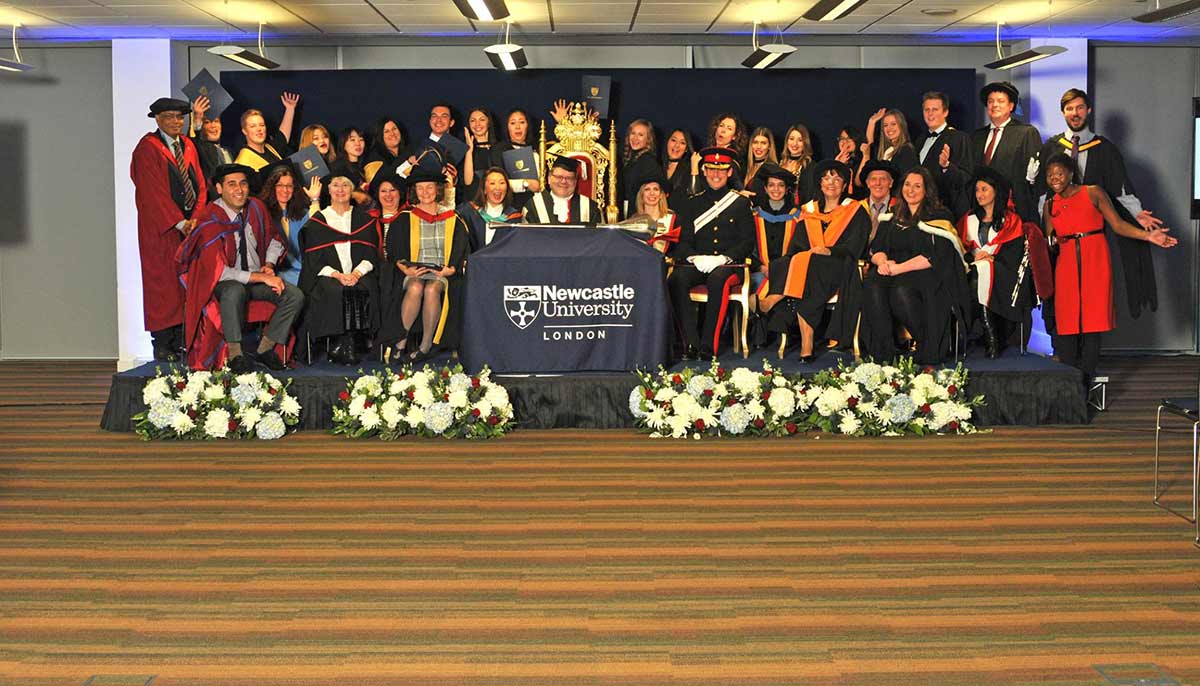 Celebrating student success
John Viney, Chief Operating Officer of AES International and Chair of the Advisory Board at Newcastle University London, made a guest appearance, to give special recognition to graduate Constantina Skoutari, who won the AES International Top Performing Student Award for her dissertation: 'The roles and competencies of the key account manager in the context of Cyprus'.
Newcastle University also marked the academic achievements of two other graduates with the Academic Excellence Award. Georgina Riches wrote a dissertation on Understanding E-Recruitment Practices: Candidate Strategies for Success, while Gelske Huyer investigated how managers of SME companies, with no prior experience, are navigating through the process of Cloud Migration.
A Russell Group university in the world's number one finance centre
Based in Middlesex Street in central London, Newcastle University London provides full-time undergraduate and postgraduate study programmes for UK, EU and international students.
It also serves as a London base for Newcastle University's triple-accredited Business School and the University's Continuing Executive and Professional Development programmes.
The London Campus is part of the University's global network – alongside its campuses in Singapore and Malaysia. Offering students, alumni and staff increased links to global business, industry and governments, it supports the University's mission to focus on not only what it is good at, but also, what it is good for.
Newcastle University London, a joint venture with INTO University Partnerships Limited, the education partnering organisation, has state-of-the-art teaching, research and support facilities. It also offers a suite of programmes specifically aimed at business, in addition to extra-curricular and network programmes for Newcastle-based students and the wider alumni body.
---
Latest News