Dental expert receives top award for his exceptional work
Published on: 10 November 2016
World-leading dental expert Professor Jimmy Steele CBE has been given a prestigious honour for his scientific work and outstanding contribution to his profession.
He was awarded the John Tomes Medal at this year's Winter Lecture at the British Dental Association.
Emeritus Professor Steele, who is the former head of Newcastle University's School of Dental Sciences, received the award in recognition for his immense contribution to dentistry through his involvement of dental contract reform, as well as his work with patients.
In 2009, he spearheaded the Independent Review of NHS Dentistry – also known as the Steele Review – which changed the way dental services were provided in the future to ensure the best care possible.
Professor Steele's health service research has included work in primary care, clinical trials, health economics and quality of life measurement. He is the author and contributor to a number of books in areas such as restorative and preventative dentistry.
He is one of the leading experts who worked on the Children's Dental Health Survey 2013 and the 2009 Adult Dental Health Survey. These are carried out every 10 years and are key to assessing the picture of the nation's oral health.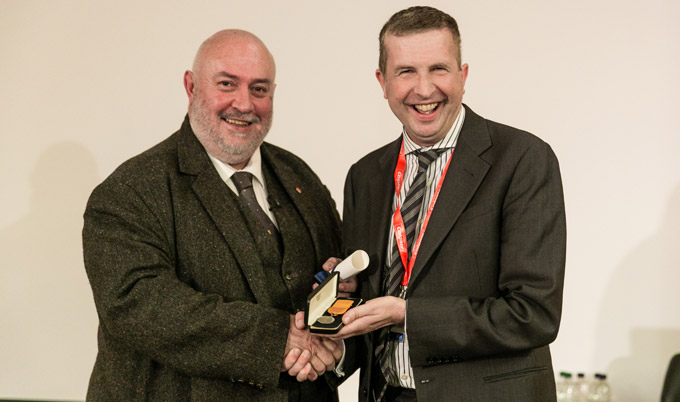 John Tomes Medal
The John Tomes research prize is awarded as a medal for scientific eminence related to dentistry and dental surgery. It is a rare honour bestowed on distinguished members within the profession.
In presenting the award in front of a packed house, British Dental Association chair, Mick Armstrong, praised Professor Steele as a highly respected and visible member of the dental profession locally, nationally and internationally.
Dr Armstrong said: "Jimmy's strong background in research and education has led him to take on a number of national leadership roles over the years.
"This includes the Independent Review of NHS Dentistry published in June 2009, probably the most far reaching review of NHS dentistry since the inception of the NHS in 1948.
"This was underpinned by a strong drive to always work at ways of improving professional quality of care for our population, and for individual patients.
"Jimmy's tireless work with providers of clinical service, education and research, has led to pivotal changes to dentistry in the UK and beyond.
"It is such a great pleasure to be able to honour him and thank him for all his work."
Proud to receive award
Since 1999, Professor Steele has been an honorary consultant at Newcastle upon Tyne Hospitals NHS Foundation Trust in the specialty of restorative dentistry.
Professor Steele said: "The last eight years have involved me in the relationship between the profession, the government and the public so I cannot tell you how proud I am to receive this award.
"John Tomes was a huge significance many decades ago, and was key to the development of modern dentistry, and the award of the Tomes medal is a rare event.
"I feel very honoured and proud that the profession has awarded this to me."
---
Latest News