Shipping in Changing Climates
Global marine science and shipping experts flock to NewcastleGateshead
Published on: 4 November 2016
Marine science and shipping experts from across the globe will be gathering in NewcastleGateshead for the Shipping in Changing Climates Conference.
Held at St James' Park from the 10 – 11 November, the conference will contribute an estimated £70,000 to the local economy.
The Shipping in Changing Climates project aims to inform the policy making process by developing an understanding of the shipping system, its energy efficiency and emissions, and its transition to a low carbon, more resilient future.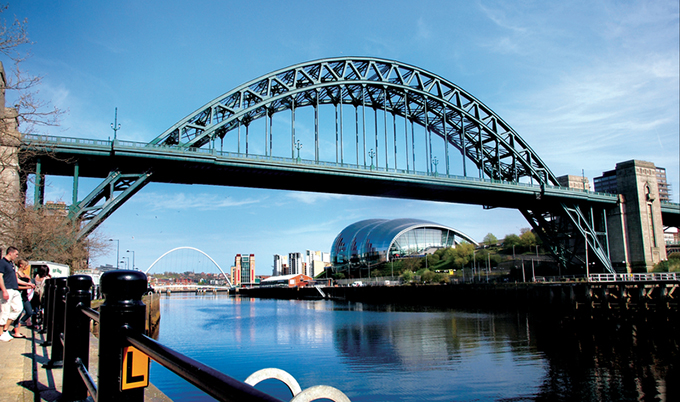 International reputation for Higher Education and Research in the Marine field
Dr Alan Murphy, Associate Dean for Science and Engineering and senior lecturer in marine engineering, said: "The world's prosperity is highly reliant on shipping, with 90% of transported goods still being moved at sea. The challenge of ensuring sustainable futures for shipping is truly a global challenge. This conference will be hearing and debating how technology innovations, policy interventions, operational strategies and more can be brought to bear to rise to this challenge."
"Newcastle University has a long and proud International reputation for Higher Education and Research in the Marine field and we are delighted to be hosting this year's Shipping in Changing Climates conference, a testament to the enduring impact of our work."
Paul Szomoru, head of business tourism at NewcastleGateshead Initiative, said: "Marine science and shipping expertise run throughout NewcastleGateshead, from our past industrial history, to the present day where we are home to industry leaders such as Siemens and Technip. We're also home to one of the UK's major ports, the Port of Tyne, and Newcastle University's Tyne Subsea: the National Centre for Subsea and Offshore Engineering – a £10m collaborative project with BEL valves and the first of its kind in the UK.
"It's fantastic to have a range of experts from across the world accessing the assets and institutions NewcastleGateshead has to offer."
International conferences in NewcastleGateshead
The conference will see keynote speeches from Lars Carisson, Partner Director of Windship Technology Ltd, and David Connolly, Lead Principal Marine Technologist at Shell Shipping & Management Technology. Policy developers, marine technologists and operators from the UK, China, Spain, Italy and Germany will also be presenting throughout the two day conference.
Shipping in Changing Climates Conference 2016 is one of many international conferences held in NewcastleGateshead since September including; British Academy of Management Annual Conference, Building Simulation and Optimization, Association for German Studies, Reformation Colloquium, TensiNet - COST Action TU1303 Symposium 2016 and the International Arts & Antiquities Security Forum.
---
Latest News