Centre for Mitochondrial Research
Wellcome invests £6.3m in its Centre for Mitochondrial Research
Published on: 7 December 2016
Wellcome has today announced £6.3m of funding for its Centre for Mitochondrial Research at Newcastle University over the next five years.
The facility is part of the University's Faculty of Medical Sciences and was established in May 2012.
Its aim is to transform the lives of patients with mitochondrial disease by integrating basic and clinical research, training exceptional young researchers and undertaking public and policy engagement.
Professor Sir Doug Turnbull, director of the Centre for Mitochondrial Research, said: "I am delighted that the Wellcome Centre for Mitochondrial Research at Newcastle University has been funded.
"The Wellcome Centre is about supporting research excellence and our aim is to use the very best science to improve the lives of our patients."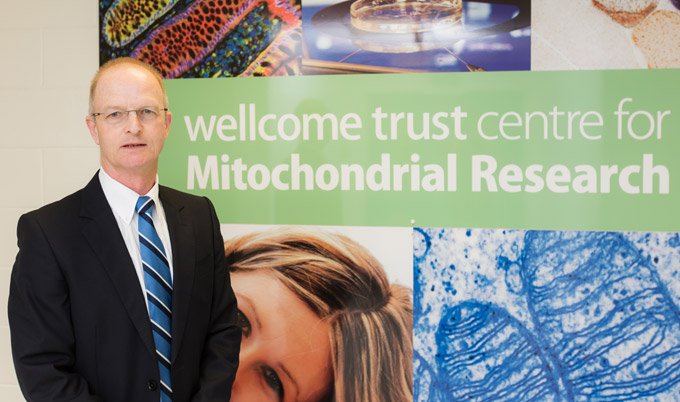 Leading pioneering technique
The Wellcome Centre for Mitochondrial Research is leading the development of a pioneering IVF technique to protect future generations from the risk of mitochondrial disease.
Last year, the House of Commons and House of Lords voted to legalise the technique using biological material from three people to reduce the risk of babies being born with these devastating diseases.
Known as 'mitochondrial donation', the IVF technique involves replacing faulty mitochondria inherited from the mother with the healthy mitochondria of another woman.
An independent expert panel, convened by the Human Fertilisation and Embryology Authority (HFEA), has found the technique is at an acceptable stage for cautious clinical use and their findings will be considered by the HFEA this month.
Wellcome has announced funding of £118m to 14 major research centres across the country over the next five years.
The Centres all aim to advance understanding of health and disease, and span fundamental and social sciences, clinical research and engineering.
Bringing world-class researchers together
At Wellcome Centres groups of world-class researchers with a joint vision come together to share facilities, collaborate, and benefit from the dynamic research, cultural and training environment.
This special environment allows them to deliver world-leading research and high-impact translation, as well as to actively engage the public with their research.
Seven of the 14 centres are renewed existing Wellcome Centres, who have a refreshed vision and new avenues to explore, and seven are newly established Centres.
These include a centre at the University of Oxford focussed on enabling novel fundamental discoveries of brain function, and a centre at University College London, joint funded with the Engineering and Physical Sciences Research Council, aiming to optimise surgery through integration of new insights.
Two of the new centres will focus on humanities and social sciences research, including a centre at the University of Exeter which will explore how we can shape cultures and environments to enable health and wellbeing.
Renewed Wellcome Centres include the Cambridge Stem Cell Institute, co-funded with the Medical Research Council, and the Gurdon Institute, co-funded with Cancer Research UK, both based at the University of Cambridge.
Wellcome's Director, Dr Jeremy Farrar, said: "Wellcome Centres play a special role in the global research ecosystem.
"By creating places where researchers can flourish we can catalyse world-leading research and translation, and amplify its influence and impact.
"At Wellcome we believe in long term support for discovery-driven science, and Wellcome Centres are an outstanding environment for researchers to further our understanding of fundamental biology, accelerate translation to clinical practice, and explore the social and cultural context of medicine."
---
Latest News