Vice-Chancellor and Newcastle alumnus honoured by city
Published on: 13 December 2016
Newcastle University Vice-Chancellor Professor Chris Brink and one of the University's most famous alumni Sir Terry Farrell CBE were last night awarded the honorary Freedom of their City.
They were among five sons and daughters of Newcastle to receive their city's highest honour, including former Olympic medallist Brendan Foster CBE, former Chair of Council at Newcastle University Olivia Grant OBE and Sir Leonard Fenwick CBE, Chief Executive of Newcastle Hospitals NHS Foundation Trust.
Each recipient will have their name engraved on the wall of the Banqueting Hall and was presented with a framed scroll during the installation ceremony in the Council Chamber.
The honour was particularly special as it was made in the 800th anniversary year of the Mayoralty and Freemen of Newcastle.
Lord Mayor of Newcastle, Cllr Hazel Stephenson, said: "All five of the recipients are people of distinction who have given eminent service to the city.
"They have helped put Newcastle on the map over many years and done so much for its people and the reputation of the city so they are all worthy recipients. I am delighted to honour them and welcome them to be honorary Freemen."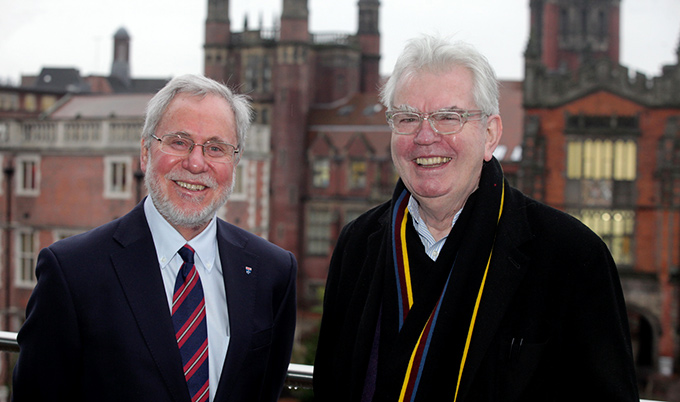 UK's leading architect planner
Sir Terry is one of the world's most famous and prolific architects and was in Newcastle yesterday not only to receive his award from the city but also to be made a Visiting Professor at Newcastle University.
Brought up and educated in Newcastle, he is an eminent architect and urban designer recognised as the UK's leading architect planner.
With a degree in architecture from Newcastle University, he founded his own company, Terry Farrell and Partners in 1980 and was responsible for the regeneration of Newcastle Quayside in the 1990s.
He is the man behind the MI6 Building in London and award-winning projects including The Deep in Hull, the Embankment Place office development above Charing Cross station and the MI6 Building in London, Incheon Airport in Seoul and Beijing's South Station.
He is currently advising the Department for Transport on HS2 and did a national review of architecture and the built environment.
Vision of a world-class civic university
Professor Chris Brink has been Vice-Chancellor of Newcastle University since 2007. Before arriving in Newcastle he was Vice-Chancellor of Stellenbosch University in South Africa, where he led a transformation agenda which attracted international attention. He promoted quality teaching, diversity and research and initiated a programme which overcame the divisions of apartheid and was commended by the late Nelson Mandela, himself an honorary Freeman of Newcastle.
Through his leadership, Newcastle University is now internationally renowned for its work towards finding solutions to the global challenges of ageing, sustainability and social renewal.
The University is attracting more students than ever and is consistently rated among the top universities in the UK for student satisfaction. His vision for Science Central, on the former Newcastle Brewery site, in partnership with the City Council, is transforming a once-neglected quarter of the city into a flagship development for urban innovation.
Professor Brink said: "To be recognised personally in this manner by the City which has been my home for the past nine years is a great honour, and to have my name inscribed alongside such eminent other honorary freemen is very humbling.
"However, I can only really accept this honour on behalf of Newcastle University, whose staff and students have made such a major commitment to working with the City in pursuit of our vision of a world-class civic university."
---
Latest News