Honorary degrees December 2016
Honorary degrees celebrate leading figures
Published on: 9 December 2016
A champion of patient safety, one of the foremost poets in the world today, a global leader in the fight against fuel poverty and an eminent ageing expert have been recognised with honorary degrees.
Newcastle University recognised four eminent figures at the Winter Congregation Ceremonies: Baroness Sally Greengross OBE, Chief Executive of the International Longevity Centre UK, Honorary Doctor of Civil Law; Professor Claudia Rankine, poet and playwright, Honorary Doctor of Letters; Jenny Saunders OBE, Chief Executive of National Energy Action, Honorary Doctor of Civil Law and Dr Peter Pronovost, an anaesthesiologist and critical care physician, Honorary Doctor of Medicine.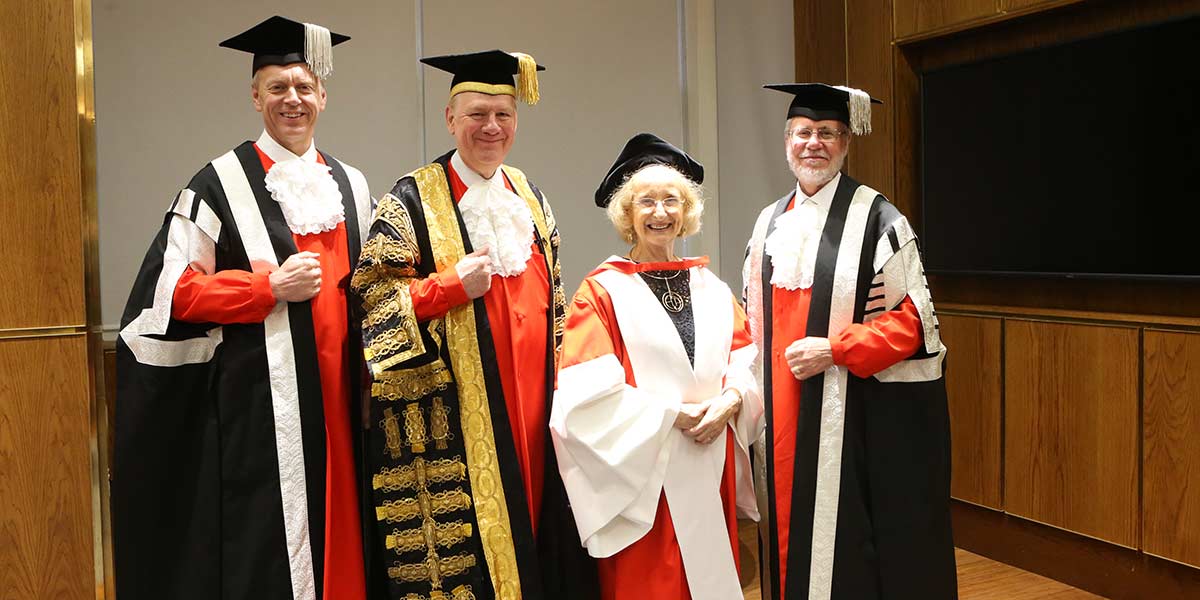 Using words to tackle serious themes around social justice
Social renewal honorand Professor Claudia Rankine, read her poem The Health of Us, at her congregation ceremony. The work was written in response to discussions about healthcare in the United States, a year before Obamacare became law.
She is one of the foremost poets and playwrights in the world today and her work often crosses genres. She has written five collections of poetry including Citizen: An American Lyric and Don't Let Me Be Lonely; two plays including Provenance of Beauty: A South Bronx Travelogue; numerous video collaborations, and is the editor of several anthologies.
Among her numerous awards and honours, Claudia was the recipient of the Poets & Writers' Jackson Poetry Prize and holds fellowships from the Academy of American Poets, the Lannan Foundation and the National Endowment of the Arts. In 2013, she was elected as a chancellor of the Academy of American Poets, and in 2014 she received a Lannan Literary Award. Claudia was awarded the coveted MacArthur 'genius grant' in September. She lives in California and New York, and teaches at Yale University as the Frederick Iseman Professor of Poetry.
Professor Mark Shucksmith, Director of the Newcastle University Institute for Social Renewal said: "Claudia Rankine's poetry is powerful and moving. She uses her skill with words to tackle serious themes around social justice, particularly everyday racism, inequality and social solidarity. Her critical thinking on these areas has contributed widely to the international debate about these issues. The Institute for Social Renewal shares her concerns and we are proud she is to call her our honorand."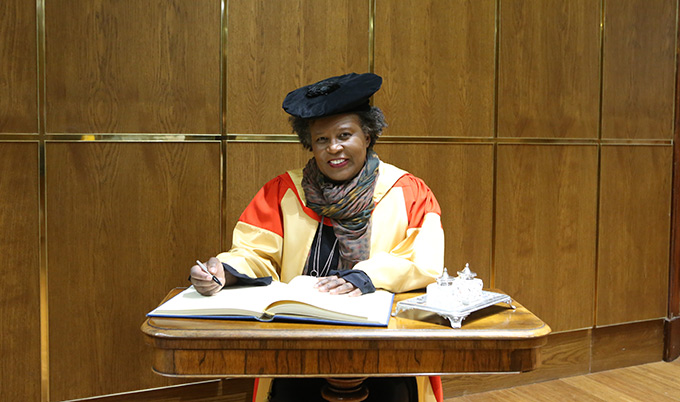 End to Fuel Poverty
Jenny Saunders OBE, Chief Executive of National Energy Action (NEA), was presented with an honorary degree from Newcastle University yesterday in recognition of her efforts to end fuel poverty.
Presenting the award, Professor Phil Taylor, Director of the Institute for Sustainability at Newcastle University, said:
"We are very proud to work with such a fantastic organisation as NEA, led so brilliantly by Jenny Saunders, a Newcastle graduate. The twin challenges of energy affordability and sustainability are important and require collaboration between academia and organisations like NEA if we are to make much needed progress. It is nice to be able to pause for a moment and celebrate Jenny's significant achievements with the award of an honorary degree."
Recognised for her work on Driving Policy and Action for Energy Justice and End to Fuel Poverty, Jenny is also a member of the government's Fuel Poverty Advisory Group, the energy regulator Ofgem's Sustainable Development Group and she sits on Sustainable Development Group.
She is a Non-Executive Board Director of National Grid Affordable Warmth Solutions Community Interest Company. Jenny also sits on the Institute for Sustainability advisory board and is a trustee of NEA's sister organisation, Energy Action Scotland.
Having helped to establish a grant-making fund at the Community Foundation for Tyne & Wear and Northumberland to assist women to achieve their full potential, Jenny served on the Women's Fund Committee for 5 years from 1999-2004. She served as a trustee of the British Gas Energy Trust for 6 years until October 2010 and the Chesshire Lehmann Fund from 2009-2016 and was a member of EDF Energy's CMA scrutiny panel. She is chair of a local community group in Newcastle.
A language graduate of the University of Newcastle upon Tyne, Jenny worked in Norway and in youth and community training programmes prior to joining NEA. She was awarded an OBE in the 2013 New Year Honours List for her services to the fuel poor.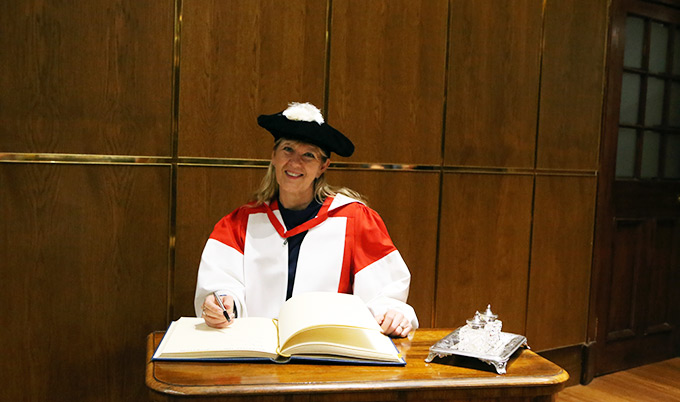 Encouraging healthcare professionals
Dr Peter Pronovost, an anaesthesiologist and critical care physician, is renowned for his work in the important field of critical care.
He spent two years developing a scientifically proven method for reducing fatal bloodstream infections associated with central line catheters used in intensive care units.
His simple but effective checklist protocol virtually eliminated these infections across the American state of Michigan, saving 1,500 lives and $100 million annually.
Furthermore, the system has been implemented across the United States and worldwide via the World Health Organization's (WHO) Surgical Safety Checklist. And now, these infections are down by 80% across the US and in several other countries.
In 2008, Time magazine named him as one of the 100 most influential people in the world. That same year he was awarded a coveted 'genius grant' becoming a MacArthur Fellow.
Sir Liam Donaldson, Newcastle University Chancellor, nominated Dr Pronovost for the honorary degree.
Dr Pronovost said: "It is an especially humbling honour to receive this honorary degree from my friend Sir Liam Donaldson and from such a prestigious university which focus is not just on doing great science; but is on having an impact, and making the world a better place."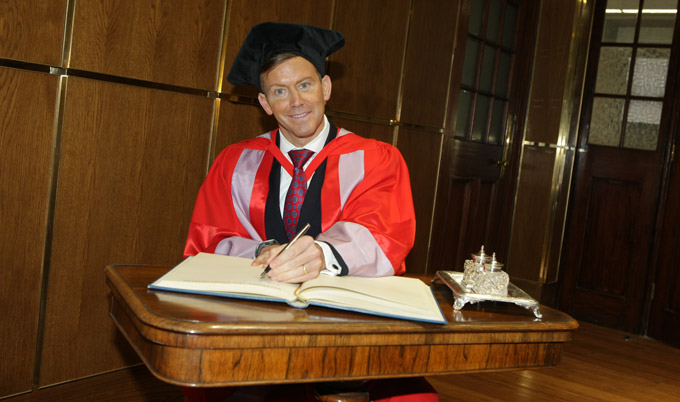 Tackling issues of longevity, ageing and population change
Baroness Sally Greengross OBE was awarded an Honorary Degree of Civil Law for her work in addressing issues of longevity, ageing and population change.
Across the life course, people have different opportunities and are treated differently because of their age. Baroness Greengross looks at examples of these differences in treatment throughout life and how they can affect individuals and the wider public, as well as their impact on policy and practice. She also considers how to bring about attitudinal change.
Sally is Chief Executive of the International Longevity – UK (ILC) think tank and Co-President of the ILC Global Alliance. She sits in the House of Lords and on various cross-party Parliamentary groups. She is President of the Pensions Policy Institute and Honorary Vice-President of the Royal Society for the Promotion of Health. Between 2006 and 2012 Sally was a Commissioner for the Equality and Human Rights Commission and she holds Honorary doctorates from eight UK Universities.
Named UK Woman of Europe in 1990 and awarded an OBE in 2003, Sally was presented with the British Society for Gerontology's Outstanding Achievement Award in 2008. She was also honoured in 2011 by the United Nations's NGO Committee on Ageing for her passionate commitment to shaping society in a positive way for the ageing population and for future generations.
Honorary Degrees
Newcastle University has a long tradition of awarding Honorary degrees to individuals who have distinguished themselves in their chosen field – people who, through talent, endeavour and determination have made a significant contribution to society.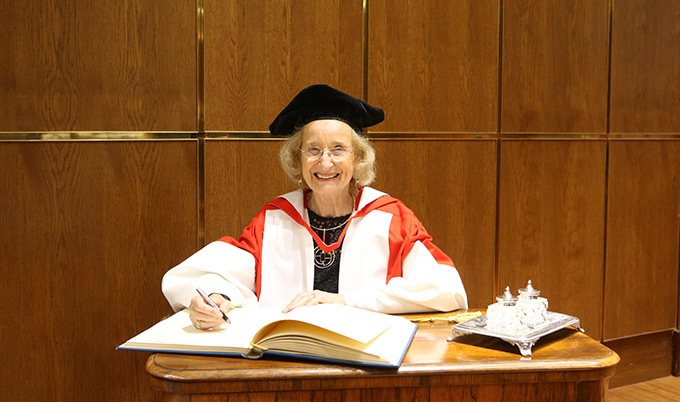 ---
Latest News