World-leading expert in critical care receives honorary degree
Published on: 7 December 2016
A world-leading champion of patient safety has been awarded an honorary degree from Newcastle University for his outstanding work in critical care.
Dr Peter Pronovost, an anaesthesiologist and critical care physician, is renowned for his work in the important field of critical care.
He spent two years developing a scientifically proven method for reducing fatal bloodstream infections associated with central line catheters used in intensive care units.
His simple but effective checklist protocol virtually eliminated these infections across the American state of Michigan, saving 1,500 lives and $100 million annually.
Furthermore, the system has been implemented across the United States and worldwide via the World Health Organization's (WHO) Surgical Safety Checklist. And now, these infections are down by 80% across the US and in several other countries.
In 2008, Time magazine named him as one of the 100 most influential people in the world. That same year he was awarded a coveted 'genius grant' becoming a MacArthur Fellow.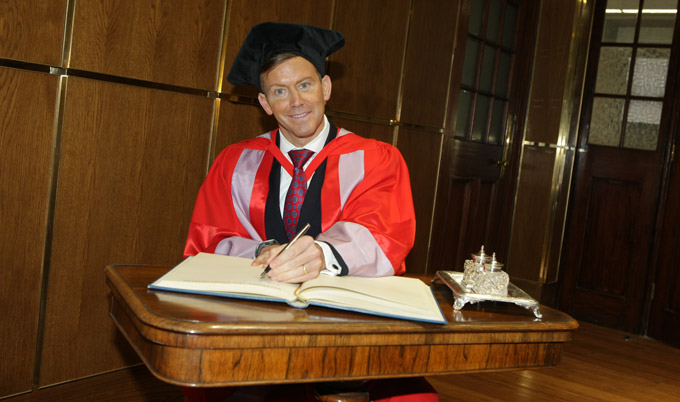 Encouraging healthcare professionals
Dr Pronovost is a clinician and an academic researcher, taking scientific evidence from the bench to the bedside, and is known for motivating healthcare professionals in large health systems.
He is Senior Vice President of Patient Safety and Quality, the Director of the Armstrong Institute for Patient Safety and Quality, and Professor of Anaesthesiology and Critical Care Medicine at the Johns Hopkins University School of Medicine in the USA.
Today (Wednesday, December 7) the 52-year-old received an Honorary Doctor of Medicine from Newcastle University at a prestigious ceremony.
Sir Liam Donaldson, Newcastle University Chancellor, nominated Dr Pronovost for the honorary degree.
Dr Pronovost said: "It is an especially humbling honour to receive this honorary degree from my friend Sir Liam Donaldson and from such a prestigious university which focus is not just on doing great science; but is on having an impact, and making the world a better place."
Dr Pronovost's achievements
Five years ago, Dr Pronovost was elected to the National Academy of Medicine (formerly called the Institute of Medicine) in recognition of his outstanding professional achievement and commitment to service, one of the highest US honours in health and medicine.
He is also an advisor to the WHO World Alliance for Patient Safety and regularly addresses the US Congress on patient safety issues.
Dr John Hogan, Registrar at Newcastle University, said: "We are proud to honour Dr Peter Pronovost, whose outstanding contribution to medical care has helped save many lives.
"Dr Pronovost is a champion of patient safety and his professional achievements make him a world-leader in his field.
"Newcastle University has a long tradition of awarding honorary degrees to individuals who have distinguished themselves in their chosen field – people whose commitment and determination makes a significant contribution to our society."
Honorary degrees
This year the people receiving an honorary degree from Newcastle University are: Baroness Sally Greengross OBE, Chief Executive of the International Longevity Centre UK, Honorary Doctor of Civil Law; Professor Claudia Rankine, poet and playwright, Honorary Doctor of Letters; Jenny Saunders OBE, Chief Executive of National Energy Action, Honorary Doctor of Civil Law.
---
Latest News