Newcastle University student graduates for the second time in 50 years
Published on: 8 December 2016
Gaining her second PhD exactly 50 years after her first one, Monica Haysom has become one of the oldest people to graduate from Newcastle University.
Professor Haysom, 76, followed up a successful career in science with conducting research in Classics and Archaeology. Her thesis was an analysis of time and culture in late Hellenistic Athens, between 200BC and 50BC. The key focus of her work was a relief frieze depicting a calendar year of Athenian festivals.
Monica said: "Doing the second PhD was fantastic. The subject was a new world for me, and it was exciting to be able to do research again. In addition, I made new friends.
"I started an evening class on Greek Art after my retirement. I then completed a Master's Degree in Greek and Roman Archaeology before starting the PhD research. I studied a curious ancient calendar, which has the Zodiac carved on it, but this is not the Zodiac as we know it, since it only has 11 signs. The calendar now is part of the extensive spolia that decorate a small church in the centre of modern Athens."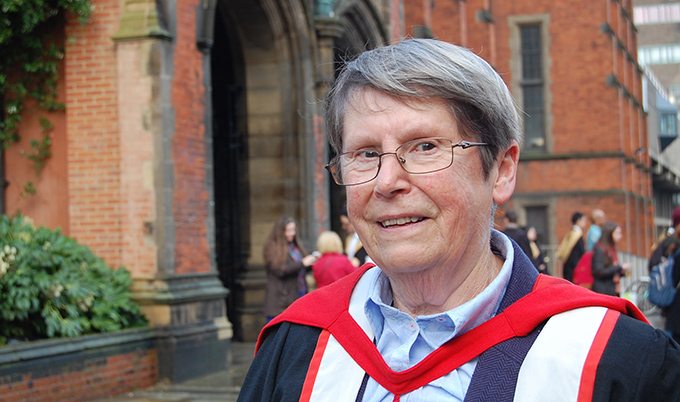 Third graduation ceremony at Newcastle University
Professor Antony Spawforth was one of Professor Haysom's research supervisors. He said "Monica is a shining example of a successful mature student. It was an education as well as a pleasure to supervise her. She not so much coped with as sailed through the tasks of her PhD research. I look forward to re-reading her findings as a publication."
A molecular geneticist, Professor Haysom worked under her maiden name, Monica Hughes and retired from Newcastle University in 2006. She was Head of the School of Biomolecular Studies and Director of the Institute of Cell and Molecular Biology. This will be Professor Haysom's third graduation ceremony at Newcastle University.
She added: "I came to Newcastle from London in 1963 to start my PhD studies. Except for a year abroad in the US, I spent my entire career teaching and doing research at Newcastle University.
"I am a scientist, and the biggest surprise for me was that the ethos in Humanities and Social Sciences is completely different to that in science."
Professor Haysom plans to spend more time with her family and her grandson. She is one of over 1,800 students graduating during Newcastle University's Winter Congregation ceremonies. The congregations return to King's Hall following a year-long refurbishment.
---
Latest News