Architecture degree is a building block to success
Published on: 7 December 2016
A Newcastle University graduate has won the most prestigious student architecture award in the world.
Taking a philosophical approach
Allan Chong's design project 'Formless: – An Alternative Typology for Preservation' was awarded the Royal Institute of British Architects (RIBA) President's Bronze Medal at a special ceremony in London last night (6 December 2016).
The President's Medals are probably the most competitive international student award in architecture, open to 320 accredited universities in 65 countries, with each institution invited to put forward their two best students.
"Architecture is a professional subject," Allan said. "We do not just think how to construct a building, but also take a philosophical approach to rethink the meaning and relationship between architecture and human beings. Although in reality, the built environment poses lots of constraints in a practical way, I still believe we can use what we have learnt to improve our living conditions, especially through detailed designs."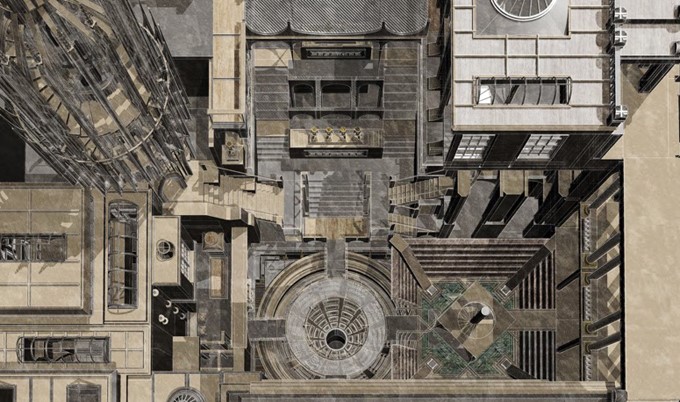 Inspired by Sir John Soane
In his final year, Allan was greatly inspired by Sir John Soane's architecture from the 19th century, which led to his 'Formless' project. "The range of Soane's built designs, from his own home to his greatest architecture the Bank of England, allowed me to explore the meaning of preservation," he said.
"I am truly happy and honoured to receive this award. This is the greatest motivation for me to keep exploring architecture and will encourage me to take bolder steps into the topic of architectural preservation. I always believe preservation is the path forward. If we can design and optimise our local spaces, they will always store and present society's memories for us."
The 22-year-old, who graduated with a BA (Hons) in Architecture this year, is currently working as an architectural assistant at P&T Group in Hong Kong. He originally came to Newcastle University through the INTO programme.
"Newcastle University is one of the best universities to study architecture," Allan added. "The studio-based learning in the programme allows us to be more specific focussed and the city is so compact and comfortable, I can find everything I need within half an hour walk. This is so important for an architectural student as we always lack time!"
Research-led teaching
Allan was jointly supervised by Dr Josep-Maria Garcia-Fuentes and doctoral candidate Aldric Rodriguez Iborra at Newcastle University.
Professor Adam Sharr, Head of the School of Architecture, Planning and Landscape at Newcastle University, said: "This is a significant achievement for both Allan and the University as it recognizes how our research-led teaching equips our students with the skills and motivation they need to succeed in a competitive professional environment."
Allan was presented with the traditional hand-engraved medal from RIBA President Jane Duncan, joining an esteemed list of emerging architects from 1836 to the present day whose talent and contribution to the future of architecture has been recognised with a President's Medal.
This year there were 102 entries for the Bronze Award. RIBA has three levels of award – Bronze for undergraduate, Silver for Masters students and Gold for established practitioners.
---
Latest News