Year-long commemoration of Martin Luther King Jr. starts
Published on: 16 January 2017
A year-long programme to mark the 50th anniversary of Dr King receiving an honorary degree from Newcastle University gets underway today, Martin Luther King Day in the US.
Freedom City 2017 will see large-scale outdoor events, exhibitions, public art, musical performances and an education and academic programme paying tribute to Dr King's passionate and moving acceptance speech delivered at Newcastle University on 13 November 1967.
This address was to be Dr King's final speech outside America before his assassination in 1968 and Freedom City 2017 explores the themes of what he called the three 'urgent and great problems' of war, poverty and racism - which remain as relevant today as they were in 1967.
A special city-wide cultural programme across Newcastle and Gateshead will see Freedom City 2017 events throughout the year at venues including BALTIC Centre for Contemporary Art, Northern Stage, Live Theatre and Seven Stories, National Centre for Children's Books.
In addition to the cultural events and performances, an education and academic programme delivered by Newcastle University will explore the themes of Dr King's speech and bring his legacy to life for a new generation.
Professor Richard Davies, Pro-Vice-Chancellor for Engagement and Internationalisation, Newcastle University, said: "Awarding an Honorary Degree was the highest honour that the University could bestow and came at a time when Dr King was an increasingly controversial figure. Indeed, Newcastle University was the only UK university to honour Dr King in this way during his lifetime and it remains one of the most important moments in our history.
"The 50th anniversary of his visit provides an opportunity for each of us to reflect on how we can contribute towards tackling the challenges of war, poverty and racism Dr King spoke of, and will enable a new generation to engage with his legacy."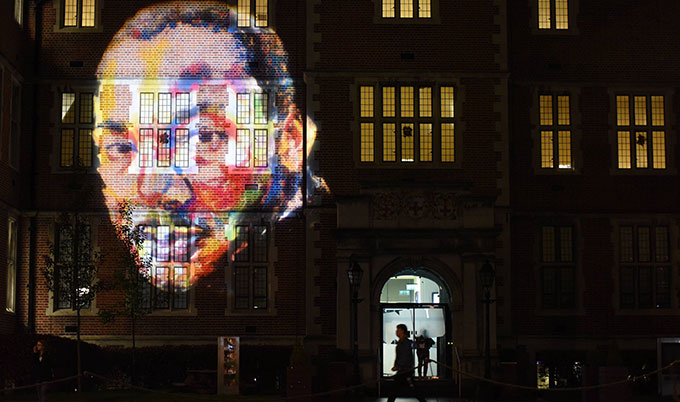 Inspiring a new generation
To mark the start of the year-long programme of Freedom City 2017 events, today - Martin Luther King Day in the US - Professor Sugata Mitra will pose a 'Big Question' to schoolchildren around the world as part of the global SOLE (Self-Organised Learning Environment) project. To engage the children in Freedom City 2017, Freedom Voices Pioneer Schools in the UK, US and India will be able to record their responses using the new Freedom Voices app.
Continuing the Freedom City 2017 programme is Café Culture – a series of café-style public discussions exploring the themes of Martin Luther King Jr's speech. Events include 'Rights and Wrongs: England's problems with human rights' and 'Has the Tide Turned?' a discussion around economic inequality in the UK and worldwide.
Also taking place in February is the first of Newcastle University's three Freedom City 2017 INSIGHTS Public Lectures exploring war, poverty, and racism. This first talk will be delivered by Baptist minister Rev. Jeffrey Brown, on 21 February.
A special Freedom City 2017 Teachers' Pack, which has been developed by academics at both Newcastle University and Northumbria University, will be available later in the year for primary and secondary schools across the country. Structured around the three themes of war, poverty and racism, the pack includes cross-curriculum lesson plans, music scores and other resources around history, ethics, RE, music and geography.
City-wide cultural programme
Highlights of Freedom City 2017 include Freedom City on the Tyne, an epic, day-long series of performances commemorating historic civil rights marches from across the world.
Directed by renowned British theatre director, Tim Supple, Freedom City on the Tyne will use drama, dance, performance art and music to tell the stories of people throughout history who have united to demand political and social change.
Taking inspiration from Passion Plays community groups, local performers and members of the public will join international artists and performers in this mass participation event that will culminate in a march of thousands on NewcastleGateshead's iconic quayside.
Other highlights of the year-long cultural programme include a major new exhibition at BALTIC Centre for Contemporary Art featuring work by world-renowned artists responding to ongoing issues of civil rights internationally. Starless Midnight is co-curated by leading artist Edgar Arceneaux who has worked extensively with Dr King's archive, and BALTIC's chief curator Laurence Sillars. A solo presentation of Arceneaux's work will also be on display.
In October 2017, a new exhibition telling the story of Dr King's visit to Newcastle upon Tyne will open at Great North Museum: Hancock. Created in partnership with the Carnegie Museum in Pittsburgh, USA, the exhibition will shine a light on the honorary degree ceremony at Newcastle University. The exhibition will also feature a collection of oral histories gathered by Dr Ben Houston and photographs as well as a special exhibition entitled 'Of Race, Beyond Race: African Americans in Pittsburgh Then and Now', which will also be on show at the Carnegie Museum in Pittsburgh, USA.
Seven Stories, The National Centre for Children's Books, hosts an evolving exhibition called Rhyme Scene from September 2017. Developed with a group of young people, Rhyme Scene will develop and grow as visitors contribute to an ongoing conversation about freedom and other complex themes impacting on our world.
And in November, Sage Gateshead will host a celebration of the music that defined the Civil Rights movement in the 1960s and 70s.
Adam Collerton from Northern Roots and Creative Director of Freedom City 2017 said: "Freedom City 2017 will see many of the world's greatest artists, academics and activists follow in Dr Martin Luther King's footsteps and make their own response to the issues of war, poverty and racism. Venues across Newcastle and Gateshead will come alive in a city wide commemoration to mark the 50th anniversary of Dr King's visit."
Engaging communities
A key part of Freedom City 2017 is aimed at engaging with diverse communities to ensure marginalised groups have the opportunity to participate in and experience the events taking place.
Freedom City 2017 has been awarded funding from Arts Council England's Ambition for Excellence programme to bring world-renowned artists and local diverse talent together. The work delivered as part of Freedom City 2017 will go on to support a three year programme creating a step change in the way artists and organisations present diversity in their work. Freedom City 2017 will open up opportunities for arts and cultural organisations to engage hard to reach groups and present, commission and produce work that reflects diverse communities.
Labour MP for Newcastle upon Tyne Central, Chi Onwurah, is today hosting a special Westminster launch for Freedom City 2017 to reinforce the positive work Freedom City 2017 is doing to engage communities in the city. Guest speakers include His Excellency Matthew Barzun, United States Ambassador to the United Kingdom, Marcus Jones MP, Minister for Local Government and Dawn Butler MP, Shadow Minister for Diverse Communities.
Chi Onwurah, said: "Today in Newcastle children still face the challenges of poverty, prejudice and war that Martin Luther King spoke of so eloquently. Freedom City will inspire this generation to take up those challenges, walk in his footsteps and take forward his work for a world in which it is our character not our background, wealth or accent that counts."
---
Latest News