Smart traffic scheme given the green light
Published on: 23 February 2017
Newcastle leading the way on use of digital technology to tackle congestion.
A ground-breaking project in Newcastle which uses technology to help tackle traffic congestion has been given the green light by the Department for Transport.
Newcastle City Council, in collaboration with Newcastle University, has been awarded an extra £100,000 to extend the city's 'Smart Corridor' - an innovative scheme that uses smart technology to help manage traffic flow on a busy Newcastle street.
In total, £748,200 has been awarded which is being used to support the roll out of the Cooperative Intelligent Transport Systems (C-ITS) project involving bus services operating on Gosforth High Street.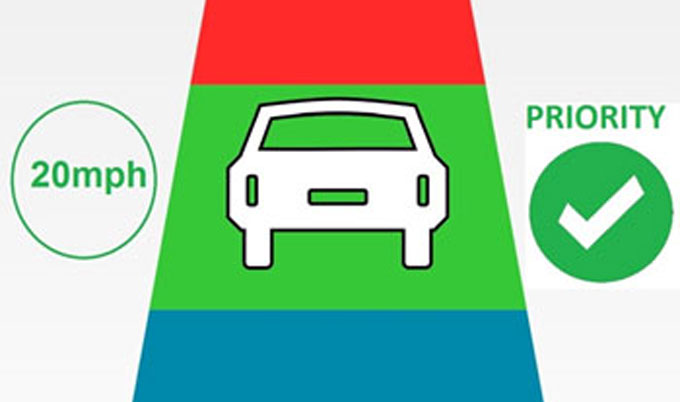 First step towards a fully automated system
The scheme – one of only two in the country – involves using digital technology to connect buses with traffic signals in order to improve bus journeys for passengers, reduce congestion at key junctions and improve air quality on major bus routes. Building on the three-year Compass 4D project led by Newcastle University, the system allows the traffic signals to 'talk' to units on board the buses, holding the green light for a few seconds longer if the bus is approaching so the bus can pass through.
Phil Blythe, Professor of Transport at Newcastle University, said: "These are exciting times in the world of transport and here in Newcastle we are leading the way - taking the first step towards a fully automated system with intelligent infrastructure and, eventually, driverless cars.
"Smart technology which enables the traffic signals and vehicles to 'talk' to each other allows us to manage the flow of traffic, giving priority to certain road users such as buses or perhaps re-directing drivers on quieter routes so we reduce congestion, fuel use and emissions.
"It also offers us the opportunity to introduce a range of safety benefits, particularly for vulnerable road users such as cyclists. This is the first installation of its kind in the UK we will use this as a platform to lead innovations in traffic management to deliver improvements in safety, congestion and air quality and to build on decade of innovative collaborations between the City and University in Newcastle.
"By supporting and installing this technology, the city is ensuring that we are at the forefront of implementing intelligent transport systems and, as new technologies emerge into the market, will be at the forefront of testing and evaluating these."
'Green wave' for buses
Cllr Ged Bell, cabinet member for Investment and Development at Newcastle City Council, added:
"We are delighted to have been successful in the DfT's Funding for Innovation competition. We are committed to testing new intelligent transport technology in real-life scenarios in Newcastle and it's great that our work is being recognised as leading the way across the continent.
"The potential benefits from C-ITS technology are far-reaching. Newcastle is seeing the biggest investment in its highways in over 30 years as part of our Re-newcastle investment programme. This additional funding allows us to be innovative in managing traffic flow and harness the power of digital technology to improve safety, efficiency and emissions and better manage our road network."
Newcastle City Council is one of 19 councils to be successful in applying to the Funding for Innovation competition.
The trial focuses on ensuring that Arriva's X10, X11, X20 and X21 buses travelling down the Great North Road are given a 'green wave' to ensure they spend as little time as possible stopping and starting which improves traffic management and air quality.
Roads Minister Andrew Jones said: "Technology is rapidly evolving and this important works shows that if we get it right, it can cut congestion, speed up journeys, clean up the environment and improve accessibility."
The equipment will be fitted in spring 2017, with data being collected and evaluated into 2018.
---
Latest News