Energy Bills: Can We Be Smarter?
Energy bills: Can we be smarter?
Published on: 2 February 2017
Newcastle University's Professor Phil Taylor explains to millions how smart meters can help us change the way we use energy.
Working with the Storey's – a family of four from West Denton, in Newcastle – Professor Taylor was part of an ITV investigation into the real cost of the government's smart meter programme.
Fitting the family home with a smart meter and IHD – an In-Home Display which works with the meter to give you information about your energy use – Prof Taylor says they saw the family's behaviour change so that in the space of just a month the Storey's were already saving themselves £1/week.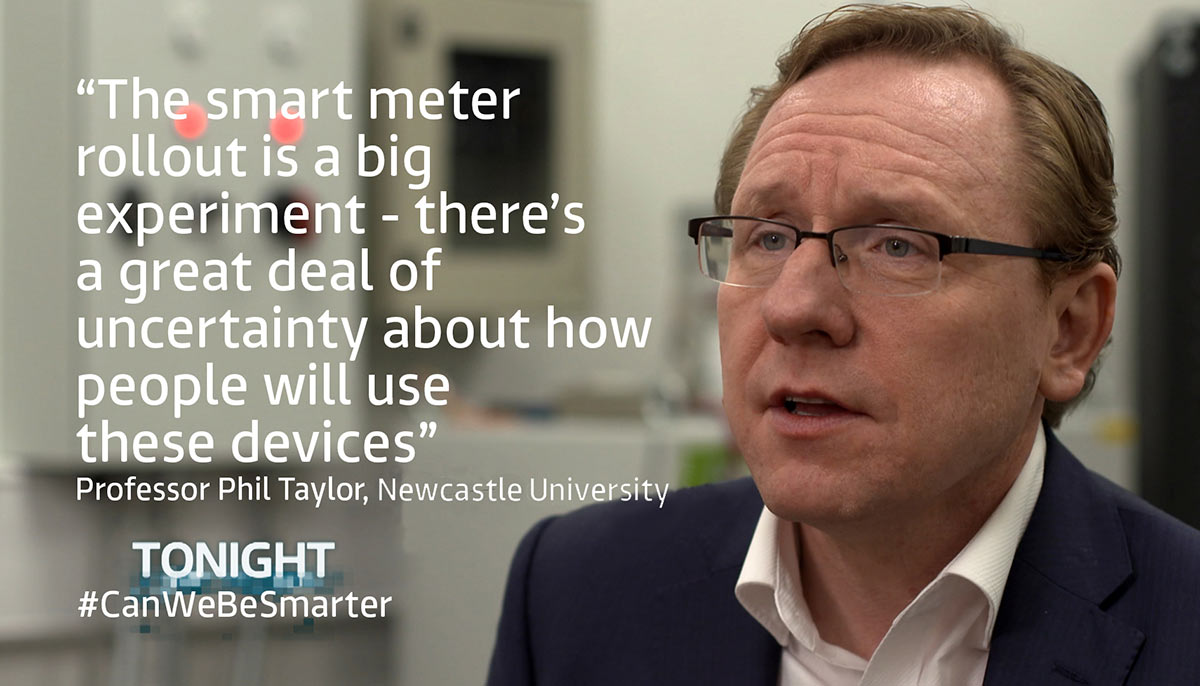 Changing the way we use energy
Professor Taylor, Director of the EPSRC National Centre for Energy Systems Integration, explains:
"Smart Meters allow us to see in real time how much energy we are using and how much it is costing us.
"This information provides us with an opportunity to change not only the way we use energy but also when.
"As we integrate more and more renewable energy into our network, when we use energy becomes almost as important as how much we use. Smart meters enable us to measure, incentivise and reward people for being flexible on time of use.
"It was a great experience to work with the Storeys. Even though our trial was very short the family were able to save money by moving away from estimated bills and changing their energy use patterns."
Hidden costs
Tonight's ITV documentary will also warn households about the potential costs of installing smart meters and to be wary of claims that smart meters are "free".
They found £11 billion will be added to customers' bills to pay for the devices, but reveal there are no rules to ensure power firms will pass on the financial benefits to consumers.
While parts of the industry claim smart installation "won't cost you anything", Douglas Stewart CEO of energy supplier Green Energy UK tells the Tonight programme: "It's not free, nothing is free and we all know businesses don't bear costs - customers of those businesses ultimately bear those costs and it's a slight of hand that the government and everybody else play by saying the industry will pay."
"It could be argued that we should all be paying more for our energy," says Professor Taylor, who leads the University's £2m Siemens Smart Grid Laboratory and grid-scale energy storage test bed demonstrator on Science Central.
"The 'cost' of being wasteful hits more than just our pockets – it has an impact on the environment and on society too.
"But it is imperative that any costs are based on ability to pay otherwise the poorest in society will be hit hardest.
"And this is one of the real benefits of a smart meter – not just saving money for people with solar power on their roof and electric vehicles but also helping people who find themselves in fuel poverty."
So do the benefits outweigh the costs?
"Eventually," says Professor Taylor, "but it will take time. Just like any major infrastructure project, short term there is a cost but longer term it will be seen as essential.
"Smart meters have many potential benefits, ranging from energy savings through to helping to look after vulnerable people.
"And their benefits are likely to grow over the next 10 to 15 years as we move to a smarter, lower carbon energy system. They have the potential to empower people to take an active role in how the UK energy system is operated and share in the benefits and savings this can bring."
Energy Bills: Can We Be Smarter? Is on ITV's Tonight programme this evening (Thursday 2 February) at 7:30pm.
---
Latest News