Plugging the engineering skills gap
Published on: 8 February 2017
Call for more young people to consider a career in engineering as university expert reveals they "could find jobs for twice as many graduates" as are currently applying.
A desperate shortage of electrical and electronic engineers in the UK means industry is struggling to fill specialist roles that are vital for future growth.
Newcastle University is a world-leader in the field. Working with small SMEs to global companies such as BAE Systems, Dyson, Nissan, Siemens, Jaguar Land Rover and Rolls Royce, the team in the School of Electrical and Electronic Engineering are pioneering research into future energy, transport and new technologies for extreme environments.
Producing excellent graduates, with 94% of students going on to employment or further study six months after graduation, some boosting the skills base in the North East, others taking up roles across the globe.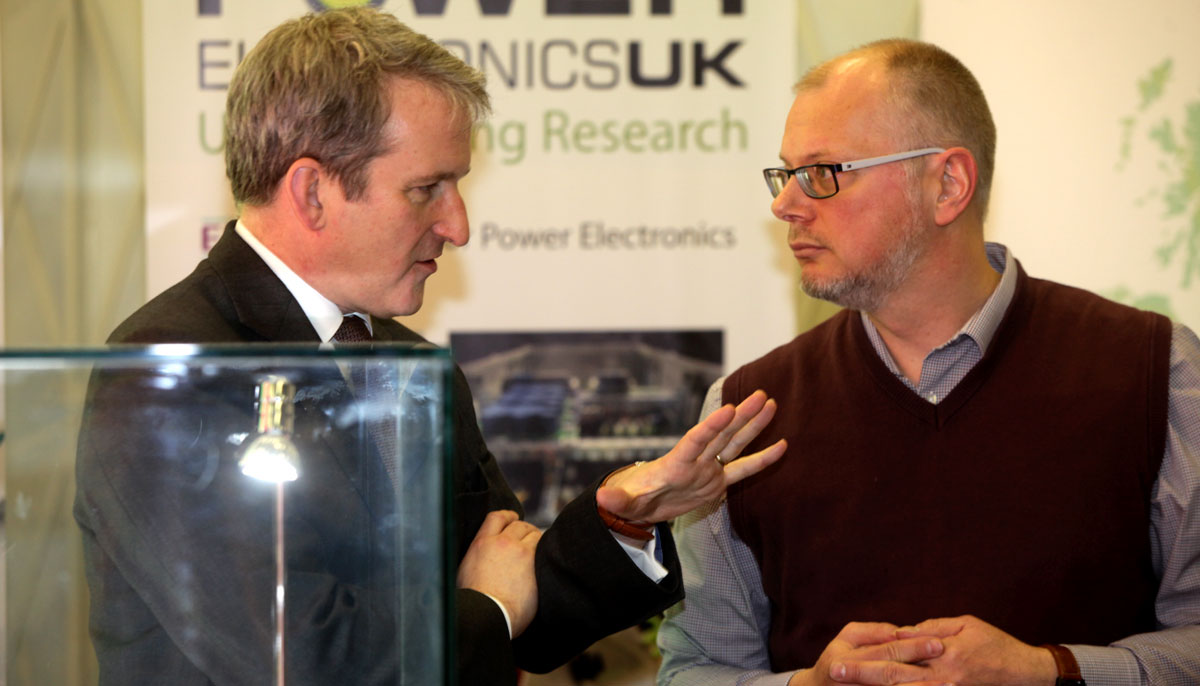 "Industry screaming out for highly skilled graduates"
Professor Barrie Mecrow, Head of School, Electrical and Electronic Engineering, said:
"Electrical and electronic engineers have a critical role to play in the global economy. With the importance of future sustainability and increased efficiency of technology, the demand for electrical engineers continues to grow.
"But there is a massive skills shortage in electrical and electronic engineering across the UK.
"Industry is screaming out for highly skilled graduates and here at Newcastle our world-leading reputation means we could probably get jobs for twice as many graduates as we have coming through the system.
"It's an excellent and exciting field to be in and what we need is more young people considering a career in electrical engineering."
World-leading research
The School is a leader in automotive and aerospace research and hosts the Electric Machines Spoke of the UK's Advanced Propulsion Centre.
Established to position the UK as a global leader for the production and development of low carbon propulsion technology, the APC was established to help forge partnerships between those who have good ideas and those who can bring them to market.
Dr James Widmer, Director of the Newcastle Spoke based in the School of Electrical and Electronic Engineering, explains: "The University has worked on the development of electrical machines for many years and over the last decade has had a significant focus on fundamental research, supporting industry in the development of traction motors and auxiliary motors for low carbon vehicles.
"The Newcastle spoke brings together leading academic and industrial researchers to build on the existing APC network and help position the UK as a world leader in this increasingly important field."
Other world-leading research includes the University's Smart Grid Lab and Energy Storage Test Bed, unique facilities that enable investigation of future energy systems and part of the Newcastle-led National Centre for Energy Systems Integration. Located on Science Central, a partnership between Newcastle University and Newcastle City Coucil, the energy centre is part of a £350m investment by the University and its partners to create a full-scale test bed of urban innovation and sustainability.
Funded through a combined £2 million grant from the Engineering and Physical Sciences Research Council (EPSRC), Newcastle University and industrial partners Northern Powergrid and Siemens, it is the UK's largest Smart Grid project to look at how sources of power can be managed at a reasonable cost, paving the way for new energy storage systems in the future.
Last month Employment Minister Damian Hinds visited Newcastle University's School of Electrical and Electronic Engineering.
"Newcastle University's work is a strong example of the UK's world-class leadership in global science and research," he said.
"Innovation is central to economic growth, which is why we've committed an extra £2bn a year by 2020 on research and development to keep us ahead of the game and support the jobs of the future."
---
Latest News