Indonesian students in the UK raise money for orphans in Java
Published on: 31 March 2017
Despite being over 11,000 km away, six Newcastle University students have managed to raise money for an orphanage in Indonesia through their social enterprise, CLR19bakes.
The Indonesian students committed time on the weekends to bake, plan events and do other creative work for the project, and within just under 3 months, they've sold more than 45 cakes, 250 truffles and raised about £900.
"We'd like people to realise that generosity could be a really simple gesture. It doesn't always have to be done in a conventional way and you don't always have to pack your whole life and move to a remote area", explained co-founder Kezia Toto, an undergraduate Media and Psychology Combined Honours student, adding that what matters is starting from the simplest form that we know of, and for them, it's baking.
With some baking utensils and the help of the Internet, they started selling homemade bakes and organised creative fundraising events. The cakes they sell vary from classic Indonesian recipes, like 'martabak' to favourite English bakes, such as banana cake.
Their last two events, a garage sale held in their very own backyard, and a hangout party in a community space, Kommunity NCL, have also turned out to be a success. All the money raised has been donated to SILO, a children shelter in Central Java, Indonesia. SILO was founded 43 years ago by a couple, Ayoeb Soetoto and Sugini, who had raised, educated and equipped hundreds of less fortunate children and orphans. Their work has now been carried out by others, still with the same mission, that is to touch, if not, change the lives of many.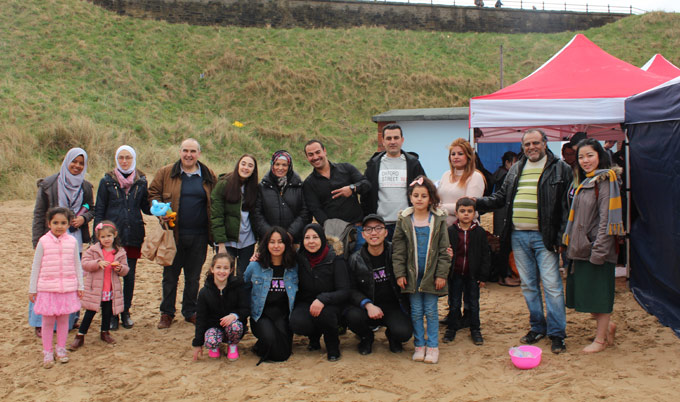 A worthwhile cause
Newcastle University Students' Union's (NUSU) Go Volunteer has provided CLR19bakes with support and funding to grow the project and their fundraising efforts, helping them to set up events and organise their campaigns and activities.
Katie Blundell, Newcastle University Students' Union's Volunteering Manager, said: "We were delighted to support this unique and interesting project. From the outset the team have demonstrated an enterprising vision; they created an incredible website and built a real buzz around campus.
"It's great they have been used their hobby for such an amazing and worthwhile cause."
CLR19bakes have now launched a new campaign, Caked by the Nation. The campaign invites the public to donate £1 and for every donation, they can nominate a name to get caked - getting a cake thrown on you face and not getting a cake for free! Each week, a live video broadcasted through selected Social Media platforms like Facebook and Instagram will reveal the top 2 most voted names getting caked on their faces.
Through this Caked by the Nation campaign, CLR19bakes aims to change the general mindset about voluntary work. "We want to challenge the perception that says volunteering is boring, because it doesn't have to be! We have had so much fun volunteering our time, energy, skills, and we know it definitely can be creative," says Architecture student Monica, co-founder of CLR19bakes.
Since then, many has also expressed interest in joining the team. The CLR19bakes family has now tripled – from what started as a house project has now turned into a volunteering platform for many students from various countries, including Malaysia, Singapore, and Thailand who would like to get involved. The project has gained a massive support from their friends and gained attention of Newcastle University Students' Union, which has granted them funding for this campaign.
To celebrate the closing of the campaign, CLR19bakes worked with a few youth projects in the deprived areas of the North East and hosted a fun day at the beach. There was lunch, as well as workshops about making a cake, recycling and painting, for the children to get involved with.
The Caked by the Nation campaign has raised £518, and regular cake sales have brought in a further £150.
---
Latest News