Young Newcastle artist is a 'rising star'
Published on: 13 March 2017
Fine art student Ellie Prime has been named a Royal Society of British Artist 'rising star'.
Portrait focuses on the effects of war
Her painting 'James', of her younger brother, is currently on show in London. It was her final piece of a Year 13 art project about sentimentality and remembrance within portraiture.

Ellie was influenced by the work she'd seen at the 2015 BP Portrait Awards, with many tackling grief and death within a family. Focusing on war and effect it can cause on a family, Ellie used subtle green tones on her brother's portrait to reflect on army uniforms, with a red poppy for remembrance.

"I feel extremely honoured and grateful that my work has been chosen for this opportunity," she said. "Having my work displayed in London at the Overseas League & the Mall Galleries is so exciting at such an early stage in my career."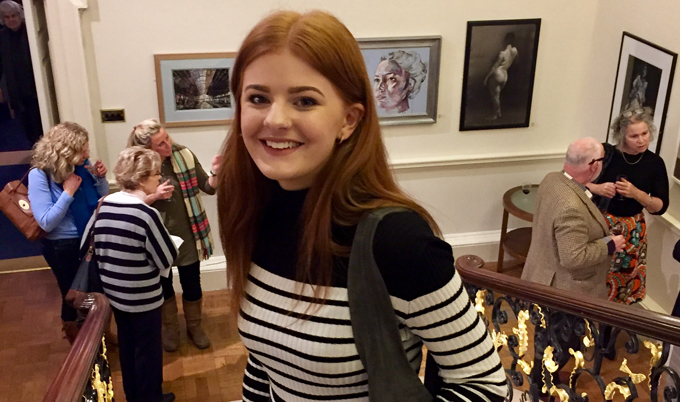 More abstract style
Ellie has made amazing progress in her first year at Newcastle University. "My degree has taught me to test, try out and develop my ideas more without fixating on the final product," she said. "This has helped me develop my work as it has become more free and less perfectionistic.

"I've also started to work more with photography and collage as I like the fast results you can achieve with this. I will continue to develop my skills as a painter but I aim to try a new, more abstract, style of painting."

The National Association of Decorative & Fine Arts Societies (NADFAS) selected 284 artworks from schools across the country, including Ellie's former school, Wilmslow High School in Cheshire, and the Royal Society of British Artists (RBA) shortlisted just 22 to go on display.

Ellie's portrait will be on display at the Mall Galleries from 22 March-1 April. It was previously at the Royal Over-Seas League in London until yesterday.


---
Latest News