Newcastle University and Newcastle Falcons launch new partnership
Published on: 17 March 2017
Newcastle University has become an official partner to the region's only Premiership rugby club, Newcastle Falcons.
This three-year strategic collaboration will deliver mutual benefits in the fields of sport education, training and research, and includes a jointly-funded Newcastle University PhD studentship based with Falcons staff at Kingston Park Stadium.
Students on Newcastle University's new sports and exercise science degree will have access to facilities at Kingston Park Stadium at specific points throughout the year. Newcastle Falcons' first team and academy squads will use the university's training and medical facilities and sport and exercise science expertise for a number of testing days.
Newcastle University men's and women's rugby teams will also play home fixtures at Kingston Park when the pitch is available.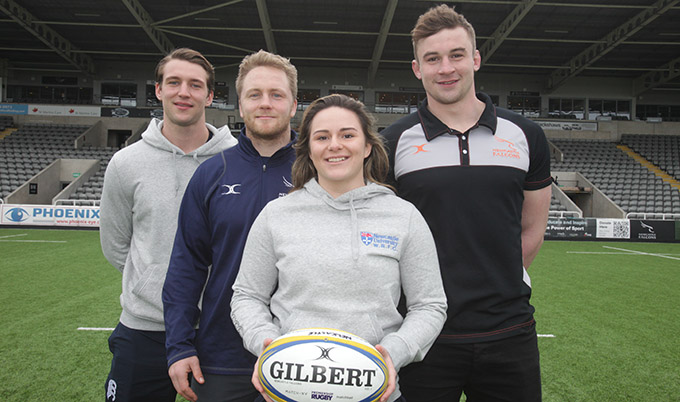 Encouraging and supporting young athletes
The collaboration will offer additional support for University players as part of the Falcons Associate Academy. The associate academy focuses on the level just below senior academy, with emphasis on Newcastle University's performance players, professional coaching and recruitment.
Fraser Kennedy, Performance Sport Manager, Newcastle University, said: "I'm absolutely delighted to be official partners with the Newcastle Falcons. This partnership will benefit both the University and the Falcons, and it reflects our strong commitment to providing excellent opportunities for our students to engage in sport.
"We all have an important role to play in encouraging and supporting young athletes and we believe that by working in partnership with the Falcons, we'll be able to offer them much more.
Welcoming the partnership, Newcastle Falcons Managing Director Mick Hogan said: "It is fantastic news that we have been able to team up with Newcastle University in this way.
"There are obvious mutual benefits to this partnership with our own position as an elite professional sports club, and Newcastle University's reputation as a leading centre for learning and research.
"There are great opportunities for both parties as a result of this link, and we look forward to maximising them."
Tackling challenges together
This is not the first time the Falcons and Newcastle University have teamed up to deliver joint projects. The University supports the Falcons in health community work aiming to promote the importance of a healthy balanced diet and regular exercise.
Newcastle Falcons will also have access to the university's staff, student and alumni marketing channels to promote home matches, while the university's halls of residence will be made available for use by the Falcons' academy and community programmes.
---
Latest News