Newcastle parks consultation
Newcastle residents invited to give their views on city's parks
Published on: 21 March 2017
The future of Newcastle's parks and allotments is up for discussion, and researchers at Newcastle University are making it easier for people to give their views and opinions.
Let's talk parks
Residents, allotment holders, the business community, local charitable groups, friends of parks and other interested parties are being invited to take part in a range of events being held to gather views and ideas about the future of Newcastle's parks and allotments.
Newcastle City Council announced earlier this year that it is looking for a new way to fund and maintain parks following a 91% reduction in its parks budget since 2010. It has been researching the possibility of transferring the operation, delivery and maintenance of a large proportion of the city's parks and allotments to a new charitable trust.
Researchers at Newcastle University's Open Lab are working with Newcastle City Council to hold workshops and online discussions including dedicated Twitter chats to explore questions such as what activities a charitable trust could support, where the money should come from, what role volunteers and communities should play, and how decisions should be made.
The Open Lab team are currently running workshops across the city, with a mix of morning and evening sessions, to allow as many people as possible to take part.
In addition to the workshops, questions and scenarios will be explored via weekly Twitter discussions and the Let's Talk Parks website. All of the opinions and ideas gathered across the events will be available on the website so that members of the public can view and comment on the proposals and engage in further discussions.
Clara Crivellaro, who is leading the project for Open Lab, explained: "The people who use the city's parks and green spaces are best placed to give their opinions about how they're run and managed. These workshops will provide opportunities for people to come together to examine aspects of the council's proposal and proactively contribute ideas for parks and allotments across the city.
"The variety of ways that people can get involved in this consultation exercise is a great example of what Open Lab is all about – using digital technology to empower local communities and engage them in decision making.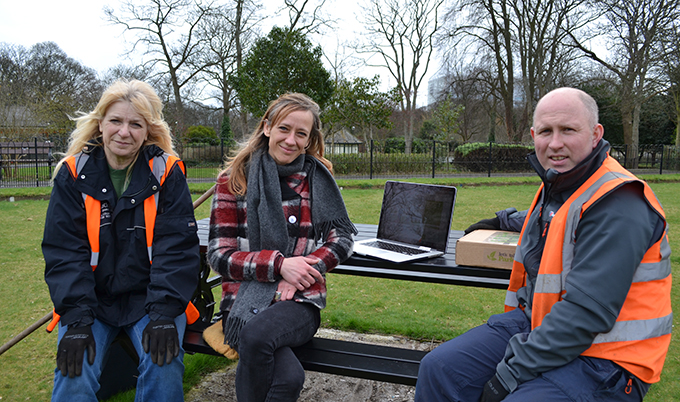 Fresh approach
Held each Wednesday at 7pm, the hour-long Twitter debates will be hosted by @NCLTalkParks and use the hashtag #NewcastleParks. Each Twitter discussion will focus on a different question, and provide opportunities to engage with dynamic polls around alternative futures for Newcastle's Parks.
It's an approach that the experts at Open Lab, based in the University's world-leading School of Computing Science used recently to engage local people in shaping the next generation of metrocars for the Tyne and Wear Metro. Open Lab specialises in digital civics research – using technology to empower and engage local communities.
The Twitter discussions will be facilitated by Dan Lambton-Howard, a doctoral researcher at Open Lab, who said: "Twitter provides a fantastic opportunity for people to have their say without having to attend a public meeting or workshop. Anyone with a Twitter account can join in the debate, and can already start having their say by using the hashtag #NewcastleParks."
Open Lab's engagements form part of a wider discussion around the future of parks and allotments in Newcastle. This also includes an online questionnaire by Newcastle City Council and drop-in events for the public to have their say.
Councillor Kim McGuinness, cabinet member for culture and communities at Newcastle City Council, said: "The idea of a consultation can sometimes cause nervousness or concern but this is all about making sure residents get a chance to learn about our proposals and have their say on the future of Newcastle's parks.
"Open Lab at Newcastle University have come up with imaginative ways to deliver online material and informal face-to-face workshops that will help people think about the matters being raised. Technology and social media play a big part in Open Lab's work – as they look to get people to think outside of the box, and express their views and thoughts about the prospects of a charitable trust.
"We hope this fresh approach will attract a broad cross section of the public and allow people to participate on their own terms in person or via technology. We really want people to engage and share their thoughts, ideas and feelings about the future of the city's parks."
Ideas collected through Open Lab's engagements will be analysed and used to inform the business case the Council will develop in April 2017. The consultation runs until 21 April 2017. People can get involved by going online:
www.letstalknewcastle.co.uk – answering the Newcastle Parks consultation questions
www.letstalkparks.co.uk – taking part in Open Lab's new and innovative parks digital programme
By email: letstalk@newcastle.gov.uk
On Twitter: @NCLTalkParks or @NewcastleCC using the hashtag #NewcastleParks
On Facebook: @NewcastleCityCouncil
Places are also available on the following workshops –
Thursday 23rd March, 6 - 8 pm, Civic Centre, Swan/Parsons Committee Room
Monday 27th March, 6 - 8pm, Gosforth Trinity Church
Tuesday 28th March, 10am -12pm, Newcastle City Library, Bewick Room 1 & 2
Wednesday 5th April, 6 - 8 pm, Civic Centre, Swan/Parsons Committee Room
Thursday 6th April, 6 - 8 pm, Civic Centre in Armstrong/Stephenson Committee Room
---
Latest News