Graduates brew afternoon tea with a twist
Published on: 29 March 2017
A twist in the way one traditionally drinks afternoon tea is about to be promoted to the British public by innovative drinks brand NOVELTEA, launched by Newcastle University graduates.
With their own spin on tradition, NOVELTEA founders and former Newcastle University Business School students, Vincent Efferoth and Lukas Passia have developed an innovative new alcoholic drink of cold-brewed tea infused with a matching spirit of either gin or rum; ideal for enjoying with afternoon tea or as a gin and tonic replacement in the early evenings.
NOVELTEA will launch with two distinct flavours - The Tale of Tangier, an infusion of Moroccan green mint tea with spiced rum and The Tale of Earl Grey, which infuses gin with botanicals for a rich and smooth taste.
Driven by their passion for mixology and experimenting with flavours, Vincent and Lukas developed The Tale of Earl Grey and The Tale of Tangier to create a modern twist on the great British tradition of afternoon tea, by matching gin with Earl Grey and rum with green mint tea.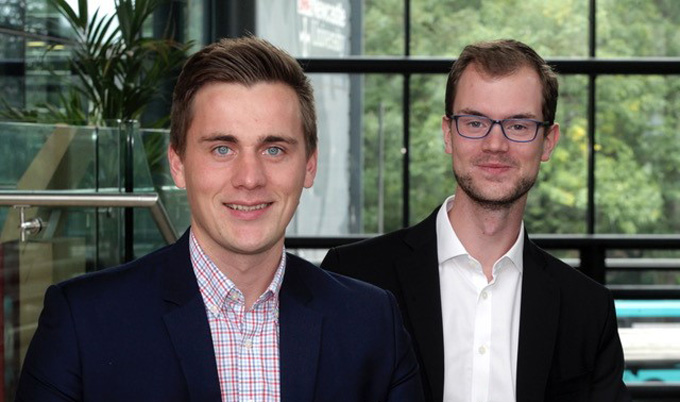 Highly attractive and trendy proposition
Vincent said: "To enhance the taste of tea, we cold-brew The Tale of Earl Grey and The Tale of Tangier for up to 12 hours to produce a smooth taste, drawing out the distinctive flavours without causing some of the bitter notes that can be associated with tea. Cold-brewing produces lower levels of caffeine and extracts more antioxidants than hot-brewed processes."
NOVELTEA has captured the attention of trendy bars, 5-Star establishments and artisan food halls eager to jump on the bandwagon of this trend. In April 2017, NOVELTEA will launch with Fenwick Newcastle as its retail launch partner.
Robin Winterschladen, Wine Buyer at Fenwick Newcastle said: "NOVELTEA presents a very unusual but on trend proposition with its alcoholic tea blends, as the UK is a dynamic market for gin, rum and tea. We are delighted to be the first retailer to stock NOVELTEA within our flagship store."
Support for entrepreneurs
Vincent and Lukas were supported to develop NOVELTEA having secured a place on the 'Rise Up Founderships' programme, Newcastle University's innovative business start-up package for graduates with growth business ideas.
Founderships nurtures emerging entrepreneurial talent with financial backing, office space and mentoring. Through the provision of talented advisers and with access to a plethora of resources, the Founderships programme helps to develop big business ideas with the potential to achieve scale.
Lukas said "When we set up NOVELTEA, our mentors at Newcastle University guided us through many aspects of the start-up stage, from R&D and mixology, to advising us on supply, manufacturing and strategy. We have been very fortunate to have had access to the Founderships Programme, and have been introduced to some very influential connections as a result. It has been instrumental in getting the brand to where it is today."
Katie Wray, Lecturer in Enterprise at Newcastle University and Programme Manager of Founderships, said: "Lukas and Vincent are a great example of what can be learned and achieved during six months with the Founderships. They have used their time well to expand their network significantly and have iterated well to reach a launch-ready position."
Turning big ideas into successful ventures
The entrepreneurial duo were given mentoring and advice by Charlie Wainwright, Business Adviser at Rise Up, based in Newcastle University's Careers Service.
Charlie said: "Lukas and Vincent have approached the challenge of launching a product into a new drinks category with real diligence, constantly learning and building their knowledge of the category, its consumers and retail customers.
"During the six month Foundership programme they have made exceptional progress, benefitting from their network of business advisers and category mentors. They deserve to be successful."
Lukas and Vincent worked with Stu Brew – a sustainable microbrewery, managed by students for students through Newcastle University Students' Union.
Dr Chris O'Malley, a lecturer in Chemical Engineering who leads the research arm of the Stu Brew initiative, said: "Vincent and Lukas first contacted the Stu Brew team back in September 2016, quite early on in their project. We arranged for them to have access to our Stu Brew test equipment so they could scale up their prototype batches and we've shared our experience with them about production processes and licensing. They've got a very exciting product and it has been great to see them form the brand."
The Tale of Earl Grey and The Tale of Tangier alcoholic tea blends (11% abv.) are available to buy through Fenwick Newcastle from 2nd April 2017. NOVELTEA is served chilled over rocks at an RRP of £9.95 for 25cl and an RRP of £24.95 for 70cl.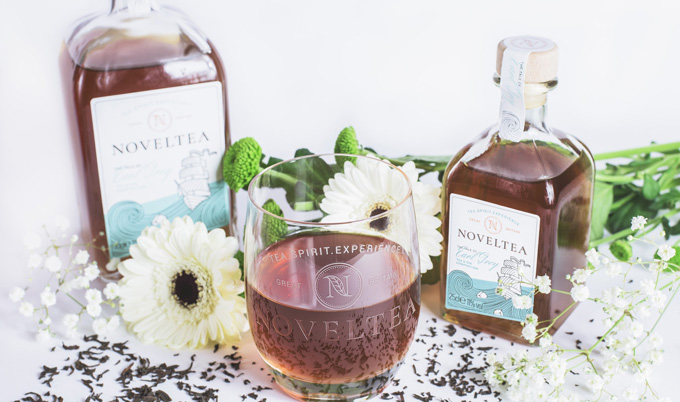 ---
Latest News