Artists leave their mark
Published on: 20 March 2017
Its home might be a little-known space tucked away up the stairs in Fine Art, but printmaking is about to start making some noise.
Printers' Symphony
The Printers' Symphony will be experimenting with their own unique approach to the discipline as they take over gallery space on campus this week.

They will be using Hatton Gallery's atrium and the fine art drawing room as experimental studios for relief and mono printing.

Julia McKinlay, teaching fellow in Printmaking at Newcastle University, is one of four members of the Printers' Symphony, along with Dana Ariel, Eleanor Morgan and Georgina Tate.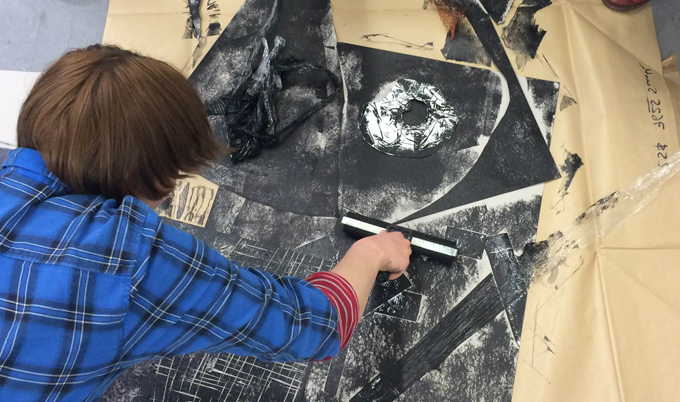 Artists working across disciplines
They first met in the print studios while studying art the Slade School of Fine Art at UCL (University College London) just over three years ago and soon realised they worked really well together.

"We are artists working in different areas - photography, sculpture, performance and drawing," says Julia. "Printmaking is the process that ties us together and we still meet up to do joint projects once or twice a year even though we are now dispersed across the country.

"For us, coming together to work in this way is like a print jamming session."
Portable print studio
Printers' Symphony has converted four ex-army rucksacks into a portable print studio, which they use to reveal the hidden marks, sounds and practices of print in sites beyond the workshop. It was developed to enable the group to work together after art school and in different locations and spaces to make prints using simple processes in response to their environment.

The collective will be taking this portable print studio down to the beach with students to make prints in response to what they find there. On Wednesday 22 March, they will host a panel discussion at the University for students, staff and printmakers from across the city at 11am. Fine art curator George Vasey will be introducing the hour-long discussion about the residency, collaborative art practice as a model for working and printing after art school.

The name of their printmaking collective - Printers Symphony – comes from the first piece they did together in response to the UCL's museum collection. While carrying out research they came across a box of printmaking items used as educational tools. From this, they created a sound piece based on the activity in the printing studio to go alongside the prints.

For more information visit the Fine Art event page.
---
Latest News