Groundbreaking report sets a benchmark for pig welfare
Published on: 6 March 2017
Pig welfare on farms across the UK has shown progressive improvement over the past three years, a new study led by Newcastle University has shown.
Analysing information from almost 2,000 farms across the UK, the team assessed five key indicators of pig welfare including their overall health and the quality of their living environment.
Utilising data from the Agriculture and Horticulture Development Board's Pork "Real Welfare" scheme, this is the largest study of its kind anywhere in the world and sets benchmarks for pig welfare at both an industry and individual farm level.
Publishing the study this week in the academic journal Animal to coincide with the AHDB 'Real Welfare' report, the aim is to give consumers and retailers greater confidence in the food assurance schemes.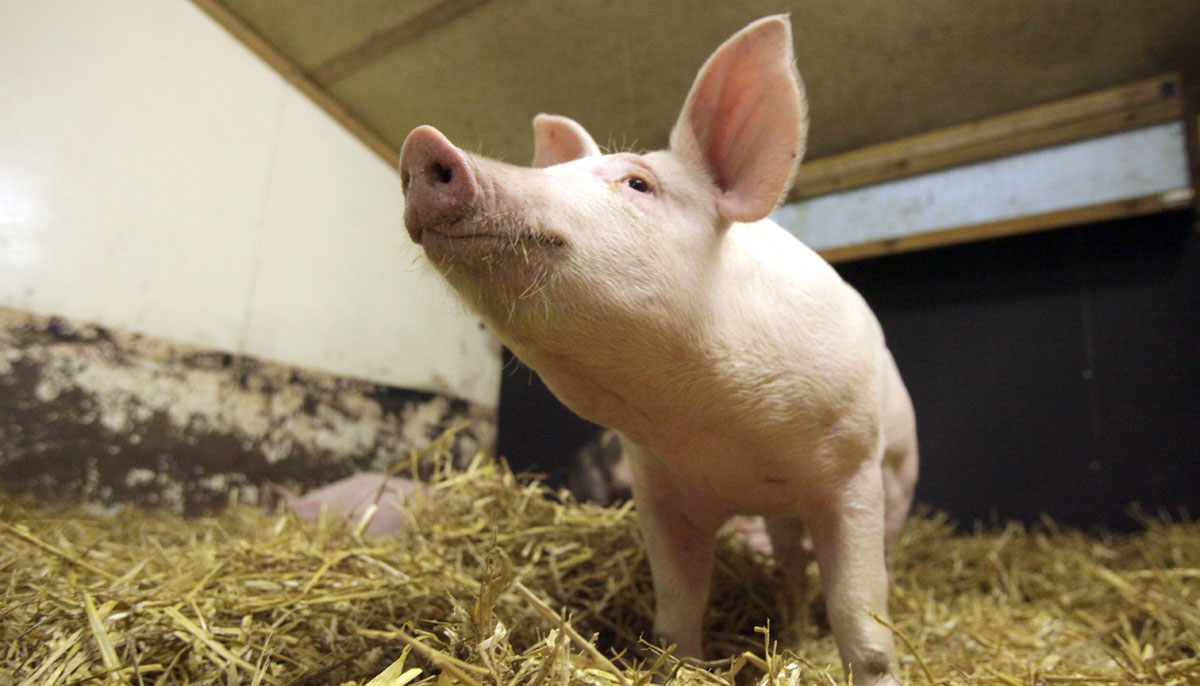 World leaders
Ilias Kyriazakis, Professor of Animal Health and Nutrition at Newcastle University and co-author on the paper, explains:
"For farmers, this report provides them with objective data so they can work on areas of improvement and also see where they are doing well. It also enables them to benchmark their businesses against other similar farms.
"For the industry as a whole, it provides a solid benchmark as to where the UK is now and highlights key issues and areas where there is room for improvement.
"But it also gives confidence to consumers. Increasingly we want to know where our food has come from and what has been done to it before it arrives on our plate. This new benchmark provides further guarantees to consumers that the food assurance schemes are meaningful and credible."
Sandra Edwards, Professor of Agriculture at Newcastle University, who has worked with the industry on the development of the scheme, added:
"The UK's pig farmers have always been proactive in raising welfare standards and the industry has again shown itself to be a world leader.
"This analysis derives from a unique industry-funded initiative which demonstrates how partnership between farmers and their vets can make practical improvements to the lives of animals on an ongoing basis."
Five and a half million pigs assessed
The Real Welfare scheme was developed in response to the pig industry's desire for strong, science-based evidence to demonstrate its husbandry standards to retailers, animal welfare lobby groups, policy makers and consumers.
Since the start of the scheme, more 5.5 million pigs have been individually assessed by specially-trained vets.
Collecting data since April 2013, the aim was to assess pig welfare on farms under the UK Red Tractor Assurance scheme, recognised by consumers as a guarantee that the food they are buying is safe, traceable and produced to good standards of animal welfare with minimal impact on the environment.
The assessment included five key measures. These were the percentage of pigs:
● requiring hospitalisation
● who were lame
● with severe tail lesions
● with severe body marks
Information was also collected about the pigs' use of environmental enrichment materials including straw and toys.
Mick Sloyan, AHDB Pork Strategy Director said:
"We now have the biggest database of this kind in the world. No other country has made such a commitment to pig welfare. Its power is in the farmer-vet partnership approach and the fact that the industry voluntarily chose to do this."
Nigel Gibbens, Chief Veterinary Officer for the UK, adds:
"This report is a positive industry initiative and one which will provide a practical way of monitoring changes and promoting welfare improvements over time, as well as supporting the industry in demonstrating welfare standards to consumers and retailers."
Reference: The 'Real Welfare' scheme: benchmarking welfare outcomes for commercially farmed pigs. Pandolfi, Stoddart, Wainwright, Kyriazakis and Edwards. Animal
DOI: 10.1017/S1751731117000246
---
Latest News