University partnerships recognised for excellence
Published on: 10 May 2017
Newcastle University has won Business/Industry Collaboration of the Year at the Educate North awards for its innovative partnership with Northumbrian Water.
Best practice and excellence
The Educate North Awards celebrate best practice and excellence in the education sector in the North. The award was made in recognition of the successful partnership between Newcastle University and Northumbrian Water which has led to research collaborations spanning engineering biology, pollution management, infrastructure design, and 'Blue-Green Cities' - a city-scale demonstrator of natural flood management schemes.
The most recent collaboration, the Biological Engineering: Wastewater Innovation at Scale (BE:WISe) research facility, opened in July 2016 and sets a new international standard for research into wastewater treatment technologies using microbes.
The largest facility of its type in Europe, BE:WISe is based at Northumbrian Water's sewage treatment plant at Birtley, near Gateshead. Operating as a 'mini' sewage treatment works, it provides researchers with a realistic, large-scale setting to better understand how complex biological interactions work so that new, low carbon, cost effective ways to treat wastewater can be developed.
The Educate North award reflects the truly integrated relationship that has developed between the University and Northumbrian Water which is not only helping to bring about industry-relevant innovation as well as informing impact at a global and local level.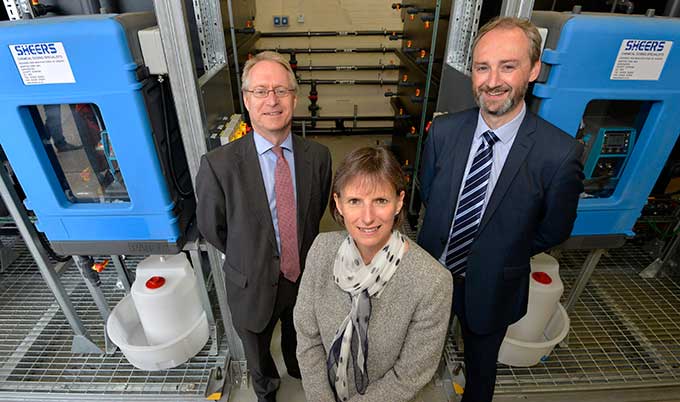 Opening up opportunities
The partnership is also opening up opportunities for students by adding value to a variety of undergraduate and postgraduate programmes. For example, an ongoing collaboration with the School of Architecture, Planning and Landscape is allowing students to design and manage construction of several community buildings at Kielder Water & Forest Park, where Northumbrian Water is a partner in the Park's Development Trust. The most recent of these, the Rochester Roundhouse, was highly commended in the 2017 RIBA Journal MacEwan Awards, awarded to buildings "designed for maximum public benefit".
Dr Russell Davenport, from the School of Civil Engineering and Geosciences, said: "It is great that the University's unique relationship with Northumbrian Water has received this recognition.
"The BEWISe facility is the most tangible and visible face of our truly collaborative partnership, which has been the culmination of continued engagement for a number of years on various projects.
"The great thing about this project is that not only have Northumbrian Water provided the space and infrastructure for the facility, but we also enjoy the support, time and trust of Northumbrian Water staff – from the CEO through to operational staff."
Richard Warneford, Wastewater Director at Northumbrian Water Group, added: "Northumbrian Water's collaboration with Newcastle University has created a fantastic facility where innovative thinking and research can thrive. Our long-standing partnership with the University also helps us to support and encourage our industry's future talent in the development of their skills, building a lasting relationship at the same time."
Also nominated for Business/Industry Collaboration of the Year was the Vital North Partnership between Newcastle University and Seven Stories the National Centre for Children's Books which aims to develop and promote Newcastle as a centre of excellence for children's literature.
A number of other Newcastle University initiatives were recognised at the Educate North awards. The Estates Support Service (ESS) were Highly Commended for their flood management scheme across campus. Prompted by the 'Toon Monsoon' of 2012, and building on research carried out by Professor Chris Kilsby, ESS installed a range of landscaping features to minimise water run-off.
The University just missed out on the top award, University of the Year, while Newcastle University Students Union were shortlisted for Students Union of the Year, as well as the Student Experience award for its inclusive sport offering.
---
Latest News