Key appointment strengthens senior team at Newcastle University
Published on: 19 May 2017
Newcastle has appointed internationally renowned Endocrinologist, Professor Brian Walker, as its new Pro-Vice-Chancellor for Research Strategy and Resources, a post he will take up in September.
Professor Walker joins Newcastle from the University of Edinburgh where he is currently the Dean of Research in the College of Medicine and Veterinary Medicine and Head of the British Heart Foundation Centre for Cardiovascular Science.
An internationally recognised physician and academic, Professor Walker's research on stress hormones has led to advances in the understanding and treatment of obesity, diabetes, cardiovascular disease and dementia. Just this week, Xanamem, a drug developed in his group at Edinburgh to lower cortisol levels in the brain, was administered for the first time to patients with Alzheimer's disease.
The excellence of Professor Walker's work was recognised last month with his election to the prestigious Fellowship of the Academy of Medical Sciences. The Fellows are elected for their contribution to biomedical and health research, the creation of new knowledge in medical sciences and its translation into benefits to society.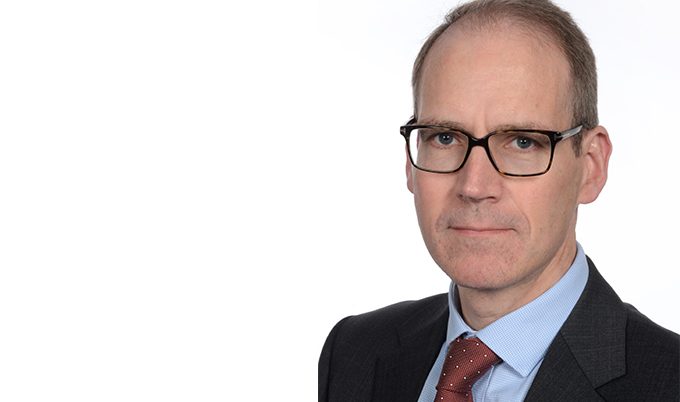 Maximising opportunities
Professor Walker's strategic roles with colleagues at Edinburgh's College of Medicine and Veterinary Medicine have included designing the sector-leading Edinburgh Clinical Academic Track (ECAT) scheme and the parallel ECAT-V scheme for veterinarians and Edinburgh Scientific Academic Track for non-clinical researchers. ECAT has been adopted as the model for national training schemes in Wales and Ireland. Under his direction, the BHF Centre for Cardiovascular Science has grown into a leading multidisciplinary research centre addressing prediction, prevention and treatment of vascular disease, attracting a Queen's Anniversary Prize in 2016 for improving lives of patients with coronary artery disease.
As Dean of Research he has overseen a substantial increase in research and industrial funding to the College's 16 multidisciplinary research centres, including the award to Edinburgh of a new Medical Research Council Dementia Research Institute Centre, and the delivery of successful drug development projects in collaboration with the pharmaceutical industry.
Professor Walker has held a number of national leadership positions including as member then chair of the Wellcome Trust Clinical Interview Committee from 2007 to 2015. He is now a member of the Population and Systems Medicine Board of the Medical Research Council.
Professor Walker has also contributed to education, public engagement and inter-disciplinarity. He edited three editions of the iconic textbook Davidson's Principles & Practice of Medicine, which educates students from many disciplines from around the globe and he has delivered a number of public lectures. At Edinburgh, he has worked with counterparts in the Colleges of Arts Humanities & Social Science and Science & Engineering, for example: to develop a nascent centre to connect biomedical, social science and legal research; to identify global challenge priority themes; to engage researchers in cross-disciplinary workshops; and to advance multidisciplinary doctoral training programmes.
As Pro-Vice-Chancellor for Research Strategy and Resources at Newcastle University, Professor Walker will lead on developing the University's research profile and performance, maximising the opportunities across its three faculties and four campuses, catalysing external partnerships, encouraging research-led teaching, and ensuring that highly talented researchers are propelled up the 'skills escalator' to meet the demands of the 21st Century both locally and globally. Professor Walker will be a member of the University's Executive Board, responsible for the strategic leadership of this Russell Group University.
Professor Walker said: "I am excited to be joining a dynamic and ambitious team at Newcastle, where the excellence and scale of research and training are very well placed to respond to the UK's demand for multidisciplinarity and impact in this country and internationally."
Advancing knowledge, educating for life and transforming society
Born in Glasgow and an undergraduate in Edinburgh, Professor Walker joined the University of Edinburgh in 1989 and progressed his academic and clinical career through Fellowships from the Medical Research Council and British Heart Foundation. He was awarded serial programme grants from the British Heart Foundation from 2001-2016 and now holds a Wellcome Trust Senior Investigator Award. He is a Fellow of the Royal College of Physicians of Edinburgh, a Fellow of the Royal Society of Edinburgh and holds an Honorary Doctorate from Umea University in Sweden.
Professor Chris Day, Vice-Chancellor and President, Newcastle University, welcomed Professor Walker's appointment: "I am absolutely delighted to appoint such a distinguished academic to this key position in my senior executive team – the first addition to my Executive Board since my appointment in January this year. Given Professor Walker's track record and vision I have no doubt that he will help us to dramatically improve the quality of our research performance enabling us to realise our vision of excellence with a purpose – advancing knowledge, educating for life and transforming society."
---
Latest News