Design for Life
Published on: 15 June 2017
The next generation of architects are showcasing their designs at the Newcastle University Architecture Degree Show.
Virtual reality and Venice
Inspiration for the event has been wide-ranging, with Venice, virtual reality and the North East coast just some of the influences on display. Students have worked hard to get their diverse and research-led designs ready for the opening night.
And while you may think architectural design would be based in solid materials, some Masters students have been using virtual reality to showcase their talents.
Daniel Duffield's project Becoming takes viewers through an imagining of the School of Architecture, Planning and Landscape in different scales and sizes, inspired by the classic novel Gulliver's Travels.
David Boyd's project The Draughtsman's Quietus: Methodologies Towards a Counter Architecture creates a deconstructed city centre location, challenging the audience to navigate it.
Venice has also provided inspiration, with Mariya Lapteva's project The Venice imagining a tour of a floating facsimile of the famous city. Su Ann Lim's design The Ephemeral Halophytic Saltscape, also based in Venice, is produced from - and powered by - salt.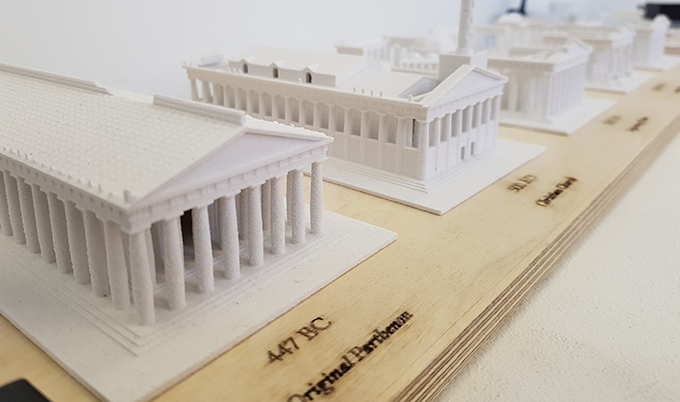 Remarkable work
"Every year, my colleagues and I have thought that the work at our degree show has been the best yet," said Professor Adam Sharr, Head of the School of Architecture, Planning and Landscape. "Then, every year, the students exceed our expectations even further. This year is no exception and the work on show is remarkable.
"We're delighted to welcome people to the School to see our students' speculations about the future of architecture and cities.
"Some of the projects think about sites in Newcastle and the north east of England, while others look further afield, to Venice and Zanzibar. Some projects look at new technologies - like synthetic biology, which potentially allows us to grow buildings - while others examine how we see architecture, from striking drawings and models to immersive digital environments. Some projects think about how to work with historic buildings while others project radically new visions.
"Newcastle University is regularly ranked amongst the best universities for architecture in the UK and internationally, and this work illustrates where our reputation comes from."
The Architectural Biography
The work by both undergraduate and masters students is on display in 18 studios in the University's Architecture Building. Studios range from The Architectural Biography, in which students respond to the oeuvre of a chosen architect with their own projects, through to Caravanserai Zanzibar, continuing Professor Prue Chiles' work with students on the East African island. The Matter studio continues the department's tradition of working with the properties of materials, which this year has been greatly enhanced by the opening of new and extensive workshop facilities in the Building Sciences laboratory.
Similarly, the Experimental Architecture studio, develops Professor Rachel Armstrong and Dr Martyn Dade-Roberston's research into the use of biology in architectural design.
There are explorations of the North East coast in Getting Away From It All, explorations of order and ritual in the Enclosed Order and Rituals and the Unconscious studios, and revisiting the ideas of influential architect Cedric Price in Potteries Thinkbelt #2.

The Architecture Degree Show opens at 6pm on Friday, 16 June. Student society (NUAS) has organised a DJ and bar with drinks from Newcastle University's own Stu Brew, Europe's first ever student-run microbrewery. The show is open from 9am to 5pm Monday to Friday until 30 June. It will transfer to Candid Arts Trust in Angel, London, on 14 July.
---
Latest News