Cheeseburn Sculpture prize
Newcastle University Fine Art student wins young sculptor award
Published on: 30 June 2017
Peter Hanmer has scooped the 2017 Gillian Dickinson North East Young Sculptor of the Year Award and a £6,500 commission
The Cave
Born in Northumberland, Peter is currently studying for his Masters in Fine Art at Newcastle University. His previous work involved the creation of figurative models inhabited by miniature animal bone characters.
His proposal, entitled 'The Cave', won unanimous favour with the judges. Inspiration for 'The Cave' came from the Potting Shed at Cheeseburn. For his piece, Peter intends to populate the shed with over 50 miniature figures all interacting with one another, creating an alternative reality - using sculpture and sound to explore ideas of escape, control and identity.
With funding from the Gillian Dickinson Trust, Cheeseburn Sculpture has developed the North East Young Sculpture award to provide opportunities for visual artists aged 18 to 25 years-old, working or studying within the region. The initiative asks 12 shortlisted artists to develop a proposal for an installation or sculpture, responding to the unique environment at Cheeseburn. As the winner, Peter will receive £6,500 to develop 'The Cave' into an installation, which will be unveiled in spring 2018.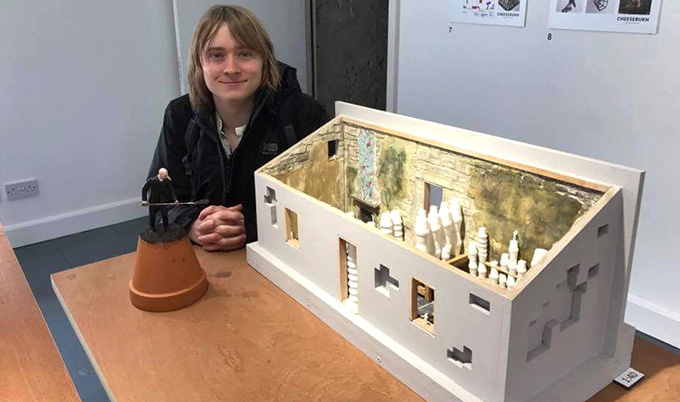 Sculptural World
Peter was chosen as the winner by a panel consisting of: Joseph Hillier, artist; Joanna Riddell, Founder and Owner of Cheeseburn Sculpture; Matthew Jarratt, Curator at Cheeseburn Sculpture and Alexander Dickinson, Trustee for The Gillian Dickinson Trust & Partner at Bond Dickinson LLP. Also taken into account by the judges were votes from Cheeseburn visitors to the gallery, and online votes through Facebook.
Peter said: "I am delighted to have been chosen as winner of this prestigious award out of some really stiff competition and can't wait to get to work building my piece –which is to be installed in the Potting Shed in the grounds of the wonderful Cheeseburn Gardens.
"Seeing the success of Dan Gough's 'Scurry' exhibition this year, has spurred me on to create something truly special that visitors will really enjoy."
Matthew Jarratt, Curator at Cheeseburn Sculpture said: 'We are really excited to commission Peter's installation within the Walled Garden Potting Shed at Cheeseburn. His ideas of creating a 'sculptural world' of miniature figures amongst the flowerpots and lawnmowers fascinated the judges and I'm looking forward to working with him over the coming year to provide mentoring and support which will enable him to make his first big project which our visitors can explore at Cheeseburn Sculpture in 2018.'
Joanna Riddell, owner and co-founder of Cheeseburn Sculpture said: "The winning proposal is very site specific and I shall be fascinated to see the interaction of our visitors to this space. Many congratulations to Peter for such an intriguing piece of work".
Alexander Dickinson, Trustee for The Gillian Dickinson Trust Award, partner at Bond Dickinson LLP: said "We felt that Peter's proposal will offer an atmospheric experience to both visitors, and might also those wishing to view it online. The precise detail in Peter's work convinced us that his work would be a worthy successor to Dan Gough's 'Scurry 'and we look forward to experiencing the full installation in the unique setting of Cheeseburn in due course".
Supporting success
Dan Gough was the 2016 Award winner and his installation – 'Scurry' is currently on view at Cheeseburn Sculpture
The Fine Art department at Newcastle University is delighted with Peter's success at winning the 2017 Award, and has agreed to support him in making his ideas come to fruition.
Press release adapted with thanks from Cheeseburn Sculpture
---
Latest News