Women take science to the streets
Published on: 16 June 2017
Female scientists from Newcastle University will be teaming up with Soapbox Science to transform Newcastle city centre into a hub for science and discovery tomorrow.
At Grey's Monument a dozen top female experts will be talking about their latest discoveries, discussing everything from muscles to killer fungus.
The Newcastle event tomorrow (Sat 17 June) is part of a nationwide initiative by Soapbox Science, which aims to bring science to the people and challenge gender stereotypes in science careers.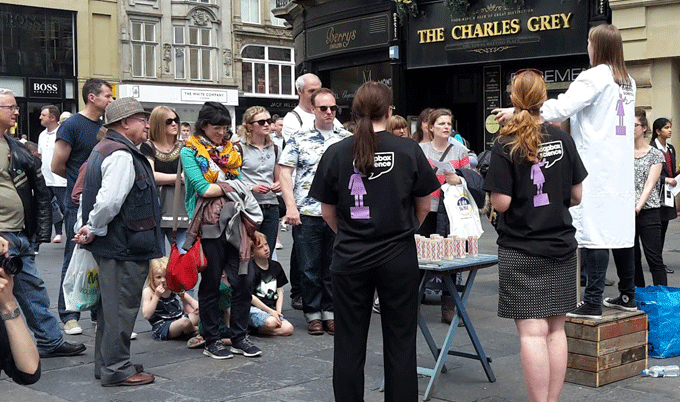 Biggest festival
Back for the seventh year running, this year's festival is the biggest to date and will be taking in 15 cities across the UK, as well as in Australia, Canada, Germany, Italy and the Republic of Ireland.
Professor Muzilifah Haniffa, Wellcome Trust Senior Research Fellow in Clinical Science, Lister Institute Prize Fellow, Professor of Dermatology and Immunology at Newcastle University, is taking part.
Professor Haniffa, who leads the Skin and Oral disease research theme at NIHR Newcastle Biomedical Research Centre, said: "We're taking science to people who wouldn't normally think about it. It's a great opportunity to talk about the brilliant science being done on their doorstep."
Inspired by Hyde Park's famous Speakers' Corner, Soapbox Science transforms public areas into arenas for learning and debate, as some of the world's brightest female scientists share their passion for an array of topics. Soapbox Science champions the vital role of women in science and provides an exciting opportunity to meet, talk to and be inspired by these remarkable women.
Diversity of topics
The Newcastle event, supported by the Faculty of Medical Sciences at Newcastle University, will feature 12 speakers. With a huge diversity of topics discussed, there is sure to be something to intrigue every kind of enquiring mind.
The event is open to the public, free of charge, and great fun. Expect hands-on props, experiments and specimens, not to mention bags of passion and enthusiasm.
When: Saturday, June 17, from 12pm – 3pm
Where: Grey's Monument, Newcastle city centre
---
Latest News