Showcase of flood research on anniversary of Thunder Thursday
Published on: 3 July 2017
Newcastle University researchers are set to showcase their latest work on reducing the impact of flooding exactly five years on from the flash floods that hit the city.
FLOOD!, which seeks to provide the public with the opportunity to learn about flooding and the preventative action they can take, will run at the Great North Museum from 3rd – 9th July.
Through a mixture of interactive games, videos and virtual reality, younger visitors will find out about what floods are, why they happen and how they might change.
They will experience what it's like during a flood with an immersive virtual reality headset, understand the role of landscapes and rainfall through an augmented reality sandbox and learn about flood management, using a giant version of the childhood game Kerplunk.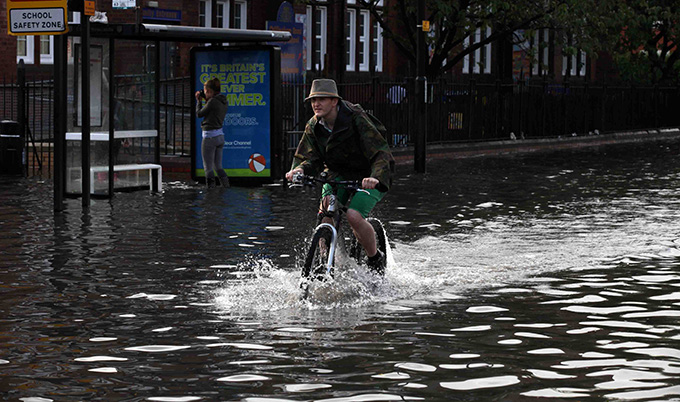 Flooding and climate change research
The exhibition will also include information about Newcastle University's research around flooding and climate change.
Dr Elizabeth Lewis, based in the School of Civil Engineering and Geosciences at Newcastle University, said:
"Flooding is something that can really affect people's lives. Solutions are often put forward in the wake of them such as natural flood management and part of the aim of this exhibition is to inform the public about these.
"This is an opportunity for people to come along and find out if they live on a flood plain and what measures they can take personally to prevent flooding, both at home and on a global scale by taking responsibility for the future of our planet and climate change.
"Simple solutions such as disposing of waste correctly and using water more sustainably will reduce their impact on the environment.
"We also hope the exhibition will demonstrate the importance of science and engineering and inspire young visitors to the exhibition to consider a career in these subjects."
---
Latest News