Centre of excellence in railway research
Published on: 10 July 2017
Universities and industry unite in £92 million UK railway research partnership.
A partnership between the rail supply industry and a consortium of seven universities including Newcastle has secured £92 million to fund research aimed at establishing the UK as a world-leading centre of railway excellence.
The partnership – part of the newly-created UK Railway Research and Innovation Network (UKRRIN) - has won £28.1 million funding from the UK Research Partnership Investment Fund (UKRPIF) managed by the Higher Education Funding Council for England (HEFCE).
The funding will be boosted by £64 million of support from 17 industrial partners including Hitachi, Alstom, Siemens and Bombardier Transportation.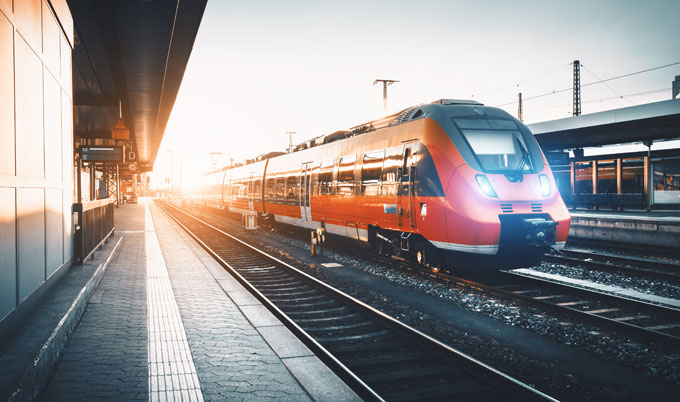 Development of new trains
The Newcastle University team will be part of the Rolling Stock Research Group and lead on the development of new trains.
Bringing together experts from the University's Design Unit and its railway research group NewRail, the team will be working to improve the crashworthiness of carriages, improve the energy efficiency of trains - in particular around new gear technology - and develop novel materials.
The University-owned railway test centre at Barrow Hill, near Chesterfield, will also allow the Newcastle team to carry out full-scale tests on rail vehicles and track investigations.
Dr Brian Shaw, Director of the Newcastle University Design Unit, said:
"This fantastic investment along with the significant commitment from industry gives a real boost to our existing research activity in support of high integrity and efficient rail rolling stock.
"We look forward to working with the network of universities and industry to create facilities that will deliver world-leading research and innovation that will support the future of UK rail."
Dr Roberto Palacin, Rail Systems lead, added:
"This is a tremendous opportunity for the University and the wider region, cementing our global esteem and recognition at the highest possible level.
"UKRINN will allow us to truly engage with colleagues in industry and shape the future of railways, unlocking the fantastic potential and expertise that we have not only on research and innovation but also in training the next generation of engineers."
Three Centres of Excellence
The UKRPIF funding will be used to create three linked world-class centres of excellence, forming the research heart of UKRRIN, which will focus on:
- Digital Systems - located at the University of Birmingham. It will focus on railway control and simulation, data integration and cybersecurity, condition monitoring and sensing, and improved methods for technology introduction.
- Rolling Stock - led by the University of Huddersfield in collaboration with the Newcastle and Loughborough universities. It will focus on high value rolling stock systems, whole life asset optimisation and through-life management, and energy management.
- Infrastructure - led by the University of Southampton in collaboration with the University of Sheffield, Loughborough University, the University of Nottingham and Heriot-Watt University.
These centres of excellence, together with existing UK Rail Test Centres, are the foundation of UKRRIN, bringing together the UK rail supply industry and academia to undertake world-leading research and innovation in rail.
The UKRRIN will support delivery of the ambitious Rail Technical Strategy and is aligned with the aims of the Government's Industrial Strategy.
With these world class centres of excellence, the UK rail supply industry will be able to develop world-leading new technologies and products for trains, railway systems and infrastructure that will deliver a better, more reliable and efficient railway.
Passengers will directly benefit from the research leading to improved technology; a better infrastructure with increased reliability that can be more effectively managed; and new digital signalling systems that will allow additional trains to run on the network. The High Speed 2 project will also be an early beneficiary of the world-leading research.
Graham Hopkins, Group Safety, Technical and Engineering Director at Network Rail and the Chair of the Industry Technical Leadership Group, said:
"By working together in UKRRIN, researchers and industry partners can deliver technical transformations to help deliver a more cost effective, customer and carbon friendly railway that delivers more capacity safely.
"The development of centres of excellence will help the rail industry to accelerate the uptake of technology and innovation."
The initiative is being supported by a range of clients and stakeholders including Network Rail, HS2 Ltd, Transport for London, Rail North and the Department for Transport.
IBM, Unipart Rail, SMRT, British Steel, RSSB, Thales, Hitachi, AECOM, Aggregate Industries, Atkins, Pandrol and Progress Rail are also among the 17 industrial partners supporting the partnership over a 10-year period.
Further information can be obtained from the UKRRIN website: www.ukrrin.org.uk
---
Latest News