President of ACM awarded honorary degree
Published on: 14 July 2017
World-leading computer scientist Professor Vicki Hanson has been awarded an honorary degree from Newcastle University.
The current President of the Association of Computer Machinery, the main organisation representing the computer profession world-wide, Prof Hanson has been instrumental in the drive for more accessible and inclusive digital technology.
Serving on advisory boards in both the US and the UK, Professor Hanson has spent more than 30 years leading the drive to design new technologies to address the challenges of inclusion for older adults and people with disabilities.
Working with IBM, the research led to a number of new products and, more importantly, a recognition within the technology industry that information technology should be accessible to all.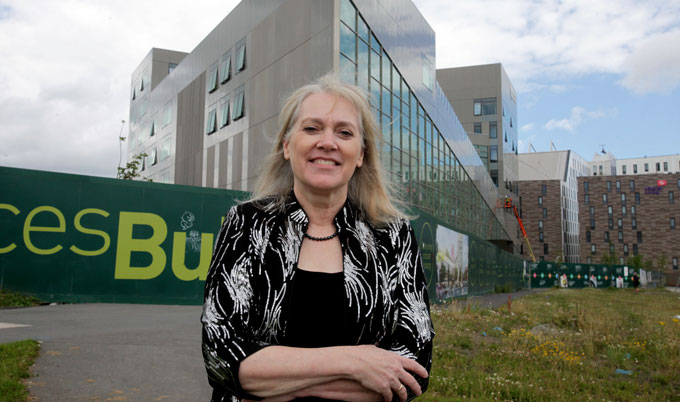 Professor Hanson has a long-standing link with Newcastle University's School of Computing through her work with the £12m Social Inclusion through the Digital Economy Hub – SiDE – project.
Her honorary degree marks a significant time for computing at Newcastle with the launch of the newly-named School of Computing to coincide with its move into the Urban Sciences Building on Science Central.
Receiving her Honorary Doctor of Science this week, Professor Hanson said she was proud to be receiving the degree at such an important time for computing at Newcastle.
"I am so honoured to be receiving this degree," she said. "It is especially wonderful coming from Newcastle University where I've had long-standing collaborations with the Digital Institute and Computer Science.
"I am delighted to be able to share this honour with friends and colleagues at such an important time for the School."
Social inclusion through the digital economy
Professor Paul Watson, Director of the Digital Institute and research lead on the SiDE project, said:
"Vicki has been a key player in driving forward the design of technologies that address the challenges of inclusion for older adults and people with disabilities.
"As well as making major contributions through her own work in IBM and SiDE, she has inspired both the computer industry and academic researchers to join her in tackling this important challenge.
"I am delighted she accepted this honour from Newcastle which is very well-deserved, and we look forward to continuing to work closely with VIcki for years to come."
Building as a lab
The Urban Sciences Building (USB) will be the School of Computing's new home from August 4.
Designed not just as a place for research and learning but as a research experiment itself, the USB will be used to trial new energy systems, novel materials and smart engineering.
It is a key part of the Science Central vision to create a full scale demonstrator of urban innovation - a 'living laboratory' underpinning research to make urban centres more sustainable for future generations.
The £350m urban regeneration project, the largest of its kind in the UK, will also house the new £40m National Innovation Centre for Ageing, the £30m National Innovation Centre for Data, the £20m National Centre for Energy Systems Integration and £11.2m UKCRIC integrated infrastructure labs and urban observatory and the University's £34m Learning and Teaching Centre.
Science Central is a partnership between Newcastle University, Newcastle City Council and Legal & General Capital. The 24 acre site is based in the heart of Newcastle City Centre and was once a coal mine before being taken over by Newcastle Breweries and more recently, the Science Central partnership.
---
Latest News