Chi Onwurah MP pledges support to international students in Newcastle
Published on: 11 July 2017
Chi Onwurah MP joined the #WeAreInternational campaign Parliamentary reception to highlight the economic, social and cultural benefits that international students bring to UK towns and cities.
Over 6,000 international students study at Newcastle University, bringing over £514 million of annual investment. Chi Onwurah MP has pledged to support policies that help to welcome international students to the UK to study, work and contribute.
At the #WeAreInternational House of Commons event, hosted by Co-chairs of the All Party Parliamentary Group on International Students MP Paul Blomfield and Lord Bilimoria, guests heard from leading business organisations about the benefits international students bring to the UK's economy and knowledge base.
Professor Rebecca Hughes, Director of Education at the British Council, and Neil Carberry, Director of People and Skills at the CBI, explained how:
£25.8 billion is generated for the UK through on and off-campus spending by international students and their visitors (Universities UK, 2017)
Spending by international students supported 206,000 jobs all over the UK (Universities UK, Oxford Economics report)
Two thirds (64 per cent) of British adults think international students have a positive impact on the local economics of the towns and cities in which they study (ComRes, April 2017)
Almost one in seven countries around the world has a prime minister or head of state who studied in a UK higher education institution (British Council, 2014)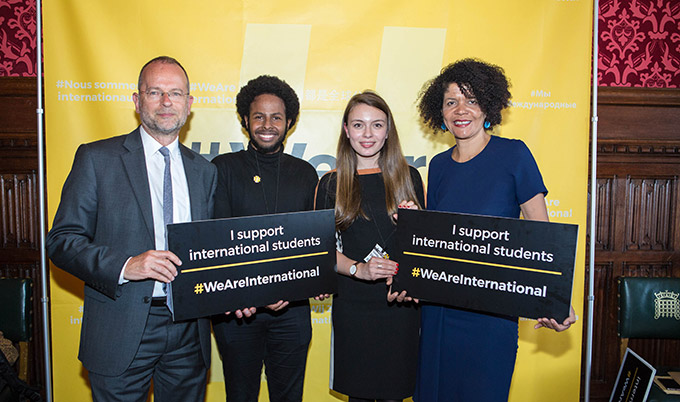 Valued presence and contribution
Speaking at the event, Chi Onwurah MP said: "International students enable growth, generate earnings and create jobs in towns and cities across the UK, including Newcastle.
"They are not only important to our universities – they work in our hospitals, volunteer to support local charities and make a vital economic contribution to the area where they live and study. They are a wonderful asset, not only to our universities but all of our communities, and should be made welcome in the UK."
Professor Chris Day, Vice-Chancellor and President, Newcastle University, a supporter of the #WeAreInternational Campaign, said: "International students are an integral part of the cultural, academic and social makeup of Newcastle and we are pleased to see that people in the North East recognise and value their contribution.
"The North East economy benefits significantly as international students generated £514 million in export earnings, and expenditure from these students supported 2,032 full-time equivalent jobs.
"One in every 66 international students in the UK is studying at Newcastle University and the city is a richer and more vibrant place due to their valued contribution."
Ambassadors for the UK
Another speaker was Lord Karan Bilimoria of Chelsea, Co-Chair of the All Party Parliamentary Group on International Students and the founder of the highly successful Cobra Beer. He described being the third generation of his family to study in the UK following in the footsteps of his grandfather who was one of the first Indians to study at Sandhurst, but he noted with deep regret the severe decline in talented Indian students coming to the UK, concerned by a lack of welcome and post study work opportunities.
He said: "The UK needs to remain open to the world to retain its place in the top six largest economies in the world and maintain its status as a global power. Not only is freedom of movement between the UK and its trading partners vital to ensure the right trade deals for UK businesses, but our universities are an asset to the country precisely because they bring people from around the world to become friends, family and lifelong ambassadors for the UK."
The event was hosted by the #WeAreInternational campaign, which is supported by hundreds of universities, businesses and organisations globally.
Newcastle University proudly participates in the #WeAreInternational campaign.
---
Latest News